By Kate Barnes
A great recipe to have on hand through the change of seasons and the colder months to safeguard our bodies against cold and flu and keep them strong. Each of the ingredients are either great immune boosters or highly supportive of a healthy body. If you're not using honey, try stevia or xylitol or a sweetener of choice and only use therapeutic grade essential oils.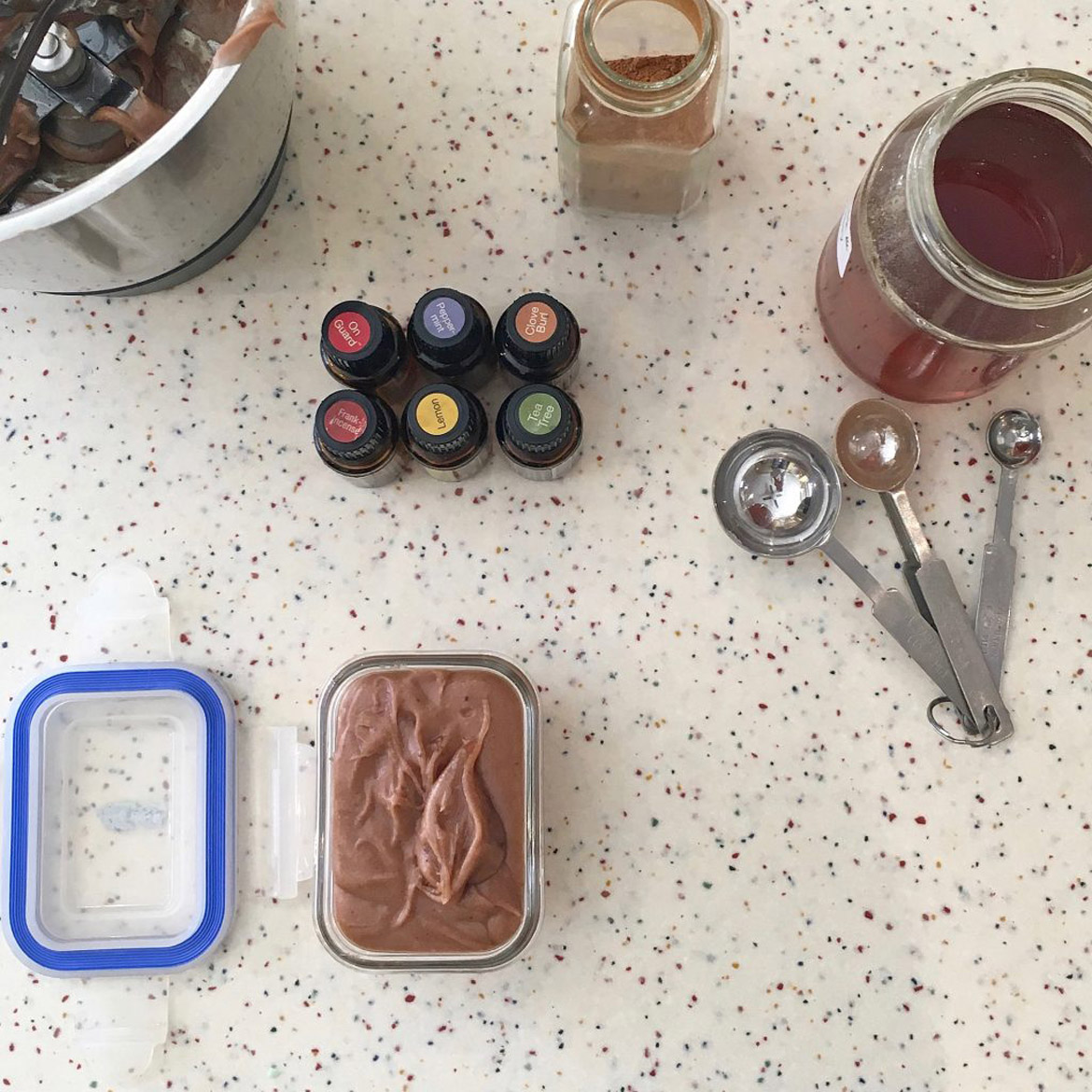 Preparation: 5 minutes
Serving size: 1 – 1 and 1/4 cups
Ingredients:
1/2 cup raw, unfiltered honey (manuka would be great if available)
1/2 cup coconut oil
1/4 cup organic ghee (optional)
5 drops each of a therapeutic grade oregano or clove oil, lemon oil, on guard (or an immunity blend), tea tree, frankincense (note: leave the essential oils out if using for children under 6 years of age)
1 tsp cacao powder (optional and if you like chocolate)
1/4 tsp cinnamon powder
Directions:
Add all the ingredients into a blender.
Blend on a low-medium speed until all ingredients are well combined.
Spoon into a glass storage container.
Take approx. 1/4 – 1 teaspoon a day during the change of seasons or when cold and flu bugs are around. The amount taken depends on age, weight and tolerance.
Note:
If you're new to essential oils you can purchase them through Kate at kate@katebarnes.com.au or here.
For lots more tips, recipes and remedies to help with building strong immunity, check out my ebook, 'Strong immunity and healthy tummies' on my site. 30 pages of helpful information and loads of recipes!
---
Originally published HERE.
After working as an executive in professional services, Kate Barnes started her global business as a Certified Holistic Health Coach. She has a Bachelor of Science and a Post Graduate Diploma in Business. Kate runs an online program, 'Our Happy Children', a leading education program for deeply nourishing families and building strong immunity, great energy and preventing illness. For more information visit Kate's website, like her Facebook page for loads of daily inspiration, healthy tips and more recipes and follow her on Instagram: @kate_barnes_health_coaching.