By Charlotte Cretney aka Little Hepburn
There are three in the bed and the little one said roll over, roll over! Co-sleeping and bed-sharing are a way of life for many families all over the world. There are so many wonderful benefits to being close with our children while sleeping and studies have shown babies can have a more peaceful sleep while co-sleeping and also have more stable physiology.
I tried a few times to co-sleep with Audrey when I was feeling very sleep-deprived, but alas I ended up with cute chubby fingers in my eyeballs instead – so it was back to the drawing board for us.
I've been lucky enough to speak with three wonderful NZ families who have shared their experiences with co-sleeping and bed-sharing with The Natural Parent Magazine. I feel honored to share their stories with you.
---
Sarah Lee
We are the Lee family – mum Sarah (37), dad Patrick (38), and our 3 beautiful children Mason (4), Harper (2) and Aston (8 months).
Co-sleeping and bed-sharing experience:
I started co-sleeping (bed sharing to be exact as co-sleeping is a wide term that includes sleeping in the same room but in separate sleeping spaces) with my first baby Mason on his second night – the first night was spent sitting up in the nursing chair staring at him! I was at a birth care facility, so when my husband went home that night I heated up the wheat bag to warm the bassinet, pulled the bassinet up against my bed, and transferred him into it.  Then I lay there staring at him through the Perspex, something just didn't feel right. I remember thinking to myself, "I let my pets sleep in my bed, so why wouldn't I sleep with my own baby?" He stirred after about 10 minutes and I put him in the bed beside me, where he nuzzled in and he went straight back to sleep. And so did I. It was the most natural thing in the world to me.  Since then my babies have all slept in the bed with me since day one.
Did you read any literature, or research on co-sleeping before you started that you can recommend or did you just go with gut feeling?
I went with my gut initially, but then I started doing some reading.  I highly recommend James McKenna's book Sleeping With Your Baby – a parent's guide to co-sleeping.  It teaches the correct way to co-sleep, and also clearly states reasons why you should not co-sleep, e.g if you're obese, if you smoke, if you are under the influence of drugs or alcohol. I also had a very supportive midwife and doula, who discussed bed sharing with me to make sure we were doing it safely.
Our co-sleeping arrangement
All 5 of us are in the one bed (Super King) at the moment.  I have a mesh safety rail on my side to stop the baby from rolling out. I sleep next to him, and my daughter sleeps on my other side in the middle of the bed with her brother. My husband squeezes in wherever he can.
Reasons for choosing co-sleeping
Apart from it feeling like the most natural thing to do… Sleep! You get so much more sleep when you don't have to get out of bed to feed the baby. I remember some of the mums from my coffee group complaining about getting out of bed numerous times in the night in winter and saying how little sleep they were getting, but this was never the case for us with our first baby. You become so in tune with them that you feel them stir in their sleep and can pop a boob in their mouth before they wake up, and then go back to sleep yourself.
Our co-sleeping arrangement
As a newborn, the babies only sleep next to me, not next to dad or their siblings. They sleep in the crook of my arm with their own blanket, and away from my own pillow and blanket. And I have the mesh safety rail on my side of the bed to stop them rolling out.
Pros & cons
Pros are definitely more sleep, easier to breastfeed, plus all the bonding and cuddles that you get throughout the night.
The only real con would be if one of the children is sick and wakes up in the middle of the night, then they occasionally wake another of the kids. Plus it can be a little squished with 5 of us in the bed, but it won't last forever.
Advice
If it feels natural then do it, sleep with your baby. But definitely do some research in regards to safe co-sleeping first. And if bed sharing doesn't feel right for you, I'd recommend a co-sleeper bassinet so that baby is right beside you but in their own sleeping space.
---
Pagan Bedford
Our family is dad Chris who is a builder, (my step sons) Connor 10 and Ollie 8, daughter Everly 19 months and myself Pagan, stay at home mum/part time researcher of beneficial natural parenting practices and healthier lifestyle choices.
I come from a family of alternative health professionals so feel very lucky to have grown up with a lot of natural parenting techniques in play already as they work so well for us. We love creating and eating healthy real foods, gardening, walking our dogs Kru and Kora at the beautiful beach 5 mins from our home and finding new adventures to experience together.
Co-Sleeping Experience
We started co-sleeping from the day our daughter was born. I had done some in depth research into benefits of safe co-sleeping and was prepared for it to be an option if need be. Safe to say after Everly was born it was a natural progression for me to want her right next to me for ease to breastfeed and to be alert to any needs she had. We still co-sleep now at 19months and mostly love it.
I like to be informed with any decision I make so I did pre-emptively research a bit while pregnant. Kellymom website was a great resource with references, as was LLLI which had some great tips about breastfeeding/breastsleeping safely. Talking to other mums was also important though to get a real life understanding of benefits and techniques.
Our co-sleeping arrangement
In our Super King it is my husband, our daughter Everly and myself. We have had the cot pushed up level to my side of the bed to give us extra space but to be honest it rarely gets used! Most nights Everly will sleep between us up high, usually partly on my arm/chest.
Reasons for choosing co-sleeping
It was definitely a gut instinct to keep our newborn close that started us co-sleeping. From then we have grown to love the closeness, extra rest it gives us and how crucial it has been to making full-term breastfeeding easy.
Safely co-sleeping is definitely important to us. In the early days we had Everly on my side of the bed, as Chris is a deeper sleeper than me and that made us feel safer. We have minimal pillows and blankets that are tightly tucked into the foot of the bed. We are not drug users or heavy drinkers. We do not smoke. We use a Himalayan salt lamp in our room so have enough light all night to safely see where each other are.
Pros & Cons
Pros definitely outweigh the cons for us. Pros being close bond, ease for breastfeeding, extra rest from not getting up to resettle/breastfeed, reduced chance for SIDS, baby cries less as all her needs her met instantly, no need for extra rooms heated/cooled all being in one room and keeping my milk supply at a level that is allowing us to full term breastfeed.
Cons: on stressful days I have definitely felt like I needed space from the little monkey but as long as I was supported to get a break it's not been a major problem. I know a lot of people ask how our sex life suffers, but what parents' doesn't change a little when you have kids? We get by.
We still co-sleep so haven't had any bed change experiences yet. When we all feel ready we will be using gentle techniques to make sure Everly is comfortable, feeling safe and her needs are respected.
Advice
Be prepared before baby gets here. Look into it. Get to know some safe co-sleeping guidelines and be open to it. Listen to your amazing gut instincts and don't let anyone tell you otherwise. As a parent you have the absolute best ability to make decisions for your individual child and family. It's truly been a blessing for us and others we know as well as being scientifically proven to be very beneficial in babies health so considering it as an option is very worthwhile.
---
Kelly Laugesen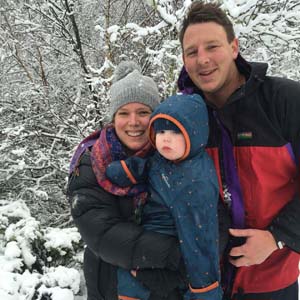 My husband, James, 15 month old son, Finlay, and I live on an orchard in Hawke's Bay with our menagerie of pets. I am a secondary school maths and chemistry teacher, but am thoroughly enjoying being a stay at home mum to Fin at the moment.
Co Sleeping experience
Before I had Fin I liked the idea of having him close at night and had bought a co-sleeper bassinet (essentially a bassinet with 3 sides which attaches to the bed) for when he arrived. But I don't think I had any idea how great or helpful it would be, or how long we'd co-sleep for. We've co-slept ever since we brought him home from the hospital. Once he got too big for the co-sleeper we removed a side from the cot and attached it to our bed instead. Although he sleeps some of the night in there, he also spends lots of time in our bed as well so I guess you could call us bed sharers too.
I often feel like people think it's an unusual thing to do, but sleeping in a separate room to your baby is quite unique to western culture and co-sleeping/bed sharing is incredibly common in many other cultures. Most adults prefer to sleep next to their loved one/spouse (rather than in separate bedrooms) so it makes sense to me that a baby would like to sleep with their loved ones while they make sense of this crazy big world also.
Did you read any literature, or research on co-sleeping before you started that you can recommend or did you just go with gut feeling?
I'm a bit of a nerd and do lots of research about most things. I think it's a shame as you often have to look past the safe sleep line of "baby is safest in their own bed" to find information about how beneficial co-sleeping is and how to do it safely. Some of my favourite articles were by James McKenna. The Gentle Sleep Book by Sarah Ockwell-Smith is a great resource too. I found it intriguing that babies better regulate their breathing by being close to mum and it can lower the risk of SIDS.
Our co-sleeping arrangement
Our queen bed can often feel a bit cramped with my husband, Fin and I in it, often with our dog Enzo and cat Fergus around our feet too.
When Finlay was little he only slept in the co-sleeper, as he got bigger and I realised how aware of him I was in my sleep, I felt comfortable having him on my side of the bed (following the safety guidelines for bed sharing) and now he's big enough to sleep between James and I sometimes too. Usually he stays on whichever side he's finished feeding off.
Our co-sleeping arrangement
I loved the idea of having my son close. It seems natural to me. You always see mummy animals curled up asleep with their babies right? Right from the start I found it really reassuring to be able to touch him through the night so easily.
Once the reality of baby sleep set in and Fin is at the more wakeful end of the spectrum, I appreciated the ease of not having to get out of bed for frequent night feeds and resettling.
With all the no bed sharing messages around it can seem scary at first but the safely rules are really simple to follow. I just made sure there are no gaps for Fin to slip down, or blankets which he could get stuck under. Â While he was little he only slept next to me (our other halves aren't as attuned or aware of the babies so it isn't safe for them to sleep next to each other) and I don't smoke, take drugs or drink and I feel super aware of him being there and have no fear of rolling on him.
Pros & Cons
Pros: Not getting up in the night. Even better, since I learned to feed Finlay lying on my side I barely wake to roll over and pop a boob in. I think Finny sleeps better knowing I'm right there. I often feel his little hand or foot reach out to touch me and he goes back to sleep. I love having him close. Don't get me wrong there are times when I miss sleeping for more than a couple of hours at a time and having the whole bed to just James and I, but mostly I love climbing into bed and having Fin there to snuggle in to. I'd miss having him just there.
Cons (they aren't really cons, it's a great arrangement for us): We need a bigger bed! I have spent a few nights half sleeping on the side cot while Fin is sprawled out on my half of the bed. When Fin sleeps in the H position is especially fun (usually his head by James and I get the feet end). When Fin learned to crawl, there were a couple of months where I worried about him tumbling off if I wasn't there, so for these sleeps (naps and evening) I did our usual feed to sleep and ninja-roll-sway, but on a mattress on the floor in his room. It didn't take long for him to be able to climb off our bed safely and he went back to sleeping in there even when I wasn't. Getting used to people's comments – I suppose I used be used to people commenting on our parenting choices by now but many people find it unusual, especially as he gets older. "He's still not sleeping through? He sleeps in your bed?"
Advice
Make sure you know how to co-sleep safely and then just give it a go. I've got so many friends who were skeptical at first but ended up finding it great. It doesn't have to be a full time thing, lots of my friends just co-sleep when their babies need extra comfort, or to get a nap or an extra hour's sleep in the morning. It's so important that we're talking about it, as co-sleeping is so safe when done properly. Much safer than being exhausted and falling asleep on the couch with a little baby.
---
Safe sleeping guidelines
If you're interested in co-sleeping, Plunket recommend following their safe sleep guidelines, which you can see here. Health professionals do promote using a co sleeper bed, or Pepi Pod especially when bed-sharing.
Please talk further to your healthcare professional for any advice on co-sleeping or bed/sharing so you can find out how to do it safely. In NZ, 18 out of 20 DHB in NZ are funding Pepi Pods, to see if you qualify speak with your Dr, or midwife.
For more on bed-sharing guidelines, please read this article.