'Created for comfort – Just for Mum' is Rachel's ethos and the driving force to create organic and natural skincare that helps heal mamas. Rachel, founder of Shea Nurture, is passionate about helping women to be their best self and heal fast, especially through massive life changes like childbirth. Shea Nurture started when Rachel herself was pregnant with her daughter Lily and wanted something to help heal postpartum. After searching high and low, she couldn't find anything that actually kick-started the healing process and there was certainly nothing organic and purely natural.
We spoke to Rachel to learn more about how she got started, the reality of postpartum and what makes Shea Nurture products so special and unique!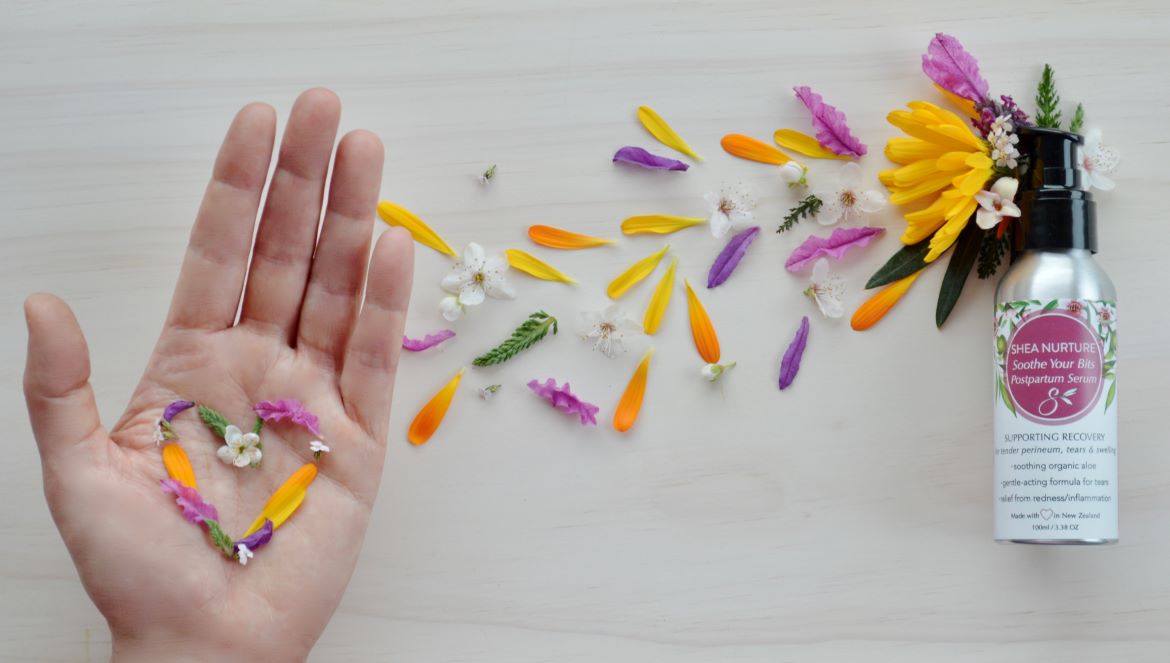 Rachel's three-year journey of development
First came A LOT of research looking at scientific studies and uses of botanicals and natural ingredients used throughout history and in modern times. Then there was product trials and testing through midwives. Initially, this was to create a serum that would help with all those nasty post-birth issues: tears, itchy stitches, inflammation and redness, bacterial/fungal issues and dry/cracked skin.
Throughout the three-year process, Rachel trialled herbs and botanicals and organic aloe, which is the cornerstone of her serum. Organic aloe vera actually kick-starts skin cell rejuvenation in open wounds for fast healing and deals with inflammation and moisture levels. Once the base serum was developed, Rachel realised the potential for its wonderful soothing and healing properties to help with many skin conditions and created Soothe Your Bits Postpartum Serum, Calm Your Nips Nipple Serum for help with cracked nipples when breastfeeding and a third serum for skin healing for the whole family called Herbal Relief.
The serums can also be used on pads (maternity or nursing) and then popped in the freezer to use in cooling inflamed skin.
Learning from botanical history and healing
Rachel looked into the history of healing and how botanicals have played a massive part in our healing inside and outside. It has only been very recently that chemicals started to replace our friendly botanics as a cost-saving measure with at times really bad consequences.
Natural botanicals have many complex components that work harmoniously to help with all kinds of healing. They do this in a very gentle way that does not give people allergic reactions (with exception to a small percentage of the population). In contrast, chemical versions of botanicals are highly intensified and therefore do have the potential to give many people allergic reactions.
See next page for more…