Essential oils are really getting their time in the sun right now. The beneficial and potent properties contained in essential oils are becoming more widely known, as people learn all the ways in which they can be used. Inhalation is one great way to use essential oils and now there is a way to bring your oils everywhere you go: in a Scentz Aromatherapy Locket. Scentz Jewellery offers a fresh and elegant collection of aromatherapy diffuser locket necklaces perfect for wearing essential oils on-the-go! We had a chat with Angie De Souza, busy mum to 2 little girls, the owner of Scentz Jewellery and Blossoms Massage and Reflexology, Oamaru to find out how she got started. Be sure to read to the end to see how you can WIN a Winter Wellness Gift Pack valued over $70!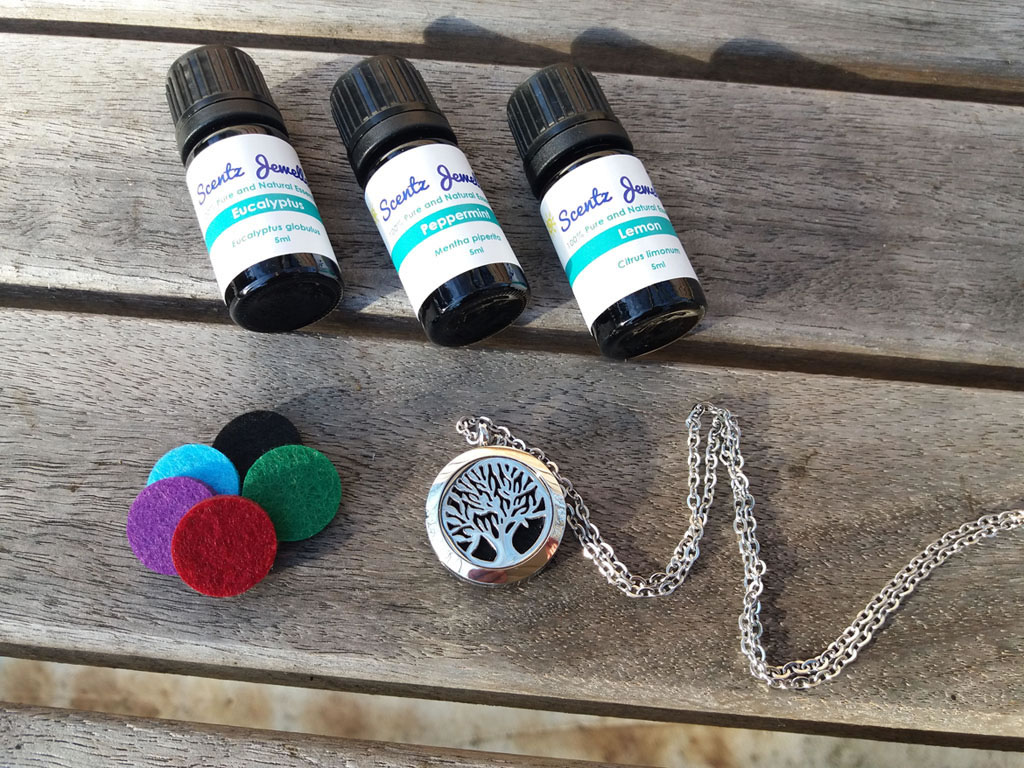 The passion: What inspired you to set up your business?
I was looking for a career change after having my second child and I was inspired by reading about stories of new mums who started businesses despite having young children. While looking for inspiration, I came across these beautiful aromatherapy locket necklaces promoting the benefits of essential oil inhalation to help balance moods and improve wellness. I thought it was a brilliant idea, considering I needed a bit of a boost to lift my moods at times. Needless to say, I have been wearing my favourite aromatherapy locket necklace and essential oil blend ever since.
I thought this would be a great idea for women, especially new mothers who have to deal with emotional imbalances caused by post-natal hormonal fluctuations and lack of sleep. I researched on the science behind how essential oils could be used manage stress, lift moods, and enhance the mind, body and spirit through inhalation and was very intrigued. I wanted to share this with as many people as I could!
The Launch: How did you start out in the beginning?
I started out by giving away a couple of aromatherapy locket necklaces to my friends and family to obtain some feedback. The responses I received were very positive and encouraging. Many commented that they loved how they could change the different essential oils in the lockets to complement their lifestyle needs and how beautiful and durable the aromatherapy lockets were. Our Scentz aromatherapy diffuser lockets are made from 100% hypoallergenic stainless steel which is perfect for anyone with metal allergies (like myself!).
Many women love the uplifting scent of the May Chang essential oil which I recommend to help improve moods and promote positivity throughout the day. They shared the benefits of using the aromatherapy locket necklaces and essential oils with their friends and I've been getting plenty of referrals ever since.
The innovation: What was the biggest breakthrough for you with your business?
I'm not sure if it can be considered a breakthrough but it certainly was a highlight of my new business! It was when I did my first market stall at a Steampunk Festival in my hometown and had the opportunity to share the benefits of using aromatherapy locket necklaces and essential oils to both local and international visitors. Many raved about how beautiful the lockets were and loved the fact that they could carry the benefits of the essential oils with them wherever they went! I was very thrilled with the response I received and having been looking for more ways to promote the benefits of using these aromatherapy lockets.
Another highlight is that two lovely gift shops in Oamaru, Presence on Harbour and Inspirationz are stocking my collection of Scentz aromatherapy locket necklaces and essential oils.
Yin and Yang: How do you balance work and family?
With the help of a wonderful pre-school and the love of doting grandparents who look after us and our kids. It was hard at times and mentally draining as I had to work long hours at the computer to get the website up and running but I worked mostly after my children had gone to sleep.