As two mums with nine children between them, Cathy Kingsley and Mekila Pennisi know a thing or two about what works when it comes to kids' products. They are firm believers of allowing kids to be kids and are passionate about making the childhood journey fun, exciting and filled with wonder. The Chaos Emporium was founded to bring quality, innovative and affordable products into your home that allow and encourage your kids to lead a fun, active and healthy childhood. Their products aim to make the journey a little easier for parents by removing some of the chaos, so you can relax and enjoy making special memories with your children.
The passion: What inspired you to set up your business?
One day while chatting between work events, Cathy and I realised that we both shared the passion of our kids having a childhood just like ours. The more we discussed this, the more we realised that kids these days are missing out on just being kids. We both remember fondly playing with dolls until we were 12 or 13, however these days girls are into completely different things at age 12, with most having a phone or an iPad. Knowing that we were just two mums desperate for our kids to have a simple and engaging childhood without a focus on electronics, we realised that there was a gap in the market for what was actually on offer to encourage kids to be kids. The more product research we did, the more we knew we were headed in the right direction. We just kept telling ourselves, "If not us, then who? If not now, then when?".
The name The Chaos Emporium came from a phone conversation with Cathy. My children, toddlers at the time, had just raided the pantry – I had 2kgs of flour and 2 whole boxes of weetbix strewn from one end of the house to the other and in my exasperated state, I said, "It's 'The Chaos Emporium' here today, I'll call you back". The name stuck from there, as we all know raising kids has its fair share of chaos.
The launch: How did you start out in the beginning? 
Launching a business is such an exciting experience and filled with anticipation and delight and just so many good vibes. We were desperate to share that with our future customers, so we thought why not throw a launch party? I live on 10 acres in Queensland, so we held our business launch under a shady mango tree in the paddock with cold drinks and nibbles. We invited our friends and friends of friends along with family, and like kids that had just won an award, we stood there and proudly spoke and showed off our new product range. It was such a great fit for our vibe, as the children were playing in a natural environment where they had to use their imaginations and social skills and the parents were relaxed and able to look over our product range and give feedback to us.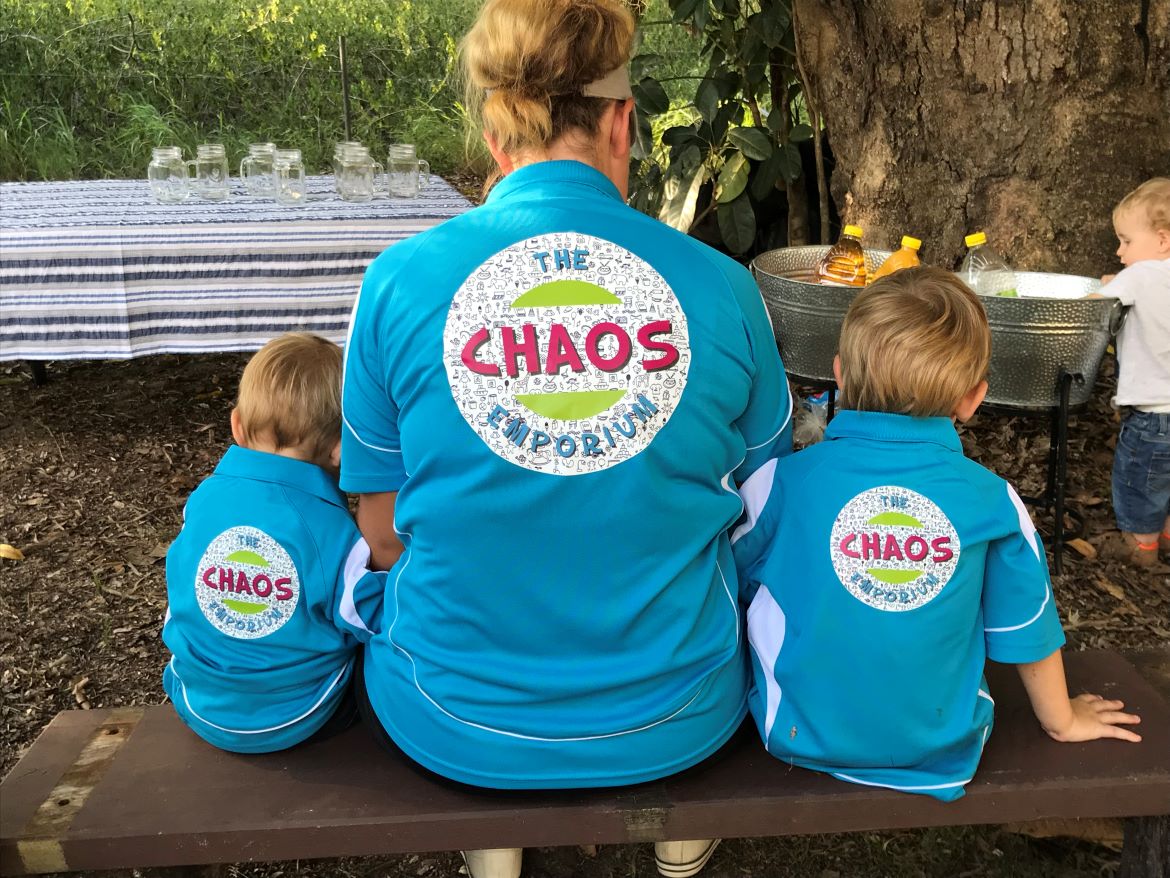 It was such a great success that we needed to add an additional two events to cater for everyone who was interested. Shortly after, we launched our online store and as they say, the rest is history… Of course, there was a whole bunch of hard work leading up to that day, but just like childbirth, no one remembers the pain as you bask in the joy of your newborn baby. Our baby was our business and at that point it was the apple of our eyes.
The innovation: What was the biggest breakthrough for you with your business? 
For us, our biggest breakthrough came when we realised that even though we were a small business, we weren't actually too small to swim in the big leagues and we applied to have a booth at The Pregnancy, Baby and Children's expo. It was such an amazing experience to play alongside the big baby brands and to gain recognition from our peers. We learnt so much from our first expo, such as you need comfy shoes and that towing a trailer from Queensland to Melbourne is hard work. Also, there aren't many places to park a 3-metre-long trailer in the middle of Melbourne city!!!
We gained valuable insight into the world of parents and realised that like us, parents were after innovative products and they longed for a simple childhood just like they had. We have now established a name for ourselves at these expos and we attend them all on the east coast of Australia. For now, we cannot bring ourselves to tow a trailer any further than Melbourne; maybe one day we'll splurge and get a truck.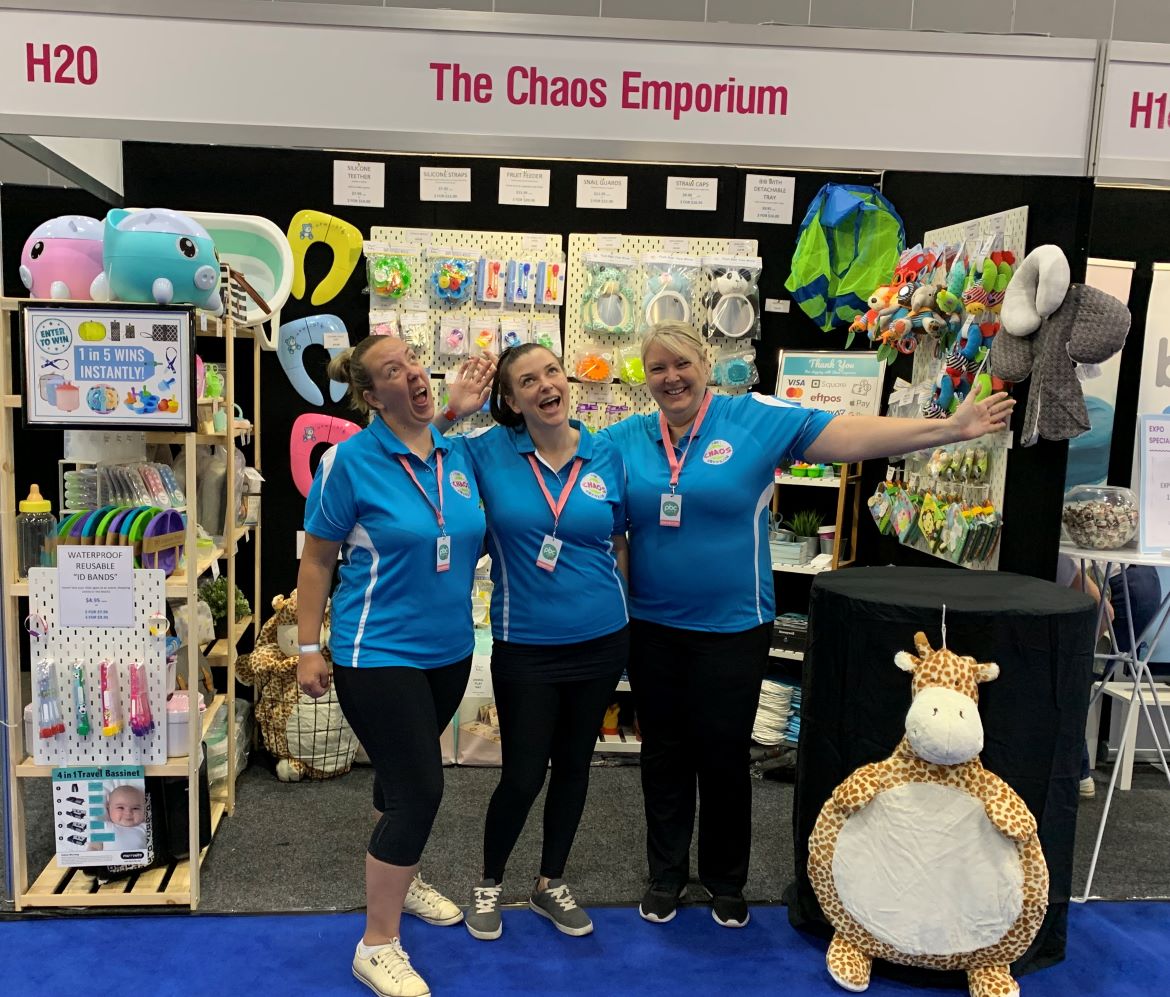 Yin and Yang: How do you balance work and family?
Oh, how we wish that balancing work and family came with an instruction guide, but alas, just like a newborn, you just have to suck it up and figure it out along the way. There have been times when we have to leave our kids for a week and trust that our respective other halves and support networks have got things in hand. I can tell you that aspect never gets easier. Although you may exhale slowly and enjoy the peace and quiet for a few hours, suddenly you find yourself wishing that someone was yelling "Muuuummmmm, I'm hungry" or craving a sneaky cuddle from a grubby toddler as they flash a cheeky grin.
We have tried hard to incorporate our families into what we are doing, and our kids often accompany us to market events or appear in our social media videos. We do that largely because we want to promote the real us behind the business and as parents know, it is not always rainbows and butterflies. I actually remember filming a live video once and my two boys were jumping on their bed. I tried to subtly shoot them a "mum warning" look, which of course they ignored and of course next thing I know one them has gone head first over the side of the bed and was then crying hysterically. Ahhhh the joys of filming live. We cut that live short, but then resumed a little later on to show the aftermath and a very contrite son feeling sorry for himself.
On the plus side though, it has had a positive effect on our older kids as they see us working and reaping the benefit for all the hard work we put in. Both our older sons have said they want to begin businesses of their own and they have begun formulating different ideas for business ventures already.
We often know when we have been working too hard though, as the children imitate us through play, chatting to clients on their toy phones or typing away furiously on their toy laptops. My kids have even gone as far as to say "I'm just too busy for dinner right now, I've got a ton of work to do". This was from my 4-year-old. It was definitely a wake-up moment to spend some time with the family.
See next page for more…