From Less is More certified organic haircare
Tips for healthy summer hair • Be sun smart  • wear a hat • drink water to keep hydrated. • start holidays with a good cut to prevent split-ends. • choose a natural look, gentle do-ups and loose braids. • give your hair a rest from hot tools and air-dry instead.
Spring summer hair needs intensive care due to sun, wind, saltwater and chlorine. Damaging effects, which may create dry, faded, frizzy or brittle hair. Keep your locks looking luxurious with salon quality organic hair products and expert care.
NATURAL SUN & HEAT PROTECTION Less is More organic haircare products contain high concentrations of natural anti-oxidants as parts of virgin cold-pressed plant oils* and butters* as well as herbal extracts* and essential oils*. They provide powerful protection for the hair against UV damage. For shiny, healthy, protected and nourished hair.
*certified organic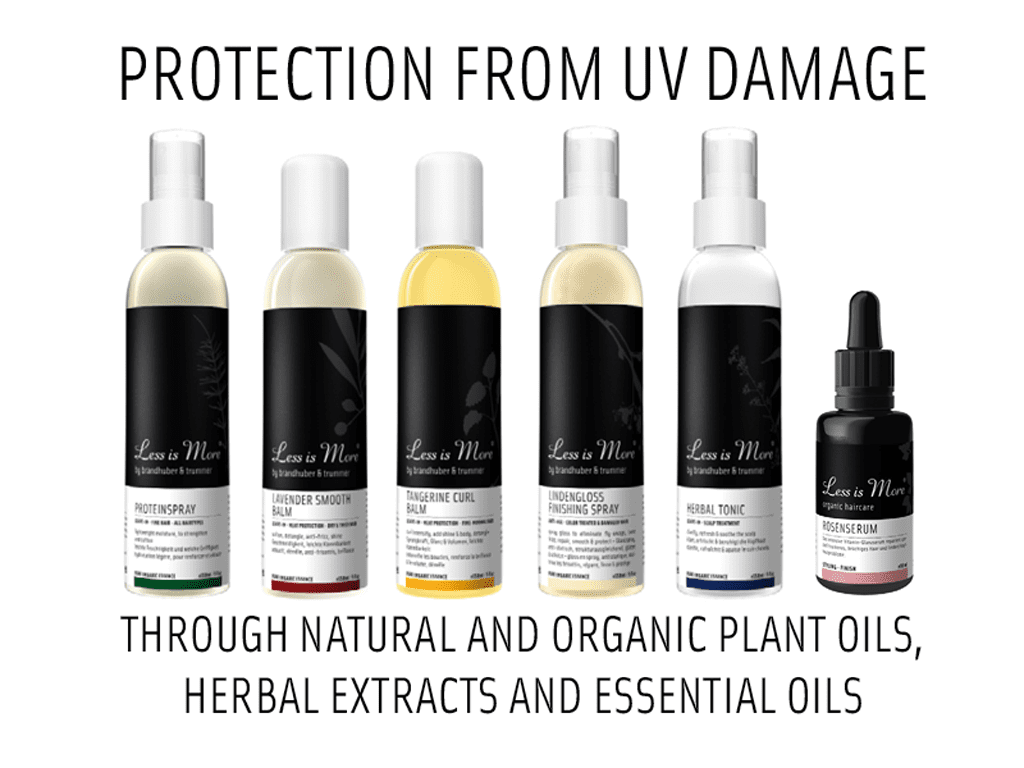 How does this work on a plant basis? Many of Less is More ingredients contain high concentrations of natural anti-oxidants such as vitamin E, polyphenols, carotenoids as part of virgin cold pressed plant oils and butters, herbal extracts and essential oils.
Particularly effective UV protective: PROTEINSPRAY, LAVENDER SMOOTH BALM, TANGERINE CURL BALM, LINDENGLOSS FINISHING SPRAY, HERBAL TONIC and ROSE SERUM.
Less is More LEAVE-IN & SPECIAL CARE, STYLING & FINISH products are designed to remain in your hair offering effective protection against heat and sun with the strength of herbal extracts, wheat protein, plant chitin, virgin plant oils, lecithin and pure essential oils.
Less is More products never contain synthetic polymers, silicones, paraffins, quaterniums, (di-)alkyl quats, glycols, PEGs, etc.
---
SPRING SUMMER must haves
After a day at the beach or pool wash your hair with a gentle and effective shampoo. The mild and sulphate-free LINDENGLOSS SHAMPOO gives damaged hair shine and vitality and protects it from dryness. All Less is More products are colour protective.
The bio-active complex in the LINDENGLOSS CONDITIONER smoothes the hair surface and makes the hair wonderfully soft and smooth. It noticeably improves comb-ability without weighing the hair down. Massage into wet hair and scalp after shampooing, rinse out.
See next page for four more great new products!