Book review by Midwife Denise Hynd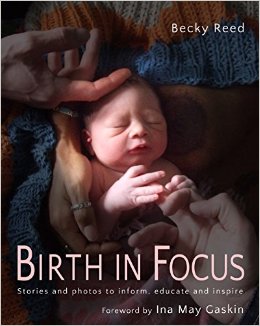 Birth in Focus: Stories and photos to inform, educate and inspire, by Becky Reed
From the soft-edge focused front cover photo to the series on the back cover, this is a book which shows through the words of mothers, their midwives and family members, as well as pictures, what is possible when experienced midwives have a philosophy centred in trust of women and their bodily knowledge, motivating and informing their practice.
The pregnancy and birth experiences of this book happened as part of the Albany Midwifery Practice which ran "from 1997 to 2009 in Peckham, South East London, caring for an all-risk caseload of local women within the NHS. The unique model of midwifery care included continuity of carer with two named midwives and choice of place of birth. The midwives looked after over 2500 women with excellent outcomes, achieving a home birth rate of over 40% alongside a low perinatal mortality rate" [1].
In the foreword of this book, legendary USA midwife Ina May Gaskin encourages us all by saying that the amazing outcomes of this program can be replicated anywhere "the needs of birthing women are put before other concerns which often enter into maternity care policy-making and practice". Ina May also challenges midwives, their educators and regulators by saying that the "true art of midwifery" as shown in this book, is to reduce or eliminate fear of birth.
As the birth of the author's first child is the opening story of this publication, midwife Becky Reed puts the contents of the book in the framework of her midwifery career, plus personal and national maternity practices history. Her first birth was a hospital delivery in 1979 and thus her story illustrates some of the changes in maternity practices since then, though too many birthing women are still put in semi-recumbent positions, despite knowledge about its negative impacts on both mother and baby. Also, as demonstrated in the other stories of this book, lying down positions are contrary to the preferences and instincts of most women, who when 'allowed' adopt more suitable, supported upright or kneeling postures to birth.
Photos in the book were created as the Albany Midwives carried a camera as part of their birth kits. Women gave them back some of the photos taken at their births to use as part of the 36-week "Birth Talk", for other women on the program. Subsequently, many program women thought the use of photos as part of their Birth Talk, "helped them to believe in themselves". In addition, birth photos were a feature of the settings where the program's women-led antenatal and post-natal gatherings were held, which often provoked questions and enhanced discussions at these events. Positive responses to a 'photo story' series of articles by Becky in The Practicing Midwife'encouraged her to create this book. Becky also felt that pictures of labour and birth need to be accompanied by their stories to give them additional meaning and educative value, which is otherwise lacking in birth photographer's websites and YouTube uploads for example. Despite the constraints of non-professional photographers (midwives or family members), limited light, tight spaces and often awkward positions of the subjects, the photos in this book show the vibrant atmosphere of natural labour for each woman.
Also demonstrated in these pictures are features and examples of natural birth rarely seen in hospital deliveries including;
a baby born in its caul, or bag of membranes [2],
vaginal birth of a breech and twin babies,
babies' cords being left to stop working or pulsating before being clamped or cut,
women birthing their baby's placenta, rather than having it pulled out of them.
Currently the majority of maternity carers, that is midwives and doctors, qualify and work in hospital environments which research shows hinder or inhibit the flow of labour hormones, and thus do not promote, encourage or support natural labour and, or birth [3]. Therefore such maternity professionals have not seen, nor experienced sufficient, or any natural labours and births to have developed skills and confidence necessary to 'manage' or encourage woman wanting natural labour and birth, especially outside a hospital. For example, most hospital-trained midwives do not feel confident in assessing progress of labour through visual and auditory signs, or 'allowing' women to push instinctively [4] as in these stories. Rather, hospital-trained doctors and midwives rely on problematic vaginal examinations [5] which interrupt, or can stop the flow of a woman's labour hormones. Therefore this book adds to the published international [6] and New Zealand research which shows us that use of inappropriate birthing spaces contributes to the ongoing escalating rates of childbirth interventions [7], even for healthy first time mothers [8].
The stories and pictures in this book show women being cared for by midwives who encourage and support natural birth as a normal life event in familiar, respectful and private environments. These midwives trust and work with the women who make healthy choices for themselves and their babies. This book shows that birth can be normal, healthy and joyous whether it happens at 36 or more than 42 weeks; whether a first or a seventh baby; a baby coming head- or bottom-first, or being followed by a twin. Thus this is an essential book for the reading lists of Childbirth Educators, Schools of Midwifery, all Midwives and Obstetricians as well as pregnant women and their supporters.
[1] http://thealbanymodel.com/
[2] https://midwifethinking.com/2015/09/16/in-defence-of-the-amniotic-sac/
[3] http://www.nationalpartnership.org/research-library/maternal-health/hormonal-physiology-of-childbearing.pdf
[4] https://midwifethinking.com/2015/09/09/supporting-womens-instinctive-pushing-behaviour-during-birth/
[5] https://midwifethinking.com/2015/05/02/vaginal-examinations-a-symptom-of-a-cervix-centric-birth-culture/
[6] http://www.bmj.com/content/343/bmj.d7400
[7] http://www.health.govt.nz/publication/report-maternity-2014
[8] http://www.health.govt.nz/publication/new-zealand-maternity-clinical-indicators-2014
---
Denise Hynd is a midwife at Birth Matters.