As Emily Buchwald famously said, children are made readers in the laps of their parents. Reading aloud to your kids is such an important investment of your time into their literacy skills and their love of books. It is never too soon to start reading to your child. It is great for bonding and creates a special time in their day they will remember fondly for life.
In the lead up for Christmas, parents and grandparents everywhere are wondering what book to choose for the little people in their life.  These are some of our current parent recommended favourites.
---
Where is Baby? By Sally Rippin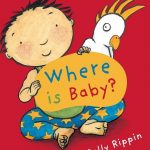 This is a cute and simple board book. It has bright illustrations. Babies like seeing other babies on the pages. They are doing familiar things like hiding and playing and snuggling into bed.
"Where is baby? On the chair
Where is baby? Under there!"
This is a fun read aloud for the very smallest of kids.
Suitable for ages 0-3
We rate it: 3/5
---
Parents of babies and toddlers will smile at this book. Baby says No! to pretty much everything until her clever parent finds the perfect distraction. This is a board book about a baby who says No! to clothes, good, and of course leaving the park.
This is a familiar and relatable story, perfect for reading aloud.
This one is perfect for families who have a child who knows their own mind!
Suitable for ages 0-3
We rate it: 3.5/5
---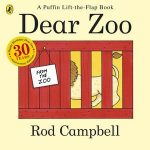 In this classic story by Rod Campbell a small child writes to the Zoo to send them a pet. They keep sending inappropriate pets like lions, camels, monkeys and frogs. Each animal is not quite right for some reason. Â With fun lift the flaps making it really interactive – this is a classic and every house should have one! Once your child is talking, they will enjoy guessing which animal is under the flap. This book recently had it's 30th birthday. Impressive!
Suitable for ages 2-4
RRP 14.99
We rated it: 4/5
---
The Swap, by Jan Ormerod & Andrew Joyner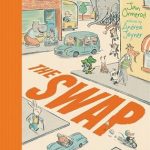 In this story, a jealous sister attempts to swap her dribbly, smelly baby brother crocodile for something else.  When she tests out all of the alternatives, she realises her baby brother isn't so bad after all.
This book was a Children's Book Council of Australia Book of the Year in 2014 and this is a newly released board book edition.
We think it is a fun story full of cute baby animals that are all either too squirty, to tiring, or too fussy. We love that Caroline the crocodile realises her little dribbly brother is perfect after all. This is an excellent choice for any child struggling to adjust to a new sibling. Â Andrew Joyners illustrations are full of fun and expression with lots of detail to explore. Â Recommended for ages 3-5
RRP 14.99
Suitable for ages 3-5
We rated it: 4/5
---
Perfect by Danny Parker and Freya Blackwood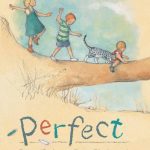 The children in this story are experiencing a perfect summer's day.  They spend hours dawing, baking, climbing trees and flying kits. They seem so good at entertaining themselves! They also seem delighted in in other's company. This is a beautiful read aloud with stunning illustrations by Freya Blackwood. It was an honour book in the Children's Book Council of Australia Early Childhood category for 2016.  It may make you wish you were a kid again so you too could climb trees and play on the beach.
RRP: 24.99
Suitable for ages 3-6
We rate it: 4.5 /5
---
Don't Call Me Bear by Aaron Blabey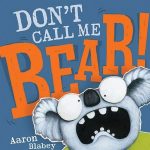 Warren the Koala is very grumpy. He is not happy at all that people keep calling him a Koala Bear. He says we don't have Bears in Australia.  He says that if he had a dollar for every time someone called him a Bear, he would be a millionaire. He just wants to be called by his proper name!
This is a hilarious and very Australian book from the amazing Aaron Blabey. With some yelling to join in on- it is a fun read aloud. The rhyming is clever and Warren the Koala is a lovable if grumpy Koala. We highly recommend for ages 3-7. It is also educational! Teach your kids about Australian marsupials and have fun at the same time.
RRP 16.99
Suitable for ages: 3-7
We rate it: 4/5
---
So there you have it, our picks to help you choose a book for the little people in your life. Encourage a life-long love of reading by setting them up with great habits today!
---
Debbie Hatswell is the Founder and Directory of Story Mama.  Story Mama is an online children's bookstore featuring a huge range of carefully curated, parent recommended, high quality books for children ages 0-8. You can shop online by age, by interest, by award winners or even by milestone. Find out more here. www.storymama.com.au