By Hannah Schenker
The Growing with Gratitude program is all about teaching children the valuable skills of kindness, gratitude and mindfulness from an early age, helping teachers, students and families to pass on these tools so children develop greater resilience, emotional and physical wellbeing, and promoting positive thoughts and habits.
---
The passion: What inspired you to set up your business?
While working as a primary school physical education teacher in my early 30s I stumbled across a couple of books by thought leaders and scientists who were studying positive psychology and its impact on happiness, health and lifestyle.
The more I read, the more my interest in this area grew, not just because it tied into my own goals of improving the wellbeing and health of young children, but because the ideas resonated with my own journey and personal challenges at the time.
Over the next few years I continued to read and research as much as I could. I attended conferences on the topic, read books by popular authors and psychologists such as Martin Seligman, Barbara Frederickson, Sonja Lyubomirsky, and Shawn Achor among others, and adopted the best of their advice into my own daily life.
And after awhile I realised that all the research and studies were really saying the same thing: that contrary to our society's long-held belief that 'success' is the doorway to happiness, gratitude and acceptance are the real indicators of future health, happiness and success in life.
It sounds really basic, but developing an understanding of this principle changed my life in powerful and profound ways and I began experiencing myself the positive impact that this simple philosophy has both physically and mentally.
Then one day while running on the treadmill I had a light-bulb moment – if learning these simple skills and techniques could have such a positive effect on my life at 34, what if I had been taught them when I was much younger? Like in primary school? What would my life have been like if I had these skills right from the start? And what would my students' lives be like if I shared these insights with them?
There seemed no reason to me that the simple techniques used by adults to retrain their brains and change their beliefs couldn't be taught to children, giving them an advantage and therefore setting them up for a lifetime of gratitude, empathy, optimism, kindness, resilience, happiness and success.
And so Growing with Gratitude was born!
The Launch: How did you start out in the beginning?
To be honest I just started. I read a book called "The Slight Edge". In the book, author Jeff Olson talks about taking daily action over time will lead to where you want to go. So in January 2014 I committed to working on Growing With Gratitude everyday. I knew I couldn't quit my teaching job straight away, but what I did know was if I took daily action, over time I would get there.
Step 1 – I first started by writing lesson plans and content. It got messy, so I hired a copyrighter to tidy it up and make good sense of the content I had created.
Step 2 – Developed a website. I didn't have the skills, so I employed a website develop company to create a website.
Step 3 – Outlined a short business plan and set some goals.
Step 4 – Built relationships/partnerships. The first relationship I built was with Professor Debbie Price from the University of South Australia. Debbie in the Head of Wellbeing Education at the University. The reason I wanted to build a relationship with her is because I didn't want to create anything that wasn't going to evidence based. So we have teamed up to scientifically test Growing With Gratitude and what we teach.
That was in the first 8 weeks of starting.
The innovation: What was the biggest breakthrough for you with your business?
Creating a whole school approach where we embed a deep culture of gratitude across the whole school. We do this online, giving access to teachers to teach the content.
Also our family membership site, which is about to launch, is an adaptation of what we teach in the schools. We have modelled the program so families can embed a deep culture of gratitude in their homes.
Yin and Yang: How do you balance work and family?
Get up between 4.30am and 5.30am most mornings. Start early, so have time for family and friends later in the day.
The Drive: What challenges have you overcome?
Not coming from a business background, the business side of Growing With Gratitude was a challenge. Sales, marketing, etc. But the great thing is there are people who help. Instead of trying to figure it all out myself, I identified it as an area I needed help with and then I went and sourced sales and marketing help.
For better or worse: What are the pros and cons of running your own business?
Pros: Serving and impacting an unlimited number of schools, children and families is the biggest pro by a long way for me. Being a teacher, I could only really impact the 550 children who attended Immanuel Primary School in Adelaide. Through Growing With Gratitude I am able to serve and impact potentially millions and millions.
Living on my terms. Being where I want when I want. I love teaching, but I have to be at school at a particular time, I told when I can eat, when I can leave, etc. I now have control over what I do.
Cons: Being solely responsible for producing income. However, that isn't too much of a concern as I am a big believer in serving and making a difference to peoples lives. If I do that, then I don't have to worry about income being an issue.
Hopes and dreams: What next?
Make Growing With Gratitude a true global community. We have a number of schools and families involved in Growing With Gratitude from all parts of the globe. But our aim is to serve and impact 1 million family homes and 10 thousands primary schools across the globe by 2018.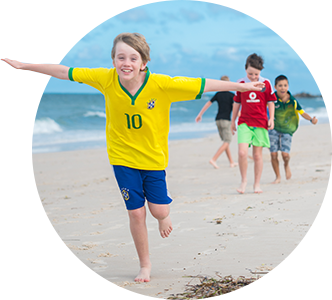 ---
For more information and to connect with Ash, please head over to Growing with Gratitude.