Embracing puddles, mess, mud and fun, Minimuds create warm, waterproof outerwear for your little adventurers in bold, bright colours, allowing them to explore outdoors whatever the weather. With a background in design, former dressmaker Kim Lancaster was passionate about the benefits of the 'outdoor classroom', so set out to create appropriate, fun and functional clothing. Here she talks about the inspiration behind her business, the challenges she has faced along the way, and her exciting plans for the future.
The passion: What inspired you to set up your business?
I'll briefly take you right back to the beginning, so bear with me! (This bit will be quick and painless).
As a young designer and commercial dressmaker, I was always drawn to colour and contrasts, style, and simple functional design. On the flip side, I was a quiet homebody with a glaring aversion to glitz and glamour, noise and hype, and ALL things catwalk. So that was the first of many elements that all collided at the crossroads and eventuated in the creation of a fun and functional kids label.
Worlds away from the catwalk (and more than a decade later), I actually set my mind to creating Minimuds. By then I had three boys of my own, and a yearning to get back to a much simpler existence. I was studying early childhood education and working in a brand new integrated preschool/long daycare centre in Alpine Victoria, Australia. We were struggling with the combination of our high country climate, a muddy outdoor play space which was yet to be properly established, and kids who were desperate to explore it.
I found myself gravitating towards, (and feeling really excited about) the idea of bush kinders, 'play based' learning, and the benefits of the outdoor classroom. I loved the Scandinavian notion that 'there is no such as thing as bad weather, only inappropriate clothing', and I firmly latched on to it. It dissolved all the mama guilt around my own boys wanting to play outside in all (often extreme) weather, and opened up a much broader world for them to explore. It also made parenting a whole lot easier, and the anxiety levels in our household dropped a few hundred notches.
So you can imagine where this is going. Minimuds became our uniform of choice, although it wasn't called Minimuds back then. But it was a complete game changer for me. In a topsy turvy world of massive piles of laundry (created undoubtedly through deliciously rascally antics), and the energiser battery-type stamina of my three boys, I could at least harness their drive for adventure and teach them how to unleash the power of their own imagination. To play, and invent games, and ride fast, and skid to a halt in a plume of dust, and to stop and breathe long enough to marvel at how magnificent the stars are in the night sky.
The soothing balm of nature. It's free, it's magnificent, and it works the kind of magic our kids need more of. I wanted to shout it from the rooftops.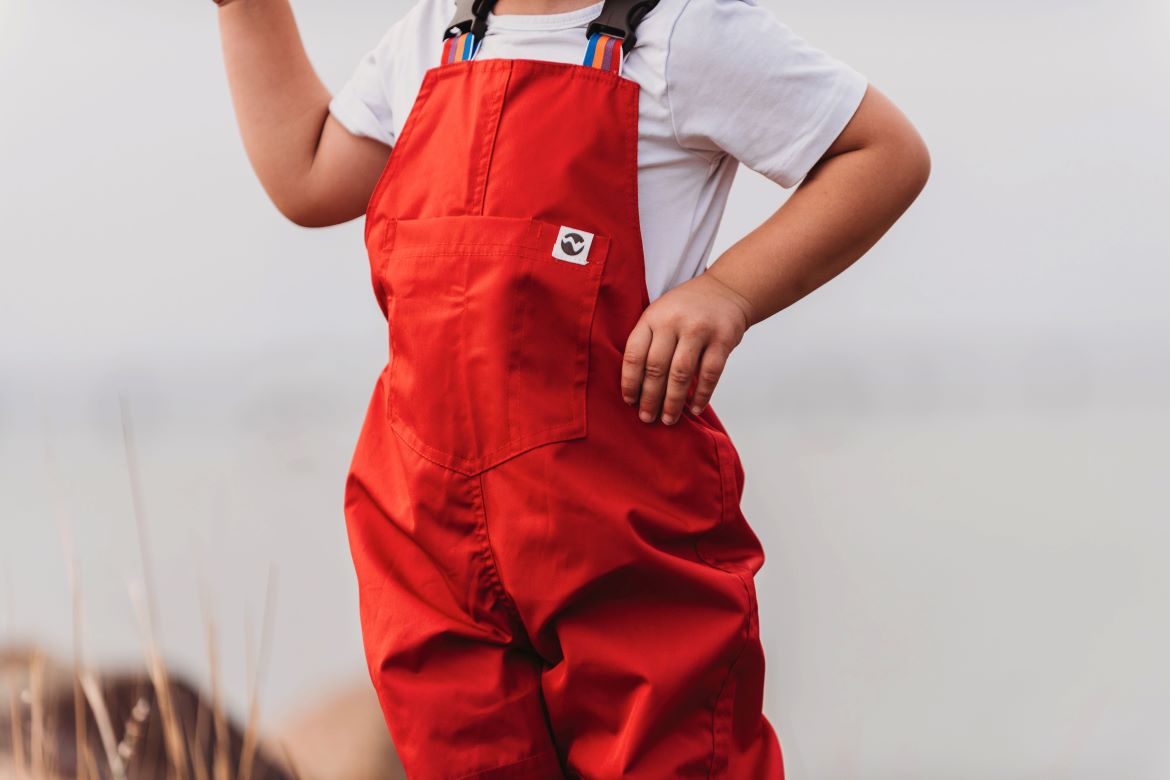 The launch: How did you start out in the beginning?
It was probably after a whole lot of prodding from my early childhood co-workers, after seeing my own boys playing hard and staying dry. As an early childhood education service with 3 alpine centres, we were finding it very difficult to source affordable waterproof outerwear. So I set about making them myself.
It was tricky at best to source waterproof fabrics hardy enough to withstand the rigours of energetic and reckless little adventurers, which were also comfortable to wear and easy to piece together in my little domestic sewing space. So Minimuds was definitely a slow evolution. I purchased an industrial sewing machine and a 50 metre bolt of royal blue Poly Oxford, (which at the time seemed incredibly optimistic), and set to work making a class set of very simple waterproof pants. As word spread, one class set became two, and other centres popped up with small orders. Before too long, my optimistic 50 metres didn't seem so outrageous, and our garage soon became a chaotic, creative hub of activity.
The rest, I guess, is history. We are still very much in a constant cycle of learning and improving, expanding and moving in all directions. Sometimes backwards, often awake in the wee small hours nutting out a solution to a curve ball (and we've had a few), but mostly forwards these days.
The innovation: What was the biggest breakthrough for your business?
I plodded along for a couple of years under my own steam, only just treading water both financially and also in the sense of keeping up with the demand, so for me the biggest breakthrough has been outsourcing some of the work. It provided me with the opportunity to get back to the drawing board and design the rest of the range knowing that I had the scope to be able to fill larger orders and confidently market the product nationally and globally.
Of course outsourcing came with its own challenges, and again it was quite a long and arduous process, mostly driven by my OCD around stitching perfection and the lessons learnt while 'letting go'. It was almost an umbilical attachment, and my difficulty in handing the project over to relative strangers (and trusting them to display the same level of attention to detail) was almost a deal breaker.
So for me, the biggest breakthrough was also possibly my greatest personal obstacle, and the two danced around each other in a conflicting mess until I loosened the strings and relaxed a bit.
See next page for more…