After experiencing low milk supply after she had her daughter, Natasha Bond-Kennedy began researching foods that could help, in preparation for the arrival of her second child. It was from here that Ollie Tots was born. Using the finest and most functional ingredients, they create premium lactation biscuit mixes to help breastfeeding mums support their milk supply naturally. Packed with powerful ingredients – brewer's yeast, organic oats and organic flaxseed meal – their delicious, effective mixes have been created by chefs and contain no nasties or additives. Here, Natasha talks to The Natural Parent Magazine about her business journey so far.
The passion: What inspired you to set up your business?
Low milk supply!
When our daughter Mia was born, my breast milk supply was always low – I barely had enough to pump for bottles. Nine months into our breastfeeding journey, my supply dried up completely. I was proud of our journey but also upset it had ended.
Before our son Ollie was born, I started researching foods that could help with breastfeeding and supply and I discovered lactation cookies/biscuits. I put my chef skills to work and started creating my own recipes, just with better, premium and wholesome ingredients. Once I nailed a recipe I liked, I would freeze the raw dough to bake up the biscuits ready for when my son was born.
A few weeks into breastfeeding Ollie, my supply started dwindling again. I gave my lactation biscuits a go – and couldn't believe how well they actually worked! I would eat some before bedtime and wake up with milk leaking throughout the bed. I started baking all sorts of variations until my husband James (also a chef) and I developed the perfect recipe we loved. We decided to share this delicious mix with other mums, to help them on their breastfeeding journey – Ollie Tots was born.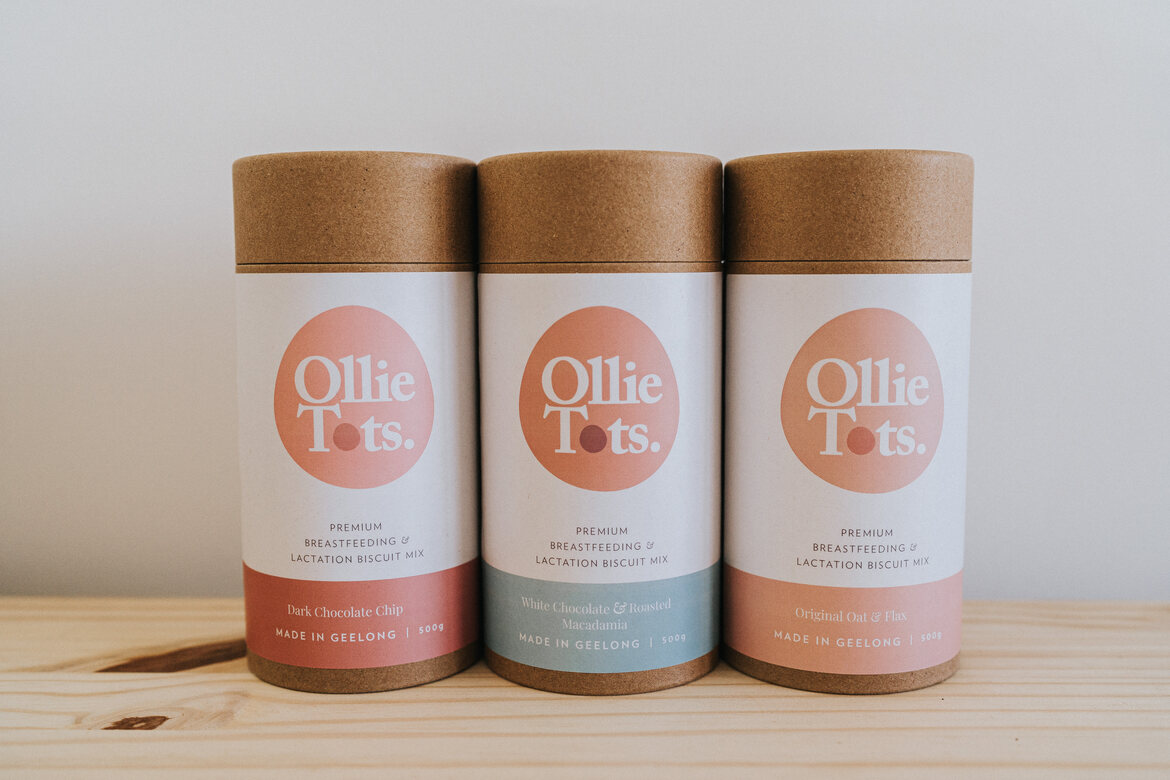 The launch: How did you start out in the beginning?
I began working from our 2-bedroom flat in Geelong. We had the kitchen certified through the council and began baking lots of lactation cookies. Once we found a recipe we loved and all our mummy testers enjoyed too, we then went ahead and organised a friend to design our logo and began getting our packaging ready. Once all the approval came through, we shared everything through social media, family, friends and our mums group network to begin with. Everyone was super supportive, and we've since had multiple stockists take on our breastfeeding and lactation mixes.
The innovation: What was the biggest breakthrough for you with your business?
To be honest, I think the biggest breakthrough came from realising I was developing a very special niche service that had organically grown through my own personal values and life experiences.
Yin and Yang: How do you balance work and family?
My two kids are my number one! Knowing they will only be little for a short time, I soak up my days with them as much as I can, so when they are sleeping, I usually work into the night. We do our best. There will never quite be 100% balance and trying to be really organised and disciplined with planning and tasks helps. I've learnt it's important to take time for yourself and ask for help when you need it.
See next page for more…