By Hannah Schenker
Easter is rapidly approaching, and for many of us it brings back memories from our childhoods. Memories of Easter egg hunts, painting hollowed eggs, stories of the mythical Easter bunny. It was pretty far removed from the actual roots of Easter celebrations, and when you think about it, really about chocolate. Chocolate treats were few and far between in our house, so being gifted a couple of Easter eggs was as exciting as it gets. I would eat a little and wrap up the rest, seeing how long I could save my special chocolate egg – nibbling only a little bit each day. When my Easter egg was finally finished, I would keep the foil wrapping and using the back of a spoon, carefully flatten it out until it was smooth and shining. The challenge was to do this so carefully I wouldn't tear it.
These days many of us are changing our diets to remove refined sugar and regain better health. Paleo (low-carb) eating is a well-known thing, and for children with diabetes, a game-changer. Going gluten-free has helped so many people with digestion issues, whether they are celiac or not. Going without grains and refined sugar doesn't mean you need to miss out on some delicious treats at Easter, it just means trying different recipes.
Here are a few recipes we've seen around the Internet that look pretty good – click on the recipe name to go to the recipe. Let us know if you try any of them and whether they worked out.
---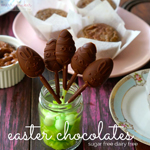 Just because you're eating healthy, it doesn't mean there will be no more chocolate in your life. Helloooooo cacao and coconut oil!
These chocolates from The Merrymaker Sisters look super easy to make, you just need some Easter-themed silicone molds.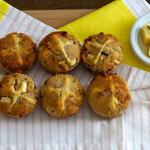 By the same people as above, these Paleo Hot Cross Buns, also from The Merrymaker Sisters, will satisfy the need for warm, spicy buns. It will be interesting to know if these turn out as light and fluffy as they look!
Let us know…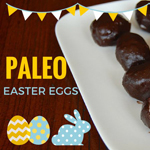 These little Paleo Easter Eggs from Ditch The Carbs are coconutty like a Bounty Bar, but with no added sugar, egg free, dairy free, grain free, nut free, gluten free.
And again, super duper easy to make!