So where does an expecting or new mama find all the resources and tools needed?
To optimise the health of women and babies, postnatal care should be an ongoing process, rather than just a single appointment. Information and support should ideally start even BEFORE birth – so that you are fully prepared when your baby is born.
An online membership program, providing week by week guidance through key postnatal milestones, like the Healthy Mum Healthy Bub support program from Growth Spectrum, is ideal. This program is designed for mothers who are in their third trimester of pregnancy, by an Accredited Practicing Dietitian, breastfeeding counsellor AND mum, Kristy Manners. Kristy created the program after her own experiences and complications during and after childbirth, when she realized just what was missing from postnatal care.
This membership is for you if:
You're pregnant and apprehensive about the birthing process and the months following with a newborn.
You want to optimally recover physically from possible post-delivery wounds such as a C-section, episiotomy, tears, etc.
You feel isolated or alone and need support from other mums who are going through the same stages.
You're experiencing mastitis, engorgement, breastfeeding is painful or you're worried that you are breastfeeding incorrectly as your baby is not putting on weight fast enough.
You feel overwhelmed and struggle to nourish yourself properly with a newborn.
You want to feel confident with your body again.
You're unsure how to care for your newborn and you need health professionals, who are parents themselves, to help you navigate the first six months postnatally.
You want to feel confident as a mother in feeding your baby nutritionally for a healthy future at every stage of the first six months.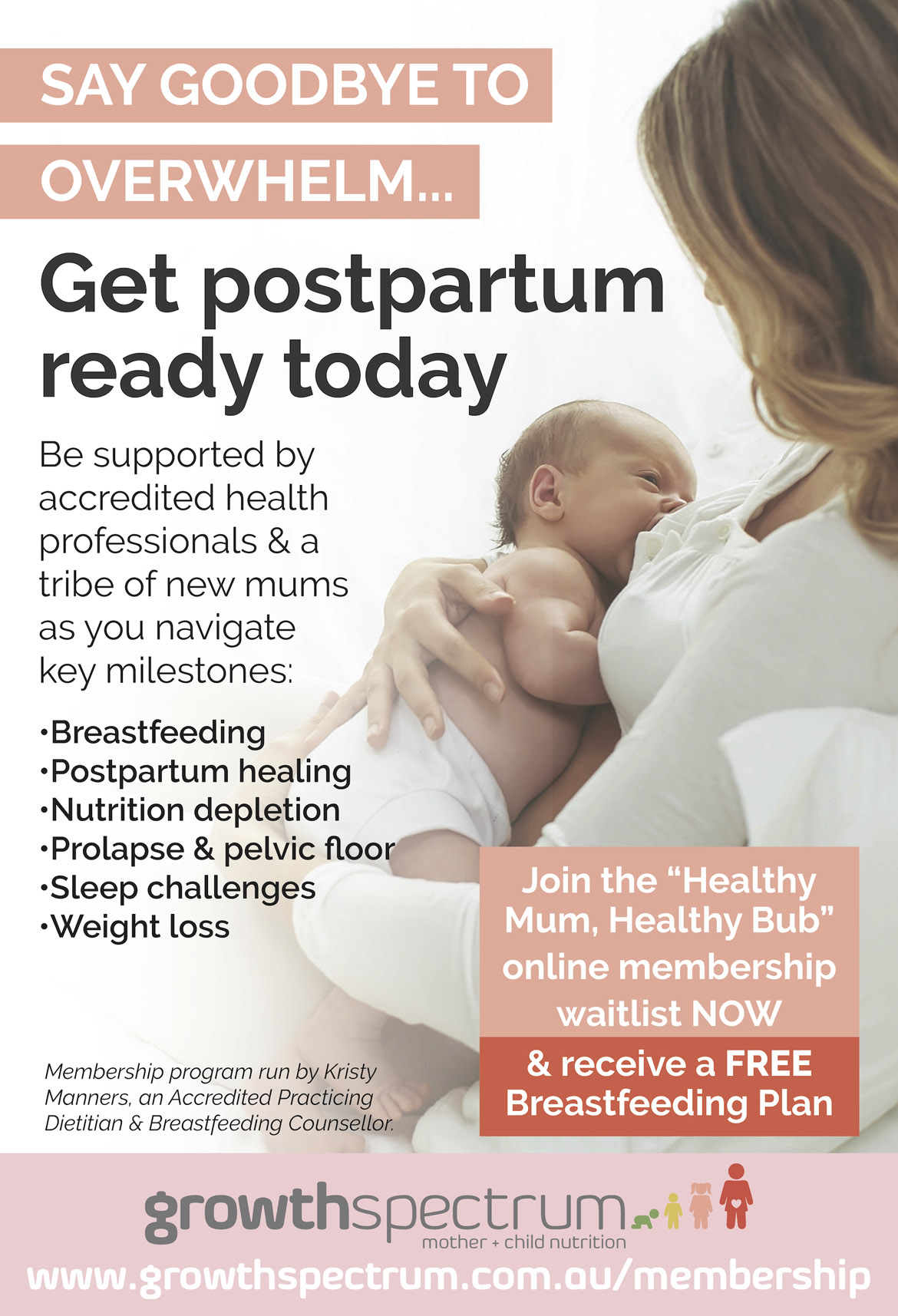 Would you like to be supported by a community of like-minded mothers, with access to support from experts each week? Get in touch with Kristy from Growth Spectrum and ask about the Healthy Mum Healthy Bub support program. You really do not have to go through this on your own.
---
Hannah Schenker is a freelance writer, editor and regular contributor to The Natural Parent Magazine. She lives with a touch of magic in Golden Bay, New Zealand.