By Hannah Schenker
Playtime is so important for children – it is how they learn as they interact with the world around them. The benefits to their development has been researched and confirmed – play contributes to the child's cognitive, physical, social, and emotional well-being. Play is also a fantastic way for parents to connect and engage with their children, allowing them to get a glimpse into their child's world. Whether the child is engaged in free play (entirely following their curiosity and interests without prompting), or guided play (play within a kind of scaffold or framework), it is so beneficial it has been recognized by the United Nations High Commission for Human Rights as a right of every child.1  Sometimes, though, it is helpful to have some playtime starters – as a kind of launching point into the creative world.
While boredom can be highly productive (leaving your child to come up with their own solutions and creative ideas) sometimes it is great to have some extra ideas handy. If you are looking for a simple way to prompt some play exploration, The Little Bag by Little Leaf Eco is a wonderful thing to have in the house. An eco-friendly pouch filled with little wood squares that have playtime prompts on them – activities, ideas, story starters and much more…depending on the theme you have chosen. Each square drawn out can be a complete activity on its own, or lead to self-directed free play and learning. This will still allow your child to explore their own creativity, but gives them some starting points if they really need it.
"The idea for the bags came from wanting to get my own children away from the iPads and TV and do something we could enjoy as a family," says Maileen, Little Leaf Eco's founder. "Something they would enjoy but also something that would get them moving, thinking or learning life skills. Some of the activities are just straight fun things to do while others are designed to encourage engagement or to learn something. My experience has been that regardless of the activity, if the family are involved, everyone has fun and everyone learns something about the skill required or about each other."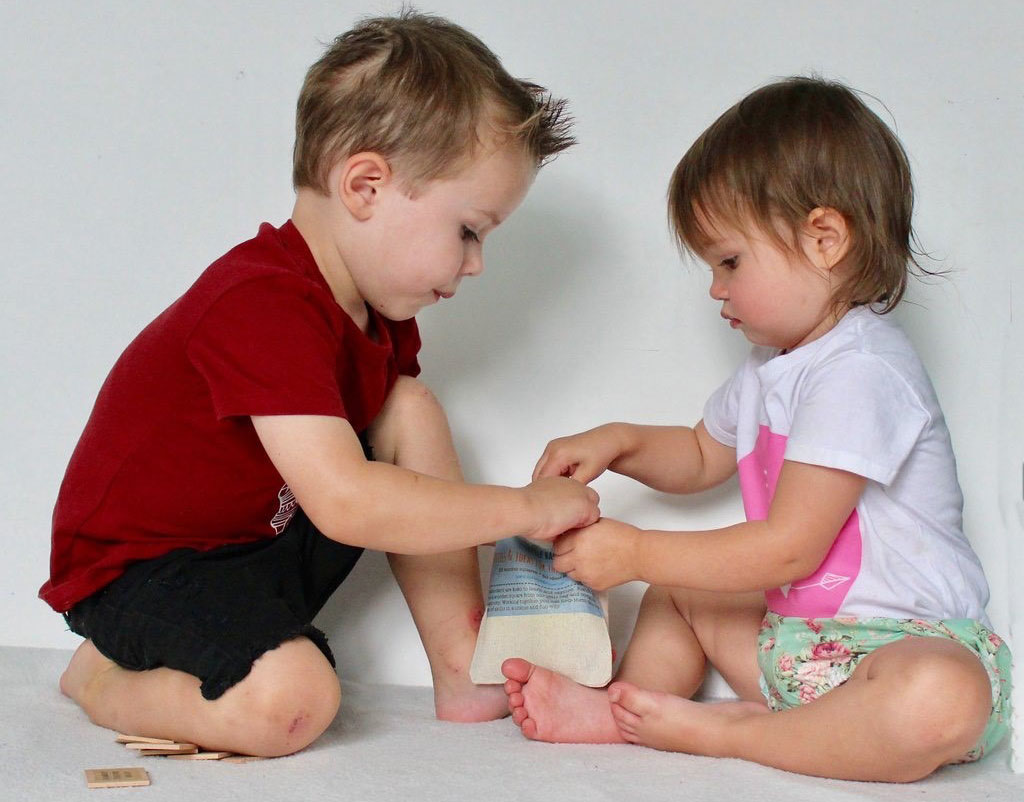 There are many themes available so you can choose the bag that would most suit your child's interests or age range:
To Spoil Dad or Mum: In these bags you will find special activities for the child to celebrate with mum or dad. Great for a gift idea – birthdays, Mother's or Father's Day, or Christmas.
Activities and Ideas for the Preschooler: For ages 3-6. These activities are specifically designed for toddlers, to help them develop a range of skills. These stimulating activities will get them thinking and making their own choices.
Down Time – Quiet Activities: For ages 3-10. This one is great to have on hand for when you need to slow things down a notch. These activities will keep them engaged without the need for switching on the Xbox or TV. Great for winding down with before naps or bedtimes.
Help Around the Home – Simple Tasks: For ages 3-12. We all should be encouraging our little ones to participate around the home. There are many simple tasks that they can do which will help them learn and set them up for later in life to be more independent. This bag makes learning these life skills more fun as they randomly select a task from the bag and go about completing it.
See next page for more themes!