At True Impressions, they believe that life is full of meaningful connections, and they want to help you celebrate them. Each piece of their personalised jewellery is hand stamped and assembled in New Zealand, creating a beautifully unique piece that you can cherish forever. It will be one of a kind, just like you. You can record your unique story onto a tangible piece of jewellery that you can wear and cherish every day as a visual reminder of what it is you love and live for. Founder Tamlyn Schafer shares her passion with The Natural Parent Magazine, talks about the challenges she has overcome along the way, and discusses her hopes and dreams for the future.
The passion: What inspired you to set up your business?
I was pregnant with my second boy and COVID-19 was spreading around the world fast. During lockdown, I had to miss a midwife appointment and it hit me that my baby and I were suddenly much more vulnerable. Shortly after he was born, I set up True Impressions. I wanted to create a business that responded to that vulnerable and anxious feeling I had while pregnant and in the middle of a pandemic. I needed to provide sentimental pieces of personalised jewellery that mothers could wear every day. The idea is to have our children's initials or names on a pendant and to have them close to our heart, no matter where they might be at the time. Wearing my necklace with my two boys' initials actually made me feel less anxious. 
The launch: How did you start out in the beginning?
At the very beginning, I was only planning on doing this as a hobby. I created an ETSY shop so I could make and sell to fund my hobby. I invested $100 into it and offered only 10 products. I was using plated materials which meant I could work at my skill and offer the product at a very low price point. I made many mistakes and when that happens, the pieces are discarded – they cannot be used. I only sent out the pieces I was 100% happy with. I got great feedback on my ETSY store and still have loyal customers that have stayed with me on this journey. Even back then, my most popular items were the initial necklace and name necklace. They still are! 
The innovation: What was the biggest breakthrough for you with your business?
I knew from the beginning that I wanted to work with precious metals such as sterling silver and gold filled. The personalised pieces are so precious to people that I wanted them to last for a long time. When I decided to move from plated to sterling silver and gold filled, I created a beautiful new website and invested in quality. I also found excellent suppliers that I know consistently provide quality chains, findings and blanks. I have also increased my products to complementary chains, rings and studs. I now sell over 60 products on my website. I have also met hundreds and hundreds of amazing women, some who have children, some who have lost children, and some who have pet babies. Some orders are very sensitive and I feel so honoured to have a part in creating a piece of jewellery that has such a personal meaning.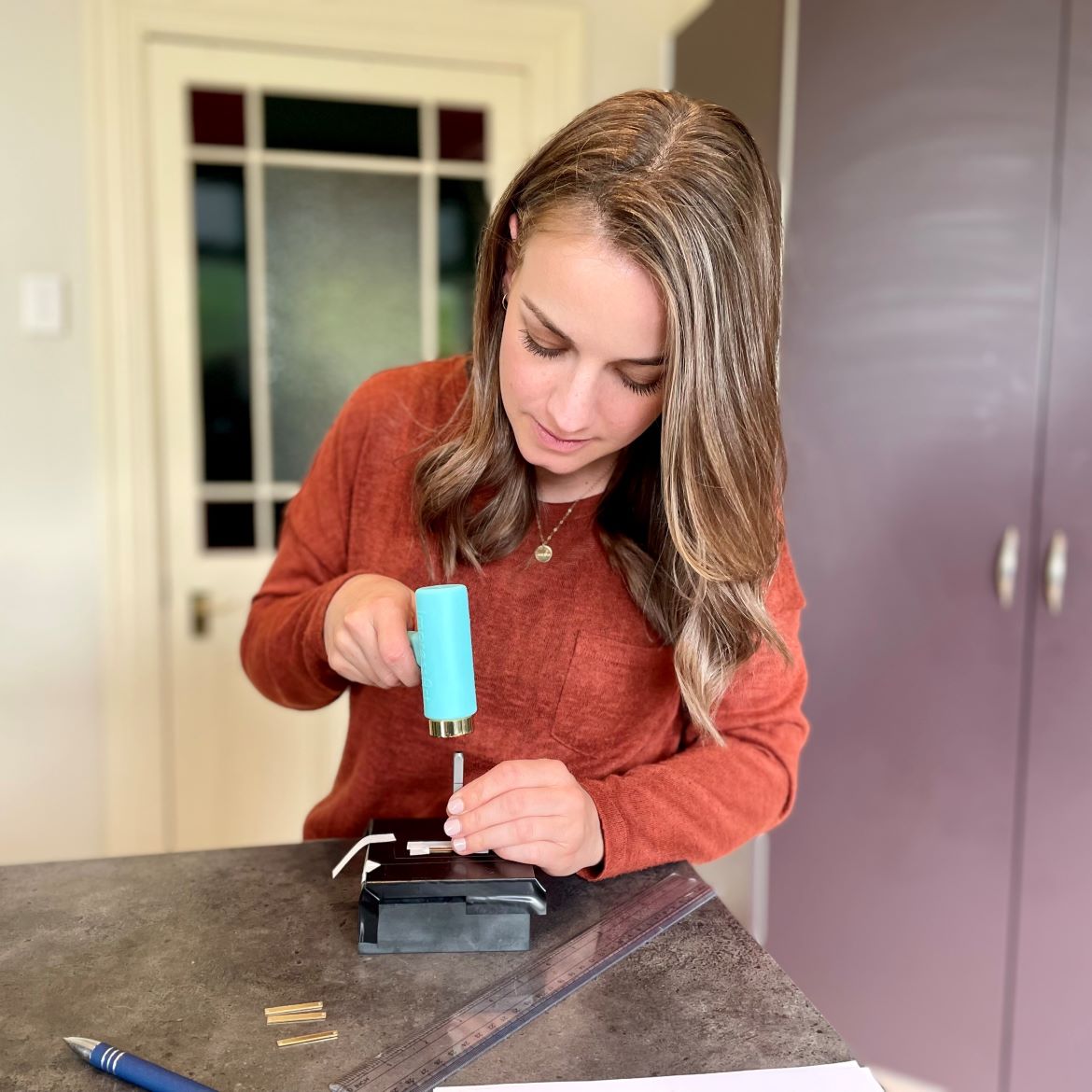 Yin and Yang: How do you balance work and family?
This was really important for me when I started this business. I was concerned about getting so busy that I wouldn't have time for my children. I found a way to manage this. I have a production time that changes based on how many orders are coming in. This can range from 1-3 days to up to 10 days. This means I am not rushing through the orders and making mistakes. I focus on my boys needs first and that might mean I am working on orders at night or on the weekend. It can be a tough balance sometimes. The whole reason I started this business was because I love my children so much, I always put them first.
 See next page for more…