By Hannah Schenker
Are you nearing the end of your pregnancy, your body completely transformed like a ripening bud, ready to flower? Some may feel called to honour their changing body, whether that's through sacred rituals or a more light-hearted celebration to mark this rite of passage. Belly painting is a wonderful way to express yourself when you have a lovely big round pregnant belly – as it is a living canvas. What a beautiful way to honour this unique part of your pregnancy journey.
Body painting has existed in most, if not all, tribal cultures for centuries, using semi-permanent clays and natural pigments, in special ceremonies and rituals. How we decorate ourselves tells others the story of who we are as individuals. The use of the skin as a living canvas was a way to express all sorts of information through the use of symbols – things like status, rank, bravery, protection, fertility, past experiences, spirituality, magic, rites of passage and the gods and goddesses. It was an important part of the daily and spiritual lives of our ancestors, and ultimately a way of expressing one's culture. Today, many cultures still utilize their body painting traditions.
There has been a revival of body painting in Western society since the 1960s, with the iconic Wanda Embry poster being an early example.
The original body art – henna
The roots of body painting can be traced back to the tradition of applying a natural plant dye called henna to the skin in intricately patterned designs, each element of which carries significant meaning. For over 5,000 years, henna has been used to adorn bodies, hair and nails of people in Pakistan, India, Africa and the Middle East, originally due to its cooling properties. Henna is made from the leaves of a tree called Lawsonia inermis (also known as hina, henna tree, mignonette tree, Egyptian privet). The henna leaves contain something called lawsone – a reddish-orange dye that binds to the keratin in our skin when applied as a paste, staining the skin. This stain lasts on the skin for a few weeks, gradually fading.
Henna has become extremely popular around the world. It is now included in ceremonies in the West to bless the pregnant mother, with beautiful designs adorning the pregnant belly. Whether you see it as adornment or cultural appropriation has much to do with whether the history and cultural significance or henna use is known and/or learned about, and the deeper meaning behind henna application considered. It is a fine line between cultural appropriation and appreciation.
Adapting tradition: personal expression
Most belly art these days is less about cultural tradition and more about personal expression and celebration, and done with brightly coloured paints. Decorating your beautiful belly is a way of marking this part of your life, creating space to celebrate this new life inside you and what you are about to go through. The experience could be deeply meaningful and significant, or simple entertainment and a bit of fun. That is completely over to you.
Belly art is often photographed and kept as a keepsake, forever reminding you of this moment in time.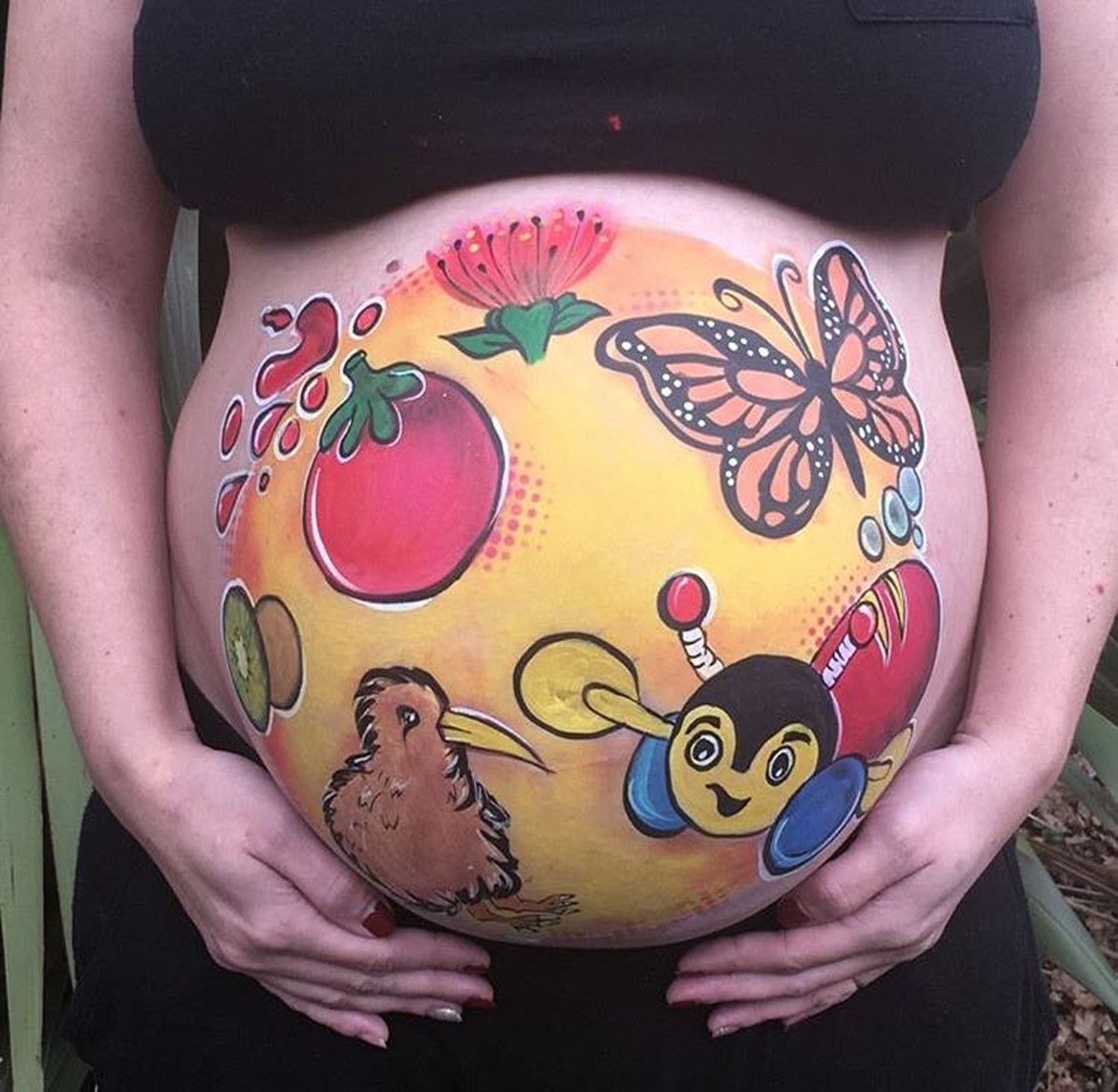 Time for you
Whether you are having a more spiritual celebration, an entertaining baby shower afternoon or as part of a gender reveal event, having your belly painted at home in a comfortable, relaxed environment can be a soothing, peaceful experience for you. Laying back, putting your feet up, having cups of tea brought to you and generally being doted on while you have your bump painted sounds pretty good, doesn't it?
If you already have children, it can be a great "belly bonding" experience. Perhaps your little one is curious or maybe a little unsure about this new family member due to arrive, so including them in this session can involve and connect them. Perhaps a favourite storybook character or toy could be depicted, or elements of the main design can be painted on their face. Your partner could also be involved in the design, making it a special one-off family portrait.
Auckland body painting artist Jane Ellis of Rainbow Rascals has been body painting for 10 years and feels that belly painting is such a special, personal and creative way to celebrate and express yourself at this time.
"It is always such a great experience to talk with my clients and create a design for them. The session itself is a fun and soothing experience, a bit of a pamper session, a time to focus, reflect and celebrate their body and pregnancy," she says.
See next page for more…