Having both experienced challenging fertility journeys themselves, best friends Kirsty Eng and Rachelle Driver know what an emotional, delicate and sensitive time it can be for women trying to have a family. With their backgrounds in natural fertility and support services, they set out to create a thoughtful, caring gift box for those times when words or even flowers seem inadequate, to lighten the load of women hoping to conceive or those suffering with the pain of pregnancy loss. The Fertility Hope Box is designed to keep women's hopes held high whilst on their fertility journey: a heartfelt gift full of hopes and best wishes for a friend, family member or simply for yourself. Here, they talk to The Natural Parent Magazine about the inspiration behind Hopes Held High and their shared passion for supporting women through these stressful and emotional times.
The passion: What inspired you to set up your business?
We have been best friends for decades and our friendship was what helped us through both our challenging fertility journeys. With over 16 years' experience working in the area of natural fertility and 10 years' experience in support services, we understand the difficult emotional road so many women travel whilst trying to have a family. We are both big gift givers and realised there wasn't really a gift box out there that was thoughtful and sensitive enough for someone who was struggling with IVF or who had just had a miscarriage. After months of brainstorming, we came up with the heartfelt elements of our 'Fertility Hope Box'. Our hope is that these gift boxes help calm, console and uplift women through what can be one of the most difficult times of their lives, but also a way to show support and acknowledge the emotional impact. This desire was behind the naming of our business 'Hopes Held High'.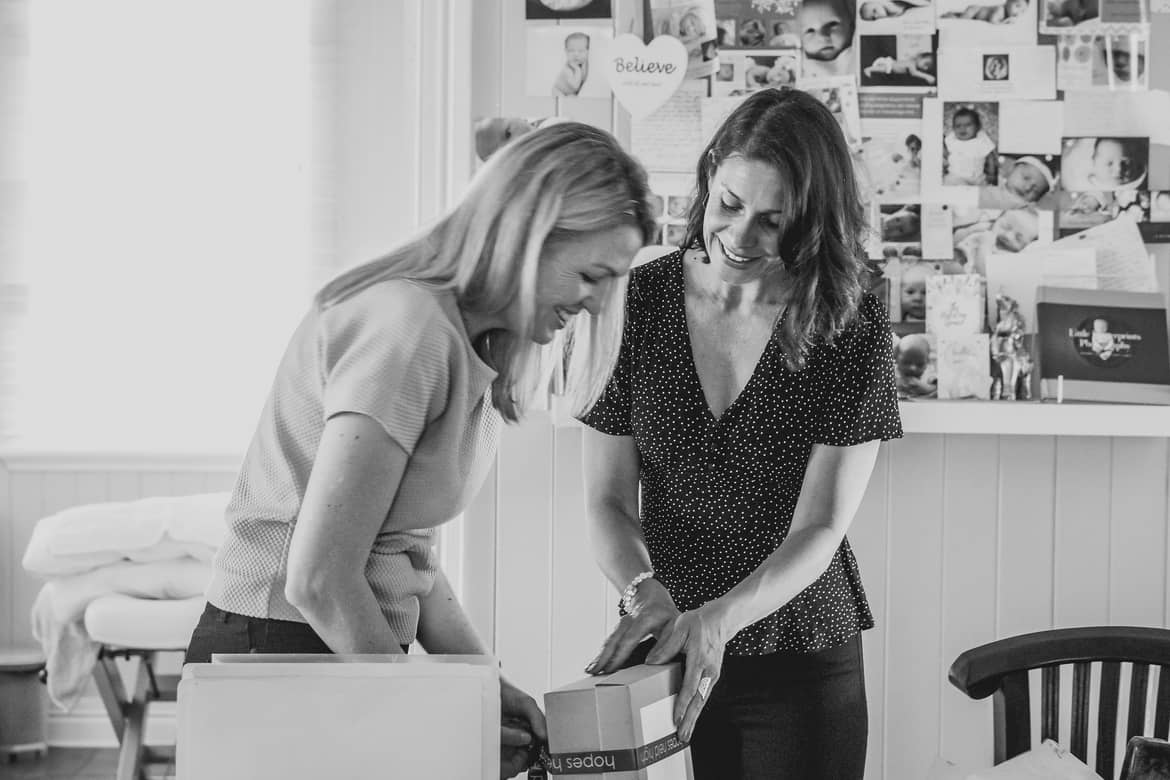 The launch: How did you start out in the beginning?
When we started the business, we were both working in service industries; neither of us had ever created an actual product to sell. There was a lot of time spent researching where we could source materials to create or handcraft each item and work out what look and feel we were after. We knew we wanted to use organic, natural and sustainable products were possible. We both live in different states, so there were many phone calls, emails and texts back and forth. Being best friends for so long made every stage fun. We found we agreed with each other on most decisions, which made the creation of the gift box flow easily.
The innovation: What was the biggest breakthrough for you with your business?
The biggest breakthrough for us was having finally created our first Fertility Hope Box and holding it in our hands: proudly seeing all the elements brought together and understanding the journey we went through to create each individual piece from logo and concept design, colour and packaging choices, to printing and materials. Each item to us represented the hours of love and creativity we had poured into each one. It was such an immensely enjoyable experience to create something together and see how beautiful the finished product turned out.
Yin and Yang: How do you balance work and family?
Fertility Hope Box is a side business to our real-world jobs so there is a fair bit of juggling involved. Our families are very supportive of our business. Our daughters love putting the essential oil blend sets and bracelets into their fabric pouches. We make batches of candles at home soon after the children are put to sleep and on a Sunday afternoon, we often make bracelets. In the end, it all manages to get done because we love and believe in the product. It is so heart-warming to know the Fertility Hope Box will brighten the day of someone who is really struggling.   
See next page for more…