Having a baby and becoming a parent is such an exciting and rewarding time in your life, full of precious moments that you will treasure forever. It is also one of the toughest things that you will ever do, and at times, you will feel stressed, exhausted, anxious and confused by this little person who is totally dependent upon you. As an experienced nurse and midwife, as well as a mum to 3 children herself, Elysia Gobbie understands the realities of parenthood and the challenges that come with it, and she is passionate about educating and supporting parents through these new and challenging times. At Baby Bliss, she provides a personal consultation service, offering sessions and workshops that cater for all parents' needs, from before your baby is born until they are 12 months old. She provides guidance and education, and helps with any challenges that you may face with your baby.
The passion: What inspired you to set up Baby Bliss?
When I was working over 25 years ago as a postnatal Midwife at Birthcare, a maternity/birthing unit in Auckland, I often wondered if I would ever have the confidence to start my own business – to provide personalised care and breastfeeding support for new mums in the community. Independent Midwives and Plunket do an incredible job, but they have always been time constrained and I really felt that mums deserved more time and support with their journey through the early stages of motherhood than what they were able to be given at times. I felt quite strongly about this so I knew in my heart that when the time was right, I would somehow achieve this.
Prior to having my first baby, I was really focused and driven on being successful in my career. I have always loved learning and the challenges that came with it, so I was completing Post Graduate papers on Breastfeeding, etc., and working hard towards achieving a Masters degree in Midwifery with ultimate plans to complete a PhD. I remember trying to convince my colleagues that even though I was about to have a baby, my ambition would not be diminished in any way, and that I would work having a baby around my career goals. How things changed! When I had my son, I fell utterly in love with him and with being a mother and my focus and motivations in life completely altered. I was still me at the core of it all, but I felt there was a different path ahead of me – I could never have imagined this before having my first baby. Being a mum felt central to my whole being and my drive and focus for my career felt very much secondary to this – so I went on and had another 2 children – 2 gorgeous girls! While my children were young, I did eventually pick up some causal shifts as a Midwife but my priority was very much my young family. 
Life throws you challenges sometimes and as a family, we faced some very challenging and stressful periods when one of our daughters was diagnosed with an auto immune disease when she was 2 and a debilitating pain disease when she was 10. Though it has been incredibly tough at times, we are so grateful for the many blessings that we have received from the journeys that we have been on together. One of those blessings was that in 2015, it felt like the 'right' time for me to follow through on the dream that I had envisioned years before. My daughter's health had been reasonably stable for a little while and after giving so much of myself as a mum, I wanted and needed to do this for me. I really felt that a piece of me was missing and I was ready to pick up a part of me that I had put to the side while I raised my children, and this was how Baby Bliss was born! Baby Bliss has given me the ability to not only fulfill my passion as a Midwife, supporting and caring for new mums in the community, but it has given me the flexibility to be able to pull back during the times when my daughter's health deteriorates.
The launch: How did you start out in the beginning?  
To be honest, I had a bit of a challenging start. I was so excited about embarking on my new journey. It very much reminded me of what it must feel like for mums as they enter into motherhood. Starting a business was very much out of my comfort zone and I had to learn so many new skills. I doubted my own ability at times and whether mums would value the services that I was offering, but that's when the support of family and friends would kick in. I had always been the go-to person, helping them when they had their babies, and they would remind me of how important this was for them and that other mums would definitely see the value in this too.  
It takes time to get your name and what you do out there and to set up all the processes in a business and because I was doing it all on my own, it was hard work and it took a lot of time to do this. Fortunately, I love a challenge and I embraced all the learning I had along the way.
Unfortunately, within the first year of setting up my business, when business was starting to pick up, I had to put the hand brake on as my daughter's health took a sudden step backwards and she was hospitalised. I had what felt like the first taste of 'freedom', tapping back into the core of who I was and the joy that I get from helping mums. To be honest, I felt a little aggrieved because I had really missed this part of me, but I very quickly shifted gear so that I could focus on my daughter until she was well again.
The innovation: What was the biggest breakthrough for you with your business?  
I was given the amazing opportunity to purchase quality baby products and Medela Breastfeeding products and accessories and I chose to sell them for prices well below RRP so that they could be more affordable for mums. It started initially as selling to clients who attended my workshops or who engaged in some of the private in-home services that I provided, specifically around sleep. I would be talking about creating sleep associations with swaddling, sleeping bags, white noise and comforters etc, and they would ask me if I sold them. At that time, I only stocked Miracle Blanket Swaddles and Woolbabe Sleeping Bags as I happened to give them away as 'Free Gifts' when clients purchased certain packages. But after several requests to sell and permission to do so from my wholesaler, I started selling them regularly to interested mums. Mums are very good at telling their friends, so before I knew it, I was busy making several orders each month!
It has continued to grow and with more and more requests from mums to be able to purchase other products, my online shop has grown substantially. There are some fantastic savings to be made and I pass these directly on to mums. It is very much secondary to what I do as a Baby Advisor, but I have been given such a great opportunity and I love sharing this with all my mums – it's kind of my way of giving back! I only list quality products that I personally recommend and that continually receive outstanding reviews – and I have a fantastic little 12-year-old helper when it comes to receiving the orders and sending them out!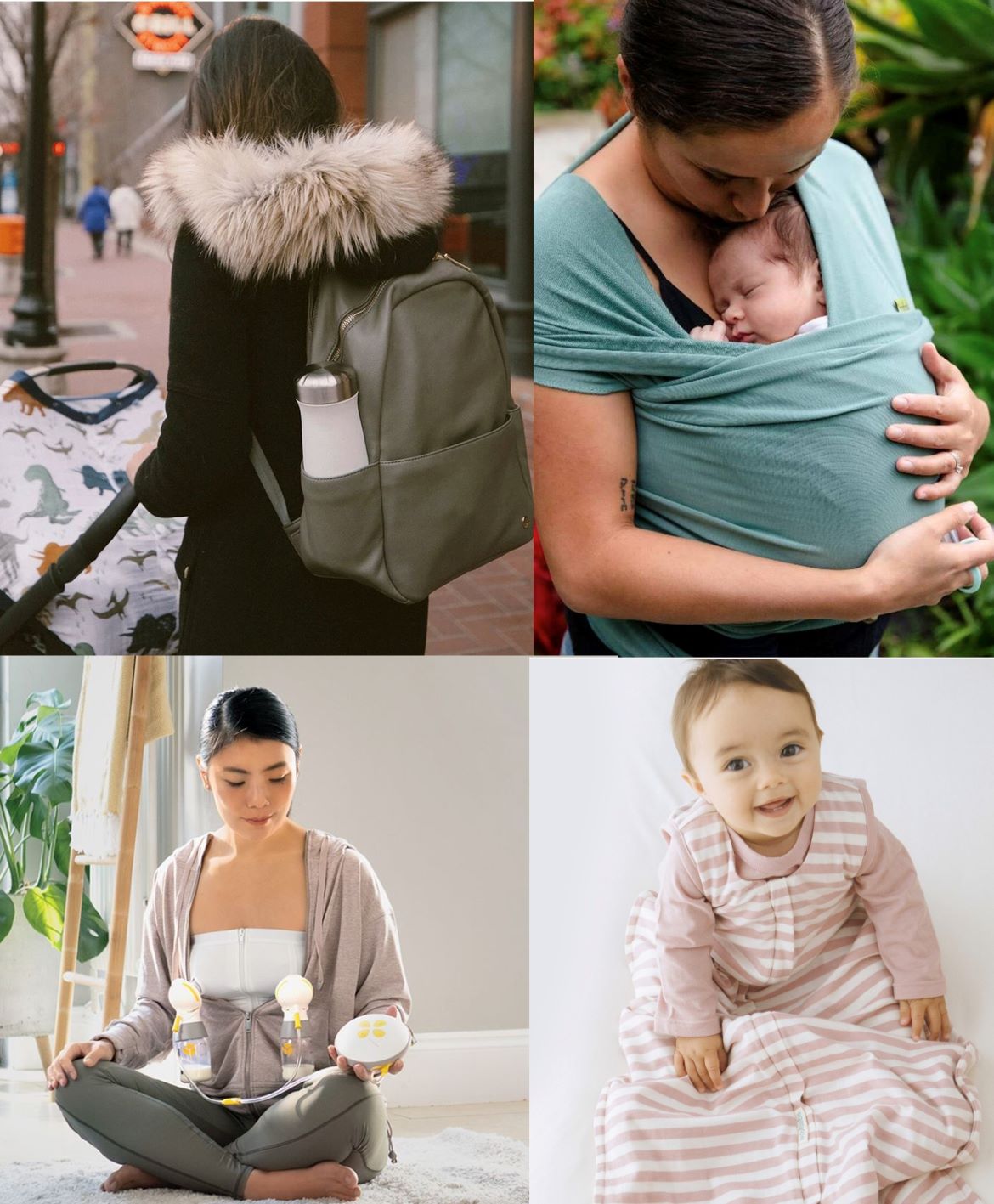 So from this, along with experiencing several lockdowns over the last 18 months, where I had to relook at how I could continue to provide my personalised services to mums during times when I was no longer able to do home visits. I could feel the anxiety and stress that these lockdowns brought to new mums, making them feel that they were alone and that support was no longer available to them. So I offered a special price for phone and Zoom consultations so that they knew that advice, support or reassurance was there if they needed it. This meant that suddenly I was viewed to be accessible to mums all over New Zealand, not just those who were Auckland based. So together with my website 'Shop' selling baby and breastfeeding products for great prices, I am now dealing with mums all over New Zealand on a daily basis who are engaging in my workshops and sessions or getting professional advice around their baby's feeding or sleep, which is super cool.
Yin and Yang: How do you balance work and family? 
This is always a challenge for me as family remains strongly the focus in my life. Children grow up so quickly and though it is busy and sometimes I wish I didn't have to do all the running around after them for school, friends, sports and trainings, etc., I know I will miss it terribly when it is over. So with the support from my wonderful husband who helps me juggle the 'taxi rides', and with our kids all helping out with meals and house work, most of the time we operate as a well-oiled machine – so I am able to keep things as balanced as I possibly can.
See next page for more…