Massage is a wonderful way to bond with your baby and at the same time make them feel relaxed and safe. The numerous benefits of baby massage are proven and well known, dating back to ancient times.
Selecting the right massage oil to use is key to a great experience for both parent and baby and should not be an afterthought. Not all products are created equal and not all products are suitable for delicate baby skin. For best results, the massage oil should be light, non-greasy and easily absorbed, enriched with soothing nutrients and provide calming effects.
Choosing the right massage oil
The Gilly Goat Calm Baby Oil Bath Milk is a multi-action product that makes adding a nourishing baby massage to your routine easy and enjoyable for both mum and baby. It is Made Safe accredited, toxic-free and full of nutritional luxury botanicals that help soothe, protect and relieve your baby's skin.
When it comes to baby skincare, Gilly Goat focuses on luxury ingredients with clean science and formulation for proven and precise care. These powerful ingredients are formulated in a way that is gentle and made to work with your baby's skin to deeply calm, moisturise and protect your baby. It uses a multi-solution-based approach, made with nutritional luxury botanicals that have a natural affinity to preserve, shield and restore your little one's skin barrier.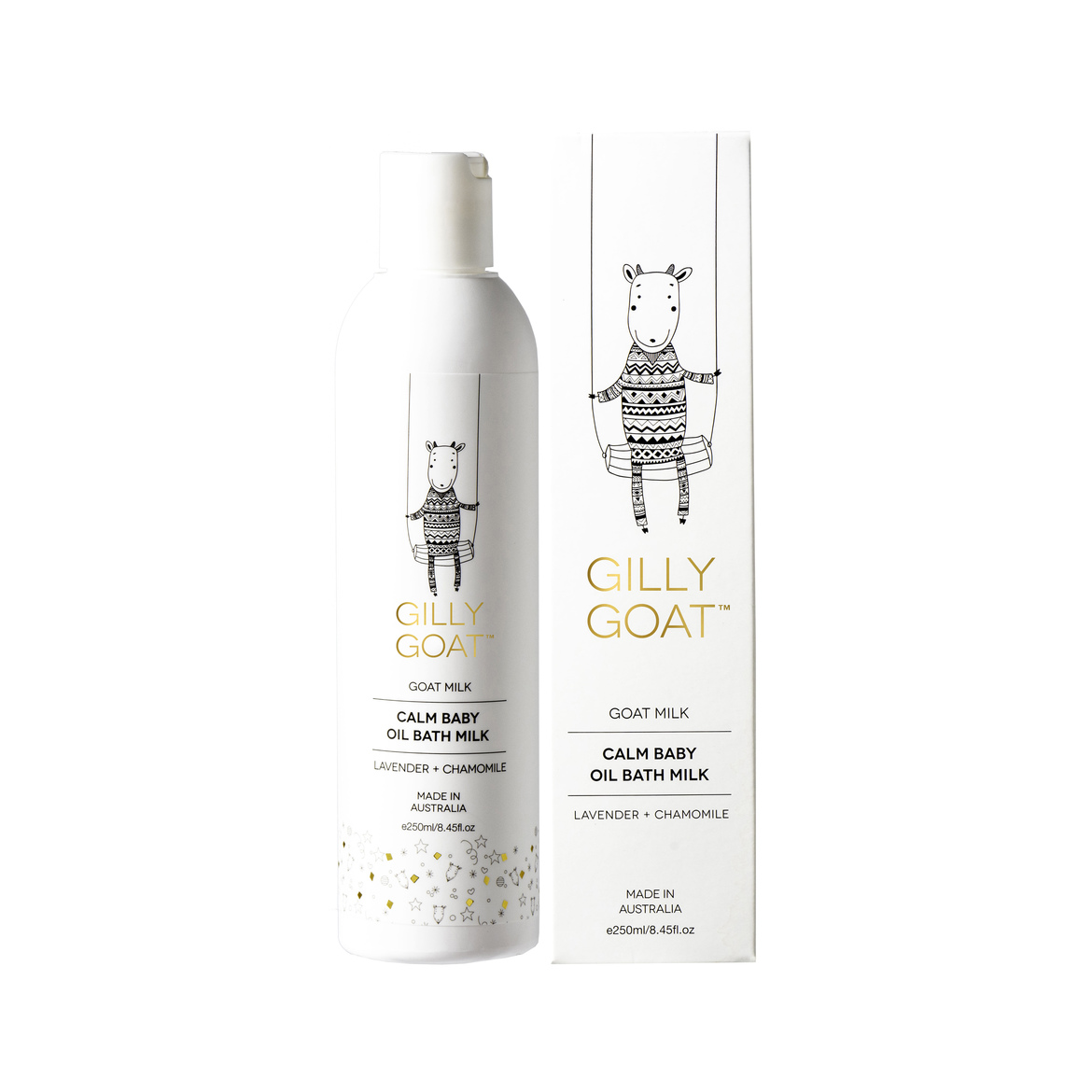 Here are the hero ingredients that make Gilly Goat Calm Baby Oil Bath Milk:
Lavender: Soothing, relaxing, and calming. Lavender nurtures and eases skin discomforts and is known for its anti-inflammatory, sensory, calming and soothing properties.
Chamomile: Particularly beneficial for dry skin, especially where there is redness or sensitivity. It is an anti-inflammatory agent that is useful for skin soothing and has anti-allergic properties.
Jojoba oil: Its anti-inflammatory properties help to ease chafing and chapping, reduce redness and dry skin, ease the effects of eczema and keep skin calm and comfortable. The Vitamin E and B-complex vitamins in the Jojoba oil help with skin repair.
Sweet almond oil: Rich in vitamins (A, B1, B2, B6, E) and essential fatty acids, making it highly conditioning and nourishing.
Goats milk: Super moisturising and assists in revealing brighter, healthier skin, while the nourishing and remineralising ingredients work wonders in maintaining your baby's skin's natural balance.
See next page for more…