The search begins
Richard got to work with an 11-strong team at the University of Aberdeen and NHS Grampian, recruiting a willing medical student to spend his summer holiday working with blood plates, bilirubin and bacteria grown originally from neonatal blood cultures taken from septic babies.
Some early signals supporting the hypothesis first emerged in 2009 when the team found that bilirubin seemed to impact the growth of the bacteria that most commonly causes early sepsis in babies, Gram-positive Streptococcus agalactiae. With other bacteria implicated in sepsis, the results were mixed: bilirubin also affected some types of Staphylococci, but not Gram-negative Escherichia coli.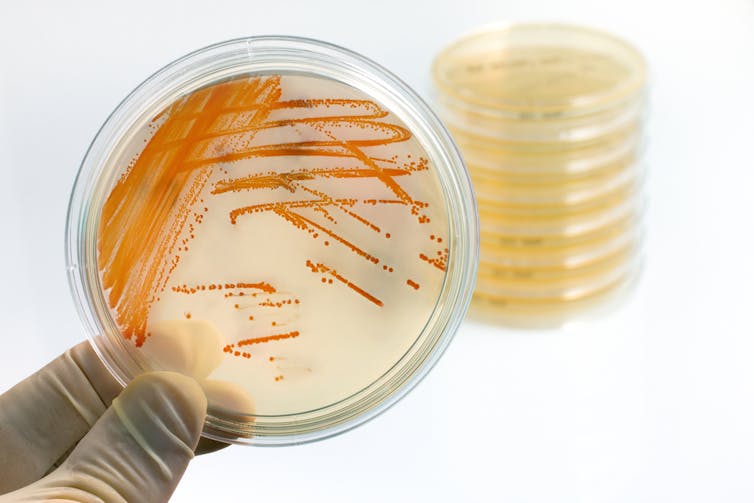 It was enough to secure a PhD grant from the Medical Research Council and develop ideas further. This went to Sophie Gibson, who developed a new liquid culture system to test the hypothesis further and look at the direct impact on the bacteria.
The results of this project have just been published. Our team have shown that even modest concentrations of bilirubin reduced by one third the growth of Gram-positive Streptococcus agalactiae. We also showed that bilirubin may alter substrate metabolism in the bacteria.
In short, it looks like the hypothesis is bearing out. We now need to do more work, probably in animal experiments of sepsis. This will enable us to think about whether clinicians should raise the accepted bilirubin threshold for babies at risk of sepsis – those born prematurely, for example.
It feels like we're discovering something new about the physiology of newborn babies. It's the excitement of being a clinician scientist: taking an idea from a real patient into the laboratory and testing then developing it to hopefully help future patients. When newborn babies develop jaundice in future, we'll still need to treat it carefully. But quite possibly we will also be thankful that it's protecting them from something potentially life-threatening.
---

More on articles about pregnancy and babies, written by researchers:
Richard Hansen, Honorary Clinical Associate Professor, University of Glasgow; Elaina Collie-Duguid, Manager, Centre for Genome-Enabled Biology & Medicine, University of Aberdeen, and Georgina Hold, Professor of Gut Microbiology, UNSW
This article was originally published on The Conversation. Read the original article.