After initial struggles with her own milk supply, Kym Woolcott discovered a lack of accurate information for new mothers. Her business journey began when she was gifted a bag of brewer's yeast by a friend, which was transformed into lactation cookies that she handed out to local breastfeeding mums. This was just the beginning for Kym's Boobie Kookies.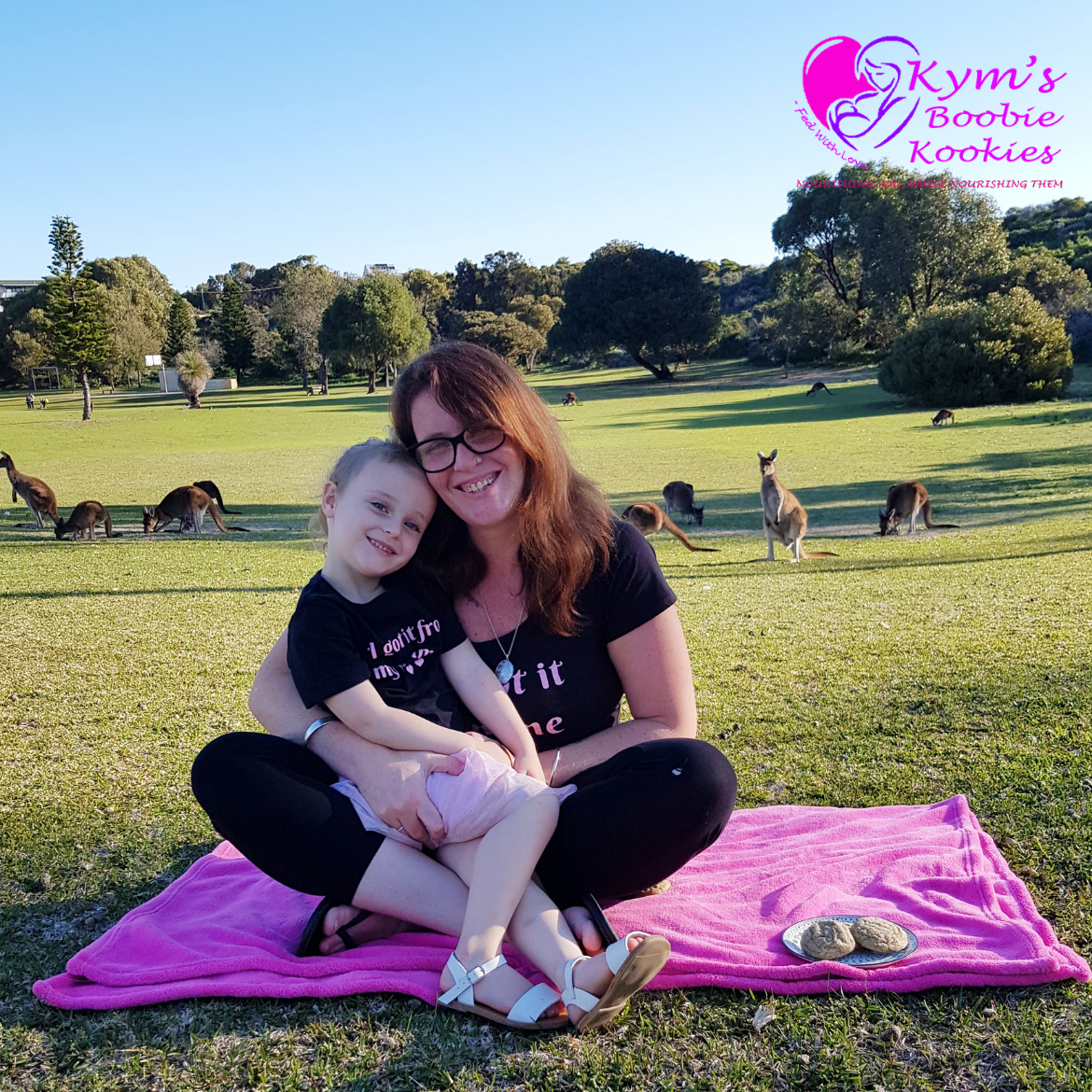 The Passion: What inspired you to set up your business?
Following my c-section birth in November 2015, I experienced six weeks of not knowing whether I was producing enough milk for Heather. I lack the ability to pump, have never had a let-down, and have never experienced engorgement, so I had to rely on my instincts very early on. It wasn't until I met an International Board Certified Lactation Consultant (IBCLC) in August 2016, at the Mandurah Big Latch On event, who informed me that my experiences over the previous nine months happen to one in five people who breastfeed, that I realised how inaccurate the information available to new mothers was, and how much more support was needed to keep the information relevant and current. A month after the event, I was gifted a bag of brewer's yeast by a friend and used it to create my very first batch of double chocolate lactation cookies that I handed out to local breastfeeding parents. The following months saw me join the admin team for the Mandurah Breastfeeding Mamas Facebook support group, become an editor on the Eats On Feets Western Australia Facebook public milk-sharing page, join the local team of hosts for the annual Big Latch On events, while continuing to bake and distribute lactation cookies to local families, and finally launch Kym's Boobie Kookies in July 2017.
The Launch: How did you start out in the beginning?
Initially, I had a separate home office and residential kitchen, which helped me keep my business and personal lives separate. My mum, Nikki, graciously offered me her home kitchen, and for the next 18 months she encouraged and supported me to keep going, even when times were tough. In October 2017, I applied and was accepted into the New Enterprise Incentive Scheme (NEIS) offered by the Australian Government, and received mentorship by an amazing man named Peter Bowler, which continued beyond the nine-month program. My partner, Matt, has been my biggest supporter from day one. He has always encouraged me to follow my heart, no matter the cost.
The Innovation: What was the biggest breakthrough for you with your business?
I've had both personal and business breakthroughs. Personally, I realised how relatable I am, and have embraced my authenticity, allowing it to shine through my business. In my business, I realised there was a lack of allergy-friendly products available to breastfeeding parents and a rise in diagnosed allergies and intolerances, and in July, 2019, we re-released our range to be completely dairy free, with only one exception short term. We also offer soy, sunflower, egg and coconut free options to accommodate as many people as possible. Releasing our version of a baked bliss ball, Blissful Boosters, in early 2018 also opened us up to the market of pregnant and active people that we never expected to attract in the beginning, and introducing Milky Muffins, or lactation muffins, offered our customers and supporters an alternative product to the typical biscuits that are fairly common. We have since released Dry Mixes and Non-Boobie Kookies (or "normal" galactagogue free biscuits) after high demand from our community.
Yin and Yang: How do you balance work and family?
Some days, I still wonder how I manage the juggle so well! On top of my business, I admin multiple Facebook groups and pages, ranging from breastfeeding support, business networking, general parenting support, hyper-local gifting economies (I am also a Global Team Member for the Buy Nothing Project which was started in America in 2013), as well as two side-projects for Kym's Boobie Kookies. It is all about time management and learning to accept help when you need it. I am very lucky to have a large support network, which includes mostly parents and business owners, so we all lean on each other and help manage the juggle.
See next page for more….