BabyStart has become the first New Zealand organisation to produce a version of the baby box – a Finnish tradition dating back almost 80 years.
Constructed from cardboard and manufactured locally, the box contains around 40 items ranging from clothing and nappies through to a book and toy. In addition, it contains a fitted mattress and bedding which allow it to be used as a baby's first bed, much the same as a bassinet.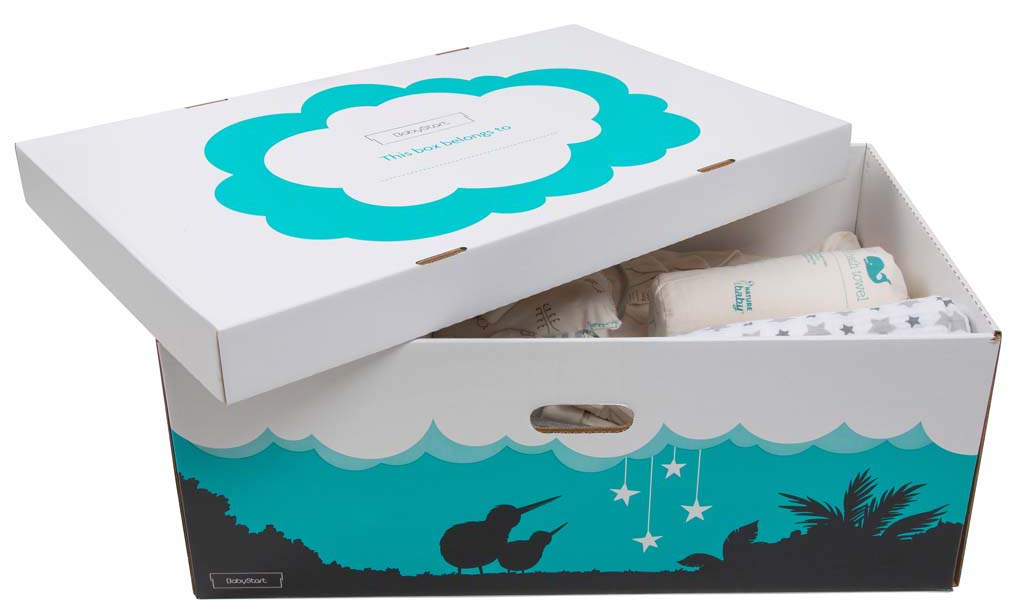 The concept originated in Finland in 1938 and was initially only for disadvantaged families. In 1949 it was made universally state funded and now around 40,000 boxes are distributed at no cost to Finnish babies every year, provided their mothers undergo the required ante-natal health checks.
Co-founder, Philip Horrobin, first heard about the idea in 2013.
"A good friend, Bryan Ward, told me about the idea around the same time Prince George was gifted a box from the Finnish Government. He was working as a Community Police Officer and thought it would be a great idea for New Zealand babies."
---
You may also like: "Wahakura: Safe Sleep for Babies"
---
While he liked the idea, Horrobin had some more pressing matters to deal with at the time.
"My wife Clare and I were expecting our first baby and my mother was living with Motor Neurone Disease so setting up a charity was the last thing on our minds."
Their baby was born later that year and in 2014 Horrobin's mother passed away.
"Clare and I spent many hours driving between towns so we could help care for my mother. It was a chance to talk about what we wanted to do with our lives and we both agreed we wanted to give something back. I suppose the combination of becoming parents and losing Mum was a trigger to change the direction we were heading in."
They contacted Mr Ward and together they formed a charitable trust focused on providing the boxes at no cost to babies in need via midwives and LMCs (Lead Maternity Carers).
The first box was given away in March of 2016 and, according to Mr Horrobin, it was choice-affirming moment.
"We were fortunate enough to be there when the first box was given away and we came away knowing we had done the right thing."
The baby's sister had died from SUDI (Sudden Unexpected Death in Infancy) the year before and his mother had very little resources available to care for him on his first day home from hospital.
LMC Suez Mills explained her feelings after giving the box away.
"I would have spent the rest of the day running around town trying to find things but being able to give him a box full of everything he needed lifted a huge weight off my shoulders."
The charity, which has so far been largely self-funded, has now given away more than 80 boxes but wants to expand the programme further. They are seeking funding from the usual charitable avenues of grants, sponsorship and donations but have also come up with a different fundraising technique.
"We even offer the boxes for sale with each one purchased allowing us to give an identical one to a baby in need. They're a significant cost at $750 so we expect them to be the sort of thing several people pitch in for as a baby shower present – or perhaps a gift from generous grandparents," Horrobin said.
The Horrobins can also attest to the usefulness of the box. Their second child was born last year and has only recently graduated to a cot after sleeping in a cardboard box every day.