Tamarind Croft's inspirational journey into business ownership began in 2004. Setting up her boutique women's clothing shop when 6 months pregnant was just the beginning of an exciting venture that saw her back in the shop 2 days after giving birth to her baby boy, simultaneously sewing and breastfeeding. Designed by Tamarind and entirely handmade in Melbourne, Wilga designs are shapely, elegant, versatile and made to last.
The passion: What inspired you to set up your business? 
I was six months pregnant with my first child and had been selling my designs on a small scale, when I spied a little empty shop in the forest village of Kallista near my home in the Dandenong Ranges. Opening my own boutique to sell my designs how I pleased made perfect sense to me (if not to my in-laws) and I signed the lease. I would simply do everything with the baby.
The launch: How did you start out in the beginning? 
Without savings or loans, I furnished Wilga with op shop finds and sewed a charming yet somewhat haphazard collection of women's clothing from random fabrics found at markets and remnant shops around Melbourne. Customers were kind and interested right from the start. Perhaps they were curious to see what happened when the baby arrived.
A week after my due date, I finally wasn't there sewing! I closed the shop for two days, and then I was back in the shop sewing and breastfeeding my baby boy. A little odd maybe but it could be part of the reason locals have always wanted to support me.
Wilga being near a primary school in a community an hour east of Melbourne put me in contact with lots of other young mums who had moved out from the city to start families.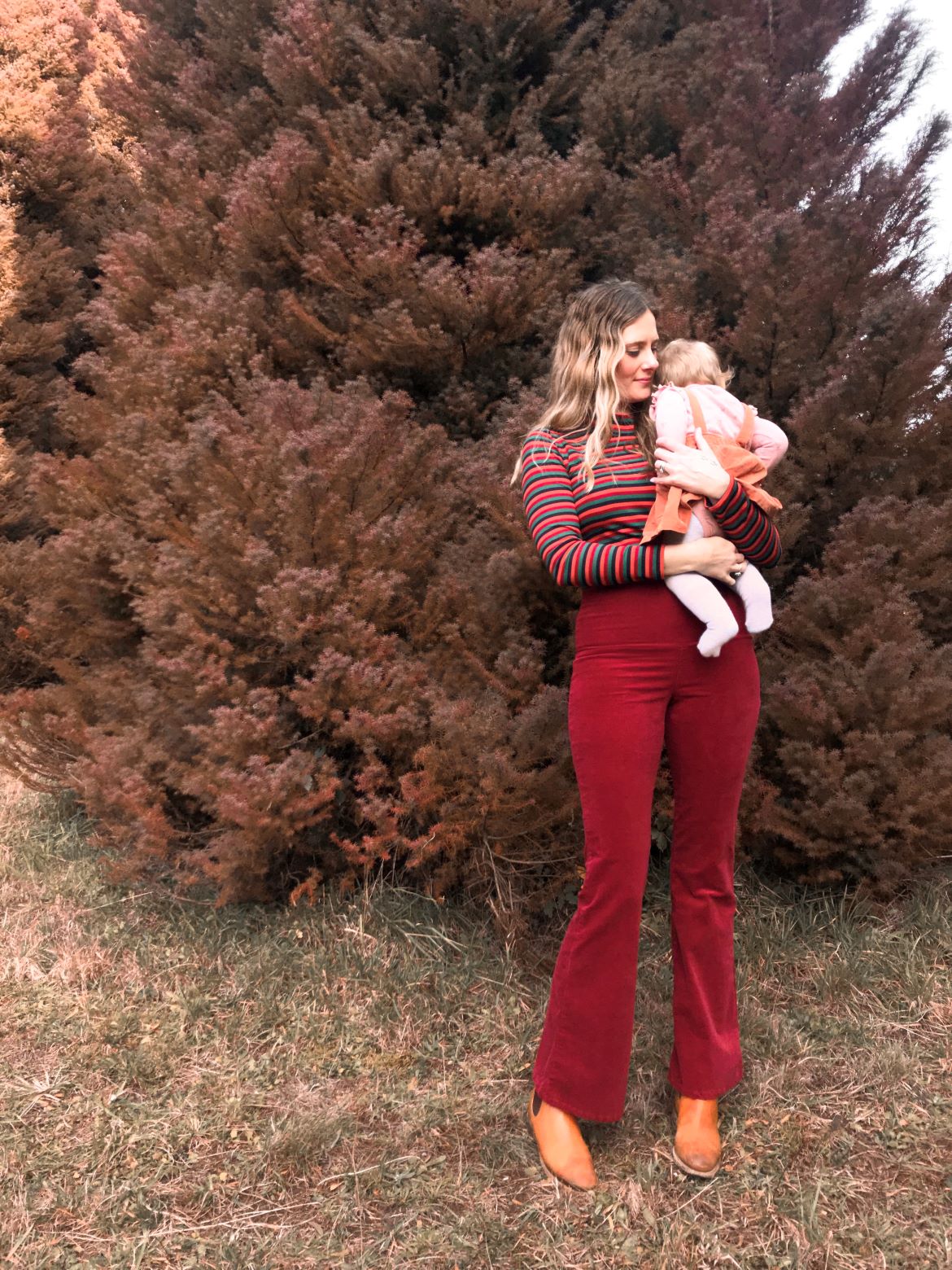 The innovation: What was the biggest breakthrough for you with your business?  
The staple of my first collection in 2004 were the pants I designed for myself when nothing else fit. Wilga "Foldies" were seriously wide leg, stretch corduroy pants with a pull-on, fold-down waistband. Other mums were on board straight away, and the design which has evolved over sixteen years is still our best seller.
We started wearing them with the band high instead of folded, so I adjusted the fit and re-named them Magic Pants because of their kindness to the mummy tummy. Some years ago I started making them skinny leg, which is far more practical for busy people. We have experimented with cropped versions and skirts and currently offer the skinny leg Magic Pant and a fitted, seventies style Magic Flare. When I have leftover fabric, I make the matching mini skirts for our Garage Sale rack.
My designs are comfortable, flattering, versatile and long-wearing. I'm so grateful that while I opened Wilga on somewhat of a whim or perhaps a hormonal high, it was fortunately right in the middle of a community of young mums needing better pants.
Yin and Yang: How do you balance work and family?
Becoming a single parent of a toddler, and subsequently raising two daughters completely alone while also loving and needing my work for sanity, has been a constant juggle. From the early days, I realised home needed to be a strictly work-free zone, otherwise fabric piles up on surfaces and housework gets ignored.
My collection of fabrics and fleet of industrial machines now lives in my studio which is directly across from Wilga and conveniently next to my daughters' primary school. As all my children have spent many hours at work with me, I try to share the perks with them like making clothing, Halloween costumes and scrunchies, but I think they won't really be impressed until I manage to buy our own house.
See next page for more…