Having experienced emotional trauma, anxiety and bullying when she was a child, Tenille Bentley was left feeling isolated, unsure of her feelings and unable to express her emotions. She is now passionate about supporting the emotional growth of our children and equipping the next generation with emotionally intelligent skills that allow them to make healthy life choices. She was inspired to launch The Emotional Literacy & Mindfulness Academy for Kids, a social and emotional development tool for children, parents and educators. Their programs support children's emotional wellbeing, resilience, empathy and compassion and promote healthy social skills. Here Tenille talks to The Natural Parent Magazine about the passion behind her business and her hopes and dreams for the future.
The passion: What inspired you to set up your business?
As a child, I suffered severe anxiety and emotional traumas as well as bullying, which left me feeling isolated and unable to understand why I was feeling the way I did. However, emotional literacy wasn't in the narrative in my generation. Today, we have evolved, science has caught up and we now understand the important role emotional intelligence plays in our everyday lives. 
I didn't know how to express my emotions or why I felt so sad as a young child. I couldn't socialise properly and found myself carrying a lot of self-hatred, blaming myself for traumas that occurred around me that were out of my control. This resulted in my early adult years making decisions in life that weren't healthy because I couldn't cope with the huge number of emotions that I couldn't understand. 
Like you, I have seen so many parents have anxiety and stress over how to support the emotional growth of our children in the hope that we can equip them with the tools to make better, healthier decisions in life. 
I have seen so many exhausted parents stress over what they can do to manage the big emotions that their children face, and not feeling like they have tools to help support and create a balanced home life.
It wasn't until I discovered these powerful tools that helped me as an adult, and I saw that they also supported children, that I finally understood how hard it is for kids of today to find peace, calm and understand their emotions and, more importantly, what to do with them. So, this is where The Emotional Literacy & Mindfulness Academy for Kids was born. 
What I learned and what I teach in these emotional intelligence and mindfulness classes for kids completely transformed my perspective and the families I've helped, and I'm sure it will for you too!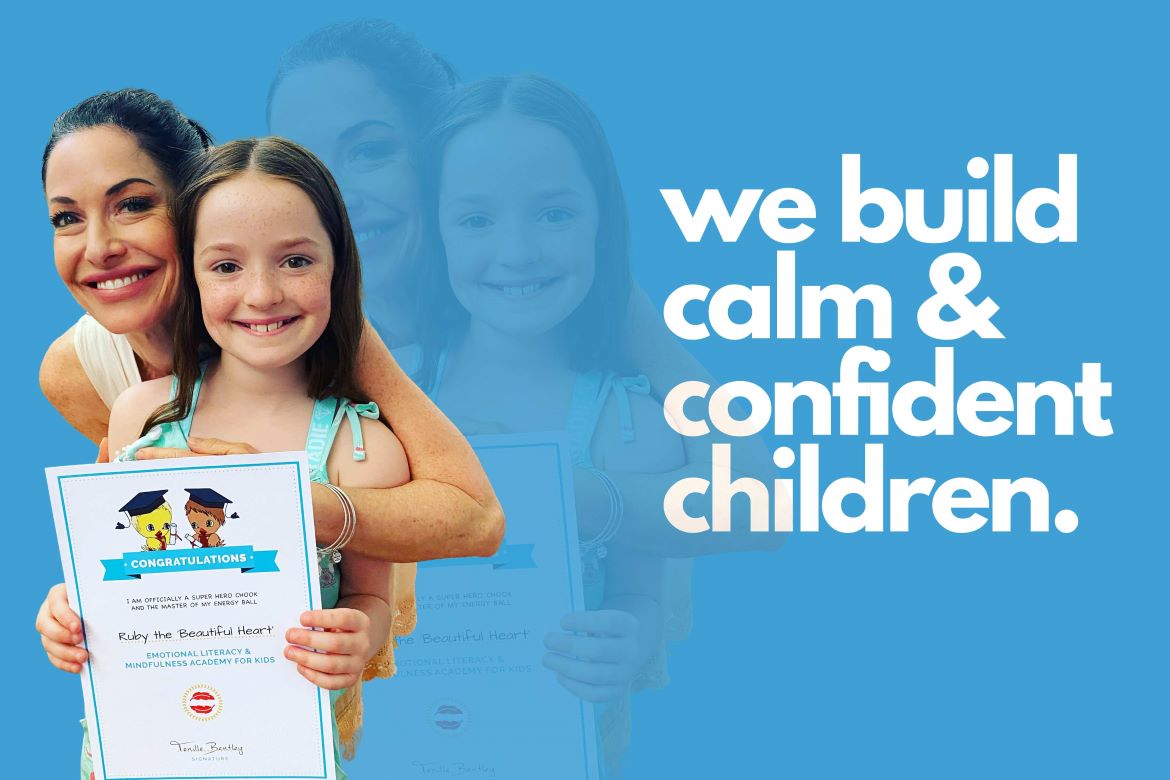 The launch: How did you start out in the beginning?
I was led to do this work, and it came from something greater than myself. I say this, because following this calling meant to step away from a successful business career, board career and my identity.
It resulted from a moment of self-enquiry asking, 'how can I create sustainable impact to help humanity?'. I had run a charity for 10 years and found that it was a band aid solution and not a sustainable one. So, I wanted to figure out how to create something more sustainable.
The answer? To equip our next generation with emotionally intelligent skills so they can make healthy life choices.
And why? Because most problems we have today come from leaders that lack empathy, connection or are driven by profit and not purpose. Thus, we currently have an unsustainable planet. So, work with our next generation and create better solutions for humanity. 
So – on a warm mid-morning, I was sitting at my desk, ready to finalise a leadership program I was developing. Only to find that I was writing a children's program. As I witnessed this occurring from outside of myself, I remember saying 'children??…I'm working with children?'.
After a few hours of constant writing, I sat and stared at the work that was before me.
Then asked myself….'well what do I do with this now?'.
To which my inner voice said, 'you deliver this program now, pilot it and launch it'.
'But how?', I asked. 
From here I got step-by-step instructions on what to do, developing the workbooks, developing the cartoons, researching the science – only to find that the very age this program was targeted for was the exact age that was recommended by neuroscientists to develop long-term sustainable change in behaviour in children. 
And so, with or without me… this was going to happen. My identity as the successful, award-winning businesswomen in a suit quickly crumbled and the stilettos were exchanged for comfortable flats and a cartoon t-shirt.   
The innovation: What was the biggest breakthrough for you with your business?
The breakthrough with this work was witnessing firsthand the life-changing impact it had on families. Especially the children. After learning what we call 'The New Emotion Language', parents were feeding back to me the immense changes they saw, almost immediately. 
Tantrums were minimised, connection between each other enhanced and children were feeling safe in their emotions – and our parents were being educated on how to hold them through this.  
Creating harmonious homes, peaceful parenting, and less stress. But more importantly, watching children be clear on what emotion is theirs and what was someone else's. They learnt empathy, compassion, resilience and built confidence.  
All from this program that I was led to write.
We have graduated hundreds and soon-to-be thousands through the program, completely changing the trajectory of a child's life. To have the skills to navigate life's journey in a healthy way. 
Our program has now been translated to Arabic, Russian and Hindi. And we have a children's book series to support the development of children's emotional skills.
See next page for more…