As a busy new mum, Alice Volante was finding it difficult to keep track of when her daughter last fed and when she would be due to feed again, especially when she was out and about and would lose track of time. Using her creativity and experience in the design industry, she set out to create a bracelet that would assist her. Finding it so helpful, she used it again for her second baby when life became even busier with a toddler to look after, and she wanted to share her product with fellow mums. At Mama's Cue, she creates beautiful, functional bracelets designed to help new mums feel more confident and present in their feeding journey. Here Alice talks to The Natural Parent Magazine about the inspiration behind Mama's Cue, how she balances work and family life, and the pros and cons of running her own business.
The passion: What inspired you to set up your business?
I left my career in the design/fashion industry when I had my first born hoping to continue to create when I was ready.
That time came faster than I thought when I started tinkering away to create a prototype for an issue that I was having. I found in those early days and weeks that I was having difficulty keeping track of when my daughter last fed and therefore when her next feed may be. This was particularly true when I was out and about and would lose track of time. I downloaded an app but I hated having to reach for my phone and fumble to open the app while trying to support my baby.
I stored the bracelet away once she was a little older but when my second was born, I returned to the product and once again wanted its assistance. I was now trying to keep track of even more and trying to be in multiple places at once while running around with my toddler, so the little suggestion of when my newborn might like a feed was super helpful.
I believe this product can help many more mums with their feeding journey and so I want to share it and make those early days possibly a little bit easier, because we all know there is a lot to juggle.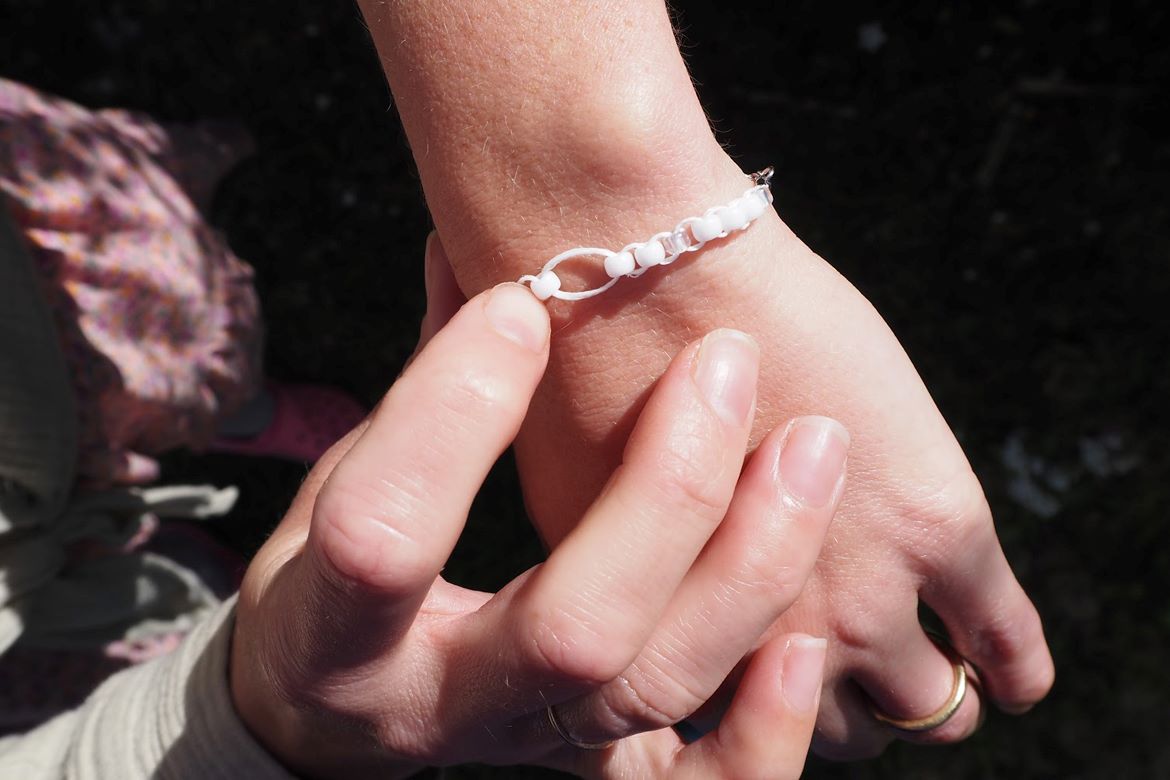 The launch: How did you start out in the beginning?
My current addition in the Natural Parent Magazine is the first launch for the Mama's Cue bracelet.
So far, the bracelet has been through many rounds of development but now it is ready to go out there and be used by the mama community.
The innovation: What was the biggest breakthrough for you with your business?
The biggest breakthrough so far was in the development of the bracelet and creating a way for the beads to easily slide along the thread and hold in place.
Other than that, it's taking the leap with putting it out into the world.
Yin and Yang: How do you balance work and family?
It's tough. I have a 4-year-old and a 1.5-year-old and they keep me very busy. I look for a little bit of time either during naps or in the evening. I love creating and it is a big part of who I am, so I want to be able to continue that both for myself and to show my kids what Mama can do.
See next page for more…