Why Do Parents Homeschool?
According to our study, one of the main reasons for which parents choose to homeschool is the need to provide a better learning experience for the child.
More than one-quarter of the respondents are happy to have chosen to homeschool. They can spend more quality time together with their children, creating better and meaningful relationships.
The flexibility and possibility to let the children learn at their own pace is also considered to be an important benefit of homeschooling.
Hours Spent Educating at Home
Anywhere between 1 and 4 hours per day is enough time to homeschool for 72% of the respondents.
Yet, a significant number of parents mentioned that they don't follow a precise schedule. Learning relates to each child's age and abilities.
For unschoolers, education is a lifestyle and learning opportunities are everywhere.
Top Homeschooling Resources
Educational games and Textbooks are the most frequent resources for homeschooling. 18% of the respondents say they use such materials to teach their children.
17% use different printable materials found on the Internet, to complete homeschooling activities.
Online curriculums are also used by 16% of the parents.
The paper details all the answers received, gathering statistics about the top educational games, top textbooks, living books and online curriculums.
The Pros and Cons of Homeschooling
The main benefits of homeschooling are the same as the top reasons that made the respondents start homeschooling. This can be a sign that their expectations are met and homeschooling is proving to be a good choice.
More than one quarter of the respondents that took part in this research consider that the biggest benefit home education is that it allows families to spend time together. This leads to family bonding, better parent-child relationships and the possibility to teach children about values and morals.
When asked about the setbacks of schooling at home, 16% of the respondents consider that there aren't any, they see only benefits.
Most respondents see homeschooling as very time-consuming. 21% of them consider it is difficult to find a good balance between work, housekeeping and teaching. Limited personal time is an issue for 8% of the respondents.
Lack of social and academic interaction of children that are being homeschooled is the second important aspect for 14% of the respondents, while limited financial resources is another important setback (19%).
---
Download the complete PDF to access all the data, it's free! Inside you'll get to see the full results of this research study and lots of great stories from people that practice homeschooling.
---
Why Do Parents Stop Homeschooling?
Half of the respondents who homeschooled their children reported that they were successful in their endeavors.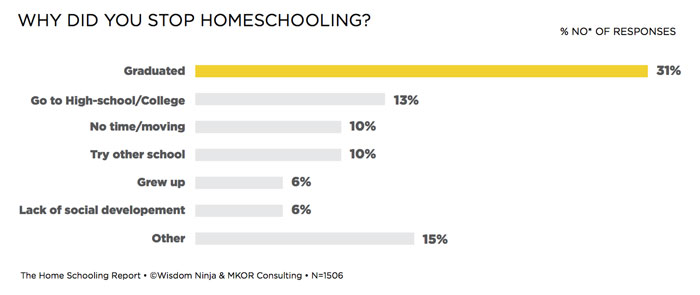 They stopped homeschooling either because their children graduated (31%), went to High School or College (13%) or grew up (6%). That means the 50% of those who don't homeschool anymore have "graduated" from home education.