Do you homeschool your children? Is unschooling your thing? Perhaps it is another form of education that you have chosen for your child – school at home, Montessori or Waldorf education. Or perhaps you are not quite there yet – your child is younger, and you are considering your child's educational future right now. Maybe you are leaning away from conventional education. The mainstream education system is not for everyone, in fact many parents feel that it fails to provide children with optimum learning opportunities. You may be interested in learning about why people choose homeschooling, or other forms of non-mainstream education. A newly released research report, The Homeschool Report 2017, offers fabulous insights into the world of homeschooling, gathered from more than 1,506 respondents from all over the world. Read on to hear all about it from researcher Alex Cimpoca.
---
The Homeschool Report 2017 is a homeschooling research study conducted by MKOR Consulting for Wisdom Ninja, between the 20th of December 2016 and 15th of February 2017. The survey was promoted in homeschooling communities, gathering more than 1506 respondents from all over the world.
Research Facts
Our journey so far, as a community of parents and bloggers, proved to be a continuous learning. At some point, we noticed that homeschooling is a hot topic among parenting groups.
Thus, questions came up.
Why homeschooling?
Why do so many parents choose it?
Who are those parents?
Which are the most used curricula?
What are the top reasons to school at home? Homeschooling pros and cons.
What are the top homeschooling styles?
What are the most used online resources for homeschooling?
What about socialization? Do homeschoolers socialize?
In a matter of days, with the expertise of our partners and friends at MKOR Consulting, we've set up a survey that would answer our questions and many more. You can download the results by clicking The Homeschooling Research Report 2017 .
Previous research on homeschooling did not touch base on some of the simple concepts. This is the first international study that tries to shed some light into homeschooler's life.
By obtaining facts from those who school at home, the paper provides a better understanding and setting to the purpose and function of homeschooling.
The key findings show that parents make decisions based on individual circumstances and needs.
Research Objectives
The research paper explores the many forms of homeschooling that parents around the world opt for and queries the parents' level of satisfaction towards their options.
Through many questions, this paper addresses the most common topics related to homeschooling, such as benefits and setbacks of this type of education, now adopted by millions of families around the world.
Furthermore, the study looks at deeper implications of this type of education, such as socialization and parental educational levels.
Homeschooling Styles
Although every home education experience is unique, some homeschooling "styles" have become very popular.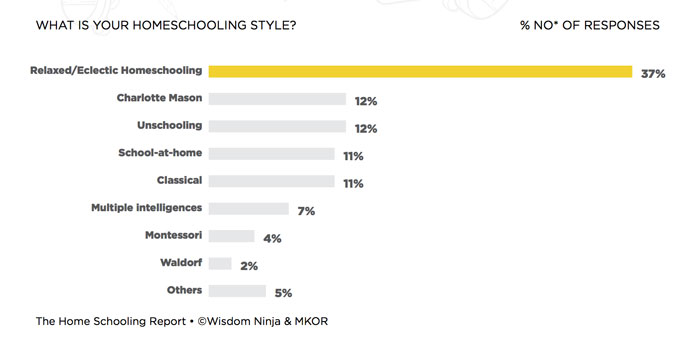 Most homeschoolers do not follow one style or approach. When asked about their chosen homeschool style, Relaxed/Eclectic Homeschooling took the first spot, with 37% of all the responses.
Charlotte Mason and Unschooling took the 2nd and the 3rd spots, each with a 12% rate.
---
Download the full research report and get access to everything that we've surveyed our respondents. It's filled with awesome statistics about home schoolers and heart-melting stories.
---