Bare Self is a wellness brand for women, created from the vision of two sisters and their aunt. Inspired by their love of wellness and self-development, Chloe, Jas and Nat are here to encourage self-love and self-care for women everywhere. They set out to create a chocolate that supported a woman's cycle, fulfilled those sugar cravings and was also good for you – and from here, Bare Self was born. They have hand-picked each element and have chosen only the highest quality ingredients to create the most luxurious and delicate of chocolates. As well as their original 'Her Chocolate', they have added breastfeeding and pregnancy chocolate to their range, both containing added herbs and supplements to support women through this unique journey.
The passion: What inspired you to set up your business?
The three of us have always had a constant flow of ideas and an overwhelming yet exciting desire to create something. We all love wellness and self-development, always motivated by new ways we can improve ourselves and wellbeing. "It was just after my cycle had finished, I had binged hard on chocolate and was feeling sick, my skin was breaking out and I was feeling regretful of my decision". That's when the idea and vision hit, a chocolate that was actually good for you, supported your cycle and fulfilled the sugar cravings that so many women get when their period is approaching or during it. This was the first product idea that gave us the inspiration to create Bare Self – a wellness brand for women.
The launch: How did you start out in the beginning?
"Bare Self", our brand name is where we began. What is it to be your Bare Self? A question with endless answers, where none are the wrong answer.
We wanted rawness and transparency in our message and movement for women and mothers to put themselves first and prioritise self-love and self-care.
This is what inspired our feminine branding. We had a clear vision on how we wanted Bare Self to feel, our brand values, and most importantly how we wanted women to feel when they purchased and used our products.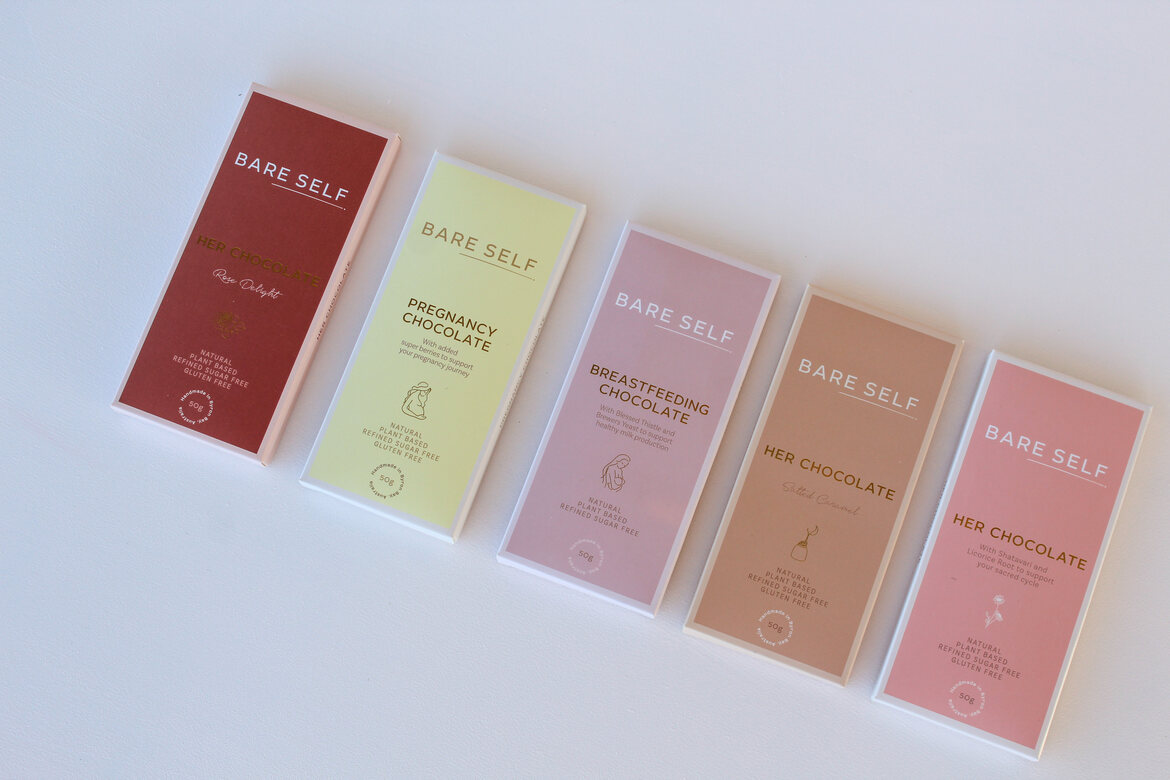 The innovation: What was the biggest breakthrough for you with your business?
Our biggest and first breakthrough would be perfecting our chocolate recipes, to taste indulgent with its creamy chocolate flavour.
We tested the herbal supplements in different recipes, primarily focused on creating a product that is healthy, natural and refined-sugar free. After a process of trial and error, the magical moment when we tasted what is the final recipe for "Her Chocolate" will never be forgotten: emotions of joy and accomplishment floated from our tastebuds.
Yin and Yang: How do you balance work and family?
We do our best. We believe there will never be 100% balance and there will always be sacrifices. Trying to be organised and planning helps but while we still learn and pave our own way through being women in business, with children and family responsibility, we definitely find balance difficult. Being able to reflect on life, figuring out what is serving you and where you want to be spending your time will allow you to feel more aligned and therefore you will feel more 'balanced'.
See next page for more…