Kathryn Mardell is passionate about supporting families to create a balanced and sustainable lifestyle. She created The Fillery to provide cleaning, home and beauty products, as well as a growing range of natural health support products. Their range has a focus on taking things back to basics, being kinder to the environment, and promoting fair treatment of people and animals. Kathryn carefully curates everything they stock to make sure they are offering only the best possible products from trusted suppliers. Join them on a journey to create sustainable habits, cook good food and discover ethical products. Here Kathryn talks to The Natural Parent Magazine about the inspiration behind her business, the challenges she has overcome along the way, and her hopes and dreams for the future.
The passion: What inspired you to set up your business?
I was a mum of two young children, and we were trying really hard to reduce not only the amount of waste we seemed to create but also the toxic load in our home. I was trying to access low-tox, natural, cruelty-free products across our food, personal care and wellness with a focus on less packaging.
I was placing orders across so many different businesses and having the items shipped, it just wasn't financially or sustainably achievable long term.
Once my daughter started experiencing extreme food reactions and we went on a big elimination diet journey and making everything from scratch, I just decided I had to open a shop that sold all the things I needed. I believed I couldn't be the only one needing all these things in one place.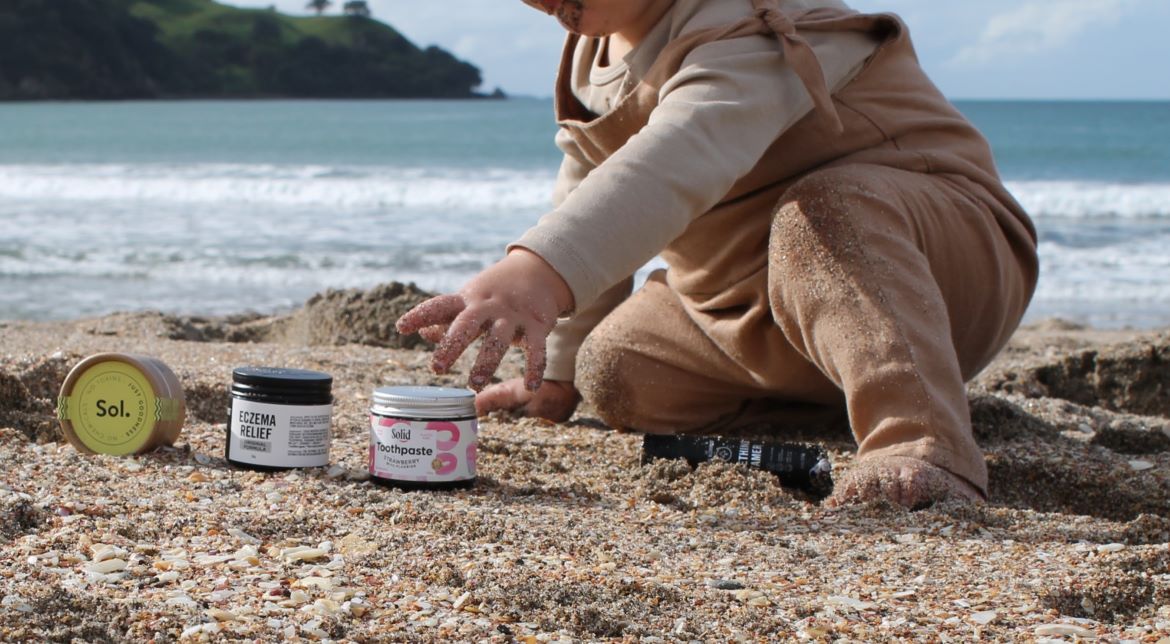 The launch: How did you start out in the beginning?
We opened our brick-and-mortar store in April 2021, it took off really quickly and I couldn't believe how much community was built inside those doors. I went from ordering the smallest bulk orders possible to gradually increasing each order. In the week that the country went into a snap lockdown in August 2021, our business bank account was hacked, we also found out that our landlords were selling the house we lived in, and I was pregnant. I had hardly built up our website for online shopping. It was a huge blow; I went from 100 to 0 really fast.
The innovation: What was the biggest breakthrough for you with your business?
I had to really think about this question. I wanted to say something inspirational or exciting, but the truth is I am a mum and a woman. My biggest breakthrough came about through my business, but it was a personal one.
I started to heal the mother wound and sister wound that I had been carrying. For such a long time, I felt lonely in my journey as a woman and mother. I really craved connection and I built that through being in my business. I have met some of the most incredible, compassionate, and inspiring women of all ages who have all walked such different paths and I am so grateful that in meeting them, connecting with and having their support, I have found my way back slowly to being proud of myself and the journey I am on.
I have realised more and more, how each of us have our own experiences, stories, hardships, and joys that shape us. Each person's life is valuable, as is their story – this relates to sustainability because living sustainably isn't a linear process and there will be parts of our lives that influence what it looks like for each of us individually and as a collective.
Yin and Yang: How do you balance work and family?
I think life is about seasons. Right now, I have a 5-year-old, a 3-year-old and twin 1-year olds. Things are hectic all the time. With the business being a brick and mortar, I just wasn't coping. When the twins were born, I never took a break, I was in labour making sure I had everything in order and back to following up supply issues 3 days after they were born. I think the bravest thing we can do is stop and really assess the situation. For me, that has meant bringing my business to a standstill and starting again. My whole ethos on life is about living sustainably, and that isn't just about rubbish or plastic.
I can't see a point in working our guts out, missing our children growing up and then looking back and wishing we had done it differently. Does that mean it is easy or isn't scary? No, but burning ourselves out isn't a walk in the park either.
My family is my work. I want to be there for my children and alongside my husband, and be the main person to guide them in a complicated world. That means sacrificing income, material objects and putting some of my long-term goals on hold, but for now that is the season of life I am in.
See next page for more…