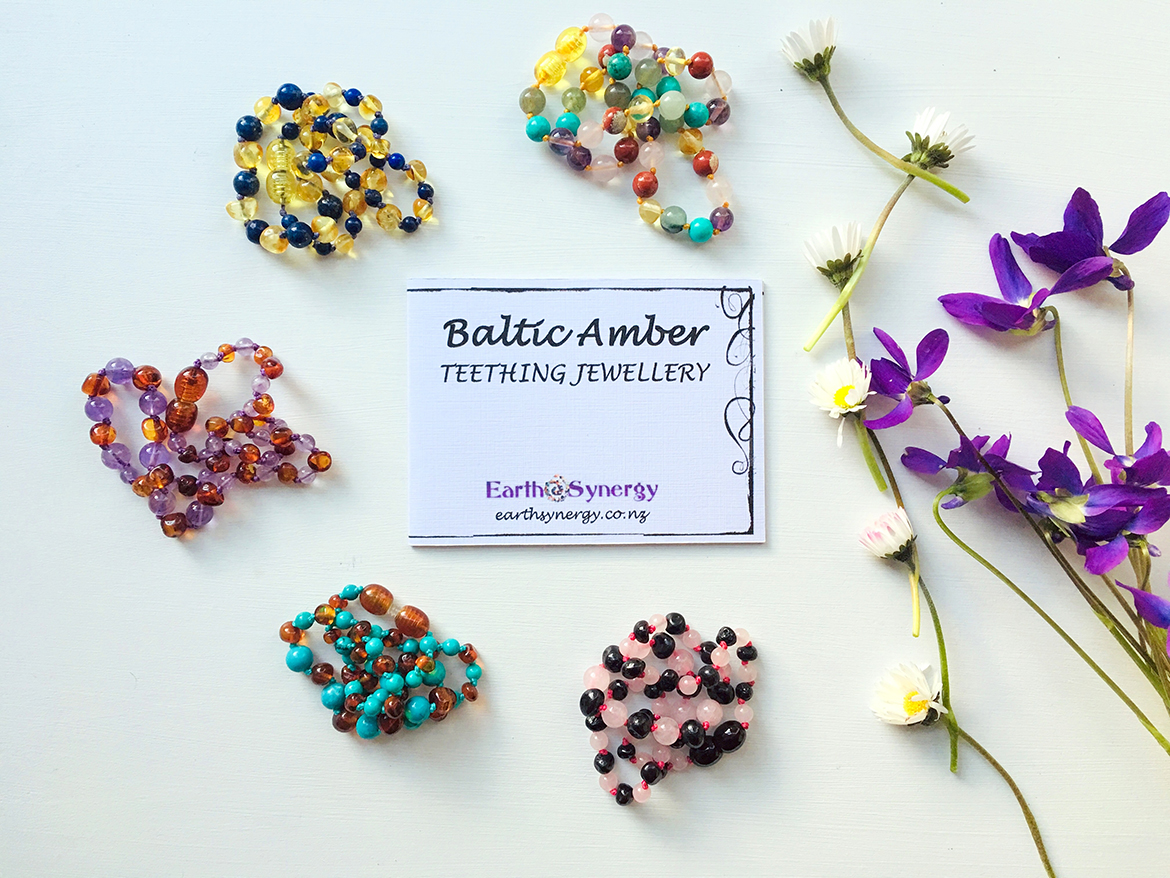 • Our beautiful Amber Teething jewellery from Lithuania utilizes not only genuine Baltic amber, but also crystals for an added benefit during the trying time of teething.
• Crystal Pendulums are a straightforward method of divination. These provide amazingly accurate answers to yes or no questions – indicated by the way they swing when asked a question. For me, they swing in a circle for YES and up and down for NO – fantastic for when you have baby brain and can't make a decision!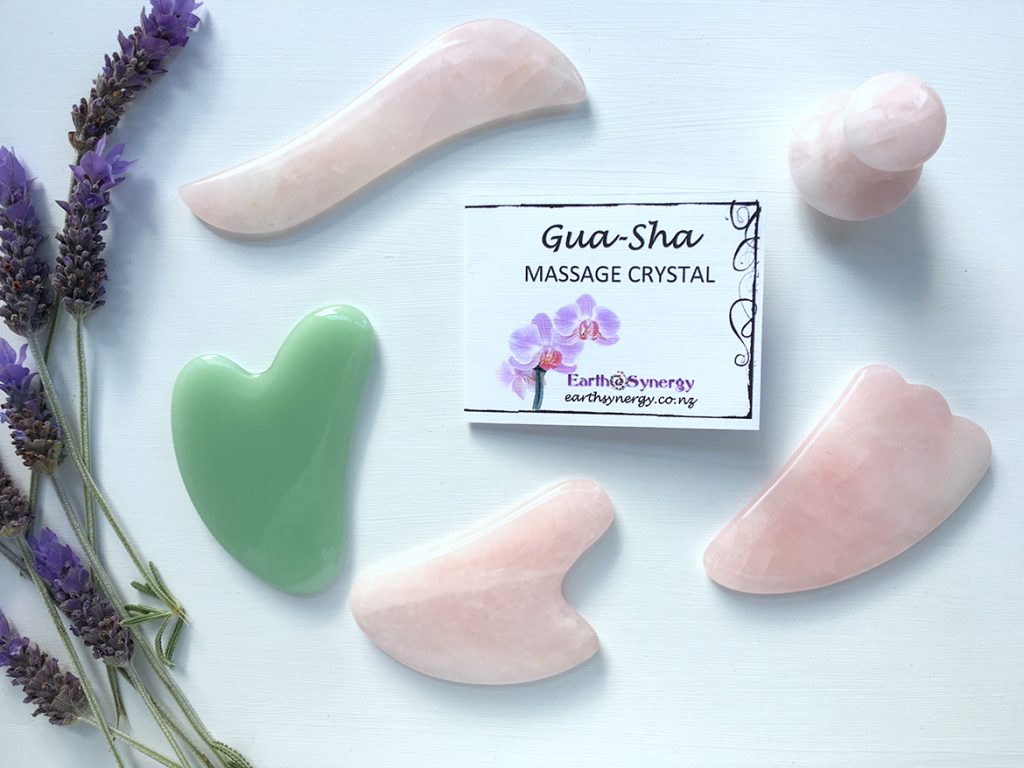 • Gua Sha massage tools. These are generally flat pieces of crystal that have smooth corners and surfaces that you can use to massage/scrape different parts of your body. Gua-sha is a natural, Middle Eastern alternative therapy that involves rubbing your skin with a massage tool. It addresses stagnant energy, (also referred to as qi or chi) in the body that practitioners believe may be responsible for inflammation. Rubbing the skin's surface with a massage tool is thought to help break up this energy, reduce inflammation, and promote healing and wellbeing.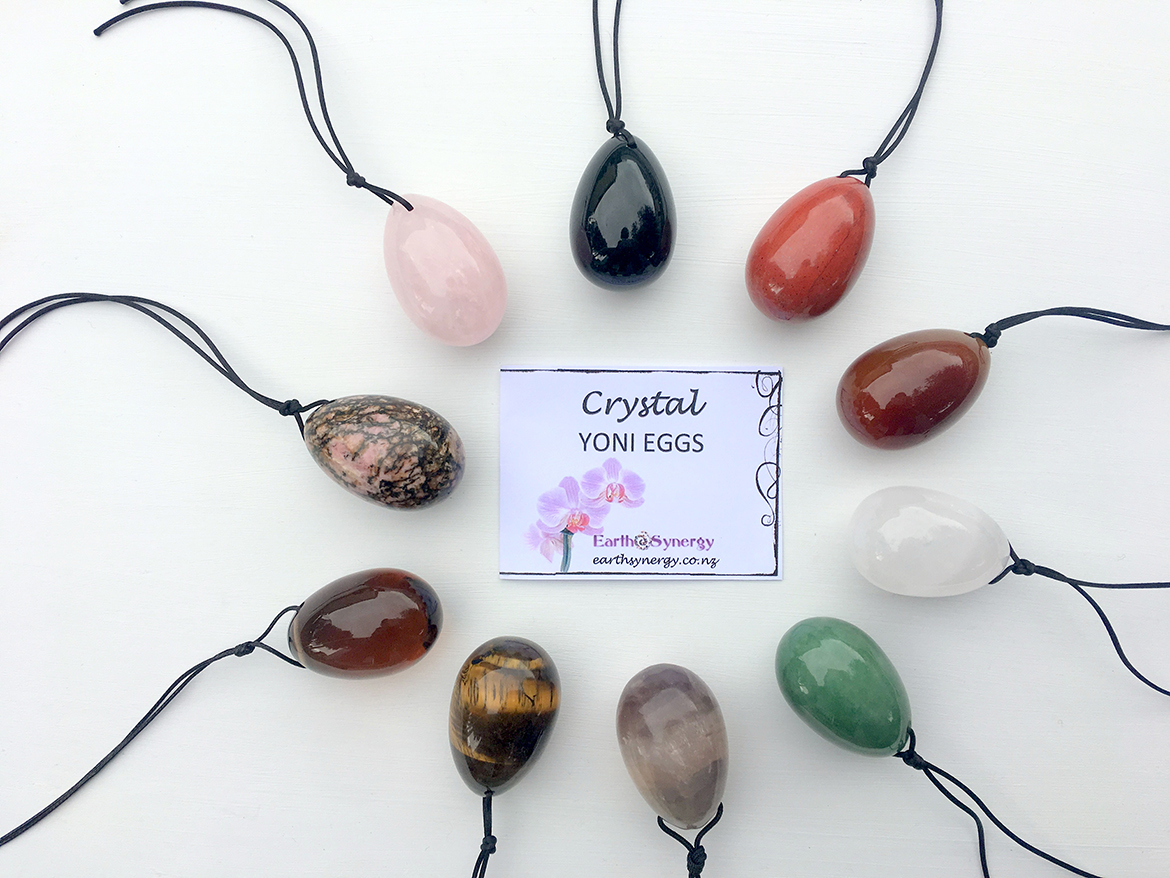 • Yoni eggs are my latest product. I am excited to collaborate with Yoga instructor Odette Rowe for the booklet that comes with the eggs. Odette runs a course called Pussy Power which caters to women who are getting to know their yonis! Yoni eggs can be a useful tool for women at all stages of life. They help to gain insights into how their pelvic floor muscles are functioning (or not!) and keep them soft supple and responsive. They can play a vital role in post-natal recovery in helping to reconnect with your body regardless of vaginal or c section delivery.
What are the pros and cons of running your own business?
I absolutely love being surrounded by my crystals, and I get huge fulfilment and satisfaction out of the great feedback from my happy customers.
It is also great being able to be at home for the kids when they are sick and during the school holidays. The kids love helping out when they can too.
Yin and Yang: How do you balance work and family?
For the most part, I have run EarthSynergy out of my dining room, which meant that I did not have clear boundaries between home and work. Our dining room table was in a constant battle between stock & orders – versus a place to eat dinner, which caused a lot of unnecessary stress!
Thankfully now I have a dedicated space and have set hours for my business. Now, I can spend the time I need concentrating on my children. Being able to strike that balance has made my home environment so much better
Hopes and dreams: What next?
I am looking forward to expanding my ever-growing knowledge of crystals. Then, applying this to help people enhance their health holistically – physically, emotionally, mentally & spiritually.
Disclaimer
While there is no measurable proof that crystals are effective at healing said issues or ailments. I have had excellent feedback from many people over the years about how crystals have helped them. It makes me very proud to be able to provide support for people that love crystals and the magic they can bestow with many different issues.
---
Experience the power of crystals via the EarthSynergy website and connect with their online communities on Facebook and Instagram.