Formulated by nature, created with love.
Little Innoscents provides concerned parents with 100% natural, Australian made and grown baby skincare products, which are readily available, as affordable as possible AND have genuinely certified organic ingredients.
Little Innoscents was founded in 2007, after Director Antonette Golikidis fell pregnant with her first child Alex. Antonette searched endlessly for baby products that were chemical free and found herself disappointed to find such a limited number of products, which were often difficult to find, too expensive, or offered misleading greenwashing marketing strategies to persuade you to buy something that wasn't all that it said to be. Then Little Innoscents was born, naturally.
Little Innoscents products are:
100% naturally derived ingredients
Hypoallergenic and pH balanced
Naturally scented using the finest essential oils
Australian Certified Organic – assuring authenticity
Not tested on animals
Australian made and owned
At Little Innoscents organic baby skincare, we are keeping it simple by producing all-natural and certified organic products which are healthier for your body. Our skin absorbs whatever we apply to it therefore we should be concerned about the products we use for ourselves and our children.
Testimonies:
"Ever since using the Little Innoscents range, my daughter's very dry skin has turned into beautiful smooth silk. Her bum now lives up to the phrase, as smooth as a baby's bottom. The powder was lovely and soft, the massaging oil and cream was beautiful. The nappy rash cream worked well, and the body wash was great in the bath." Sean Lennox
"The nappy rash cream is the only thing that helps when she gets a bit of rash and I've tried just about everything else.  So thank you for coming up with such wonderful products, and please, feel very welcome to bring out some more!  My only problem… trying not to lick my gorgeous smelling bub after a bath." Lyndal Meyers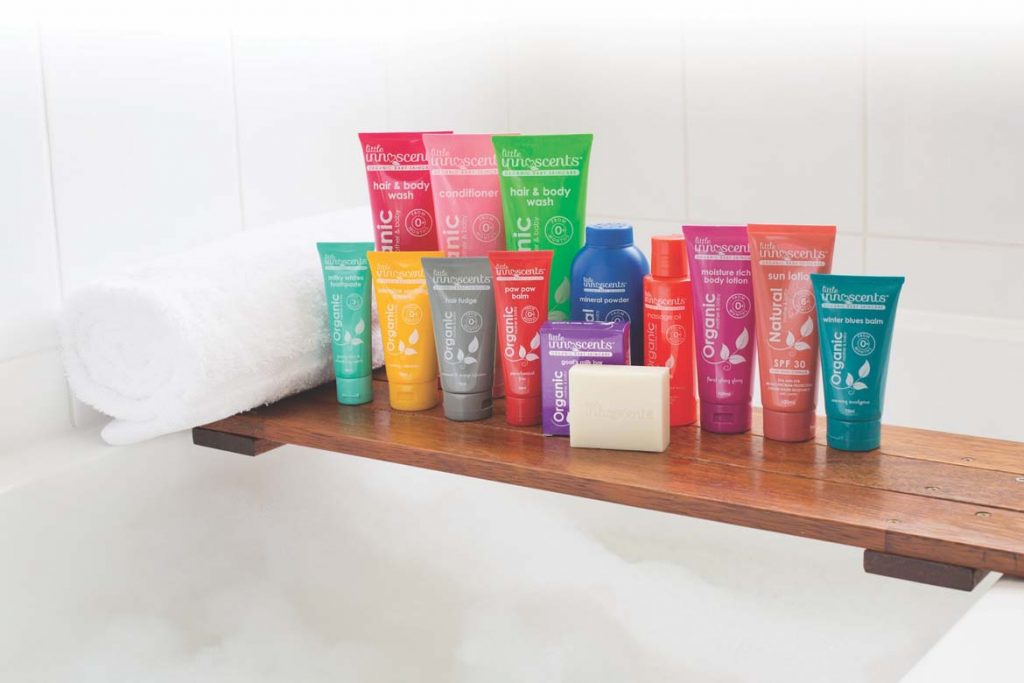 Not sure where to start? Here are two fantastic options for your little ones:
Cherry Coconut Hair & Body Wash
Little Innoscents Hair & Body Wash is a luscious all-in-one gel made from naturally-derived plant materials and plant extracts. A favourite with the entire family, replenish, hydrate and leave your body smelling fresh and radiant.
We have added plant based fatty alcohols and glucose (corn starch) to offer a mild and gentle lathers that gives us bubbles without nasty sulphates and because it does not dry the skin it is ideal for the formulation of this bath and shower gel. Ideal to use daily on any skin type, even the most sensitive, and beautifully pH balanced to ensure it doesn't strip away the body's natural oils. This hair and body wash has truly irresistible qualities.
Baby Mineral Powder (100% talc free)
Step away from the talc! Powder the natural way with the Little Innoscents Organic Baby Powder. Made from Kaolin (Australian White Clay) this powder has some spectacular properties. It has been used therapeutically by the Aborigines for thousands of years and works almost like magic to absorb excess moisture and toxins from the body and also protects babies delicate and sensitive skin from chaffing, odour, infection, and irritation. Impressive! It's also has a touch of Lavender and Spearmint essential oils to give it a sweet scent that will leave baby smelling delicious.
---
More information on Little Innoscents found here.