After tragically losing her two horses that had been such a huge part of her life, Louise Farmer was seeking something to fill the void, so she started making candles as a hobby. It soon became a passion and she set out to create the best scented soy candles on the market that were free of all toxins. Hand-poured in her boutique studio in small batches, every candle is created by Louise to her exacting standards, so you are guaranteed the personal touch in every product. Made from pure soy wax, cotton wicks and clean fragrance oils, all sourced from New Zealand suppliers, they are free from phthalates, paraffin, zinc and iron, as well as being vegan friendly. Here Louise talks to The Natural Parent Magazine about the inspiration behind 12th Avenue Candles, how she balances work and family life, and her hopes and dreams for the future.
The passion: What inspired you to set up your business?
It's a bit of a sad story so in brief, I had been a horse rider since I was a child and my whole life revolved around my two horses. When both died, in a freak accident, I also couldn't return to work as my injuries prevented that, so I found myself lost and under a black cloud of misery.
I needed something to fill the void the horses left in my life and a friend suggested I could make candles, as a hobby, until I decided what I wanted to do.
Once I started, I became very passionate and delved deeper into what goes into a scented soy candle. I found that some popular brands of candles were in fact quite toxic as they contained harmful additives like phthalates, parabens, zinc and iron. The research on breathing in these harmful additives was a real eye opener for me, so I set about to create the best scented soy candles on the market that were free of all toxins.
As a mother, grandmother and pet owner, I wanted a range of products that were safe to use in my home. Safe for everyone to breathe in and enjoy without the hidden additives, a range I could be proud of and not be worried about selling a product that was harmful. Once I had settled on this, I started to develop my fragrance range by learning how to blend fragrances so I had scents unique to the 12th Avenue brand.
I still make the traditional favourites but my best sellers are the ones I blend myself.
I also wanted an ethically sustainable brand, so over time I have phased out excess packaging as well as being vigilant of my production practices, so I do not generate and add to New Zealand's waste at the landfill.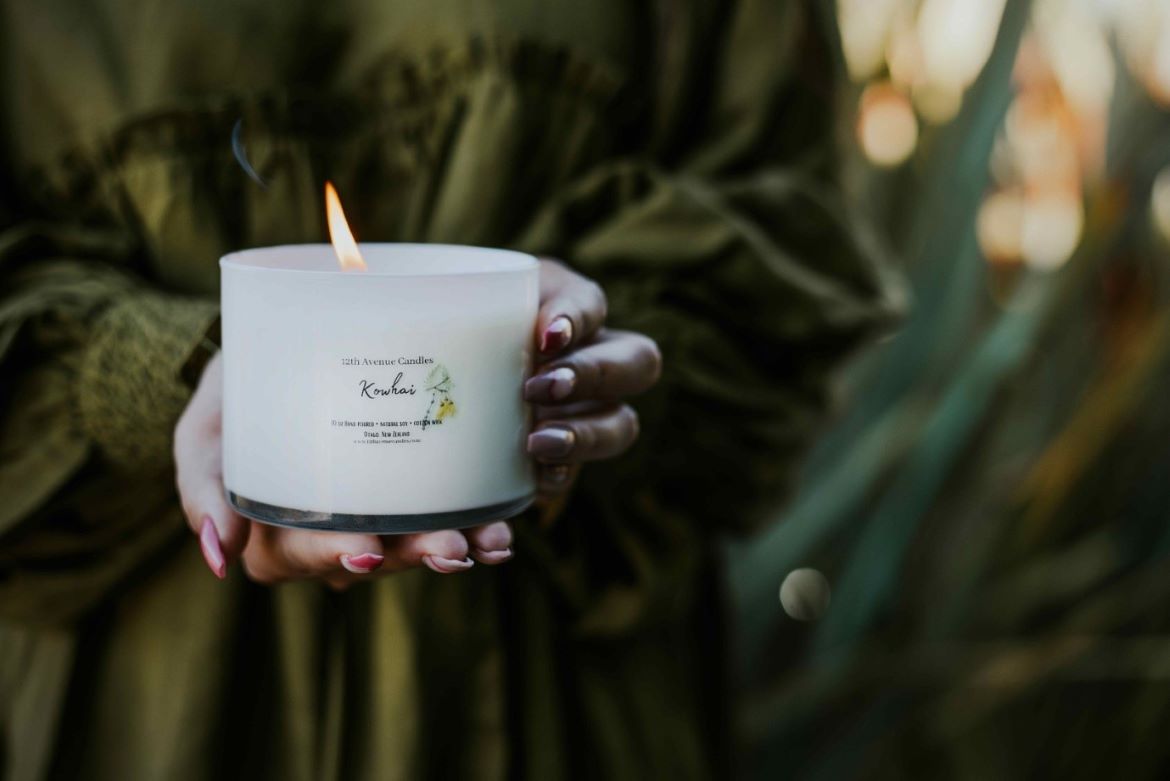 The launch: How did you start out in the beginning?
I started in my kitchen in 2020, just pottering and testing. There were some initial disasters and many moments of frustration. I sent my first batches out to testers to gain feedback on everything about them and by gaining these insights, I started to fine tune the products I make today.
Once word got out and orders came in from shops and businesses all over New Zealand, I quickly outgrew the kitchen and set up a studio so I could increase production and work more efficiently.
We are currently building our new home and with it comes a purpose-built studio with all the bells and whistles that will make it easier to keep up with demand.
The innovation: What was the biggest breakthrough for you with your business?
I would have to say it was recognising if I was going to do this well, I needed a designated space. Fortunately, my husband is very supportive and converted space for me to set up a nice studio. It was amazing to have everything at my finger tips and not having to put it all away each night so I could cook tea!
This has become even more important now that the brand has grown and with it, more shops ordering and corporate companies wanting branded candles for client gifts has taken off.
We offer in-house custom printing so we can make labels for any business using their logos at no extra cost.
Keepsake candles have also been on the rise as friends and families attending baby showers love to gift a candle with a custom label celebrating the imminent birth of baby, complete with date of expected arrival and a personal message. They then return to purchase a new candle with babies name, weight, time of birth or anything else they ask to have included on the label.
I've received some gorgeous feedback from new mums thanking me for the lovely candle they were gifted and lit whilst giving birth.
When you smell something, it sends signals to the brain's smell centre – the olfactory bulb, which is directly linked to areas of the brain that control emotion, memory, mood and behaviour.
I love these messages as it's such a magical experience bringing new life into the world, so to think my candles helped in a small way makes me quite emotional.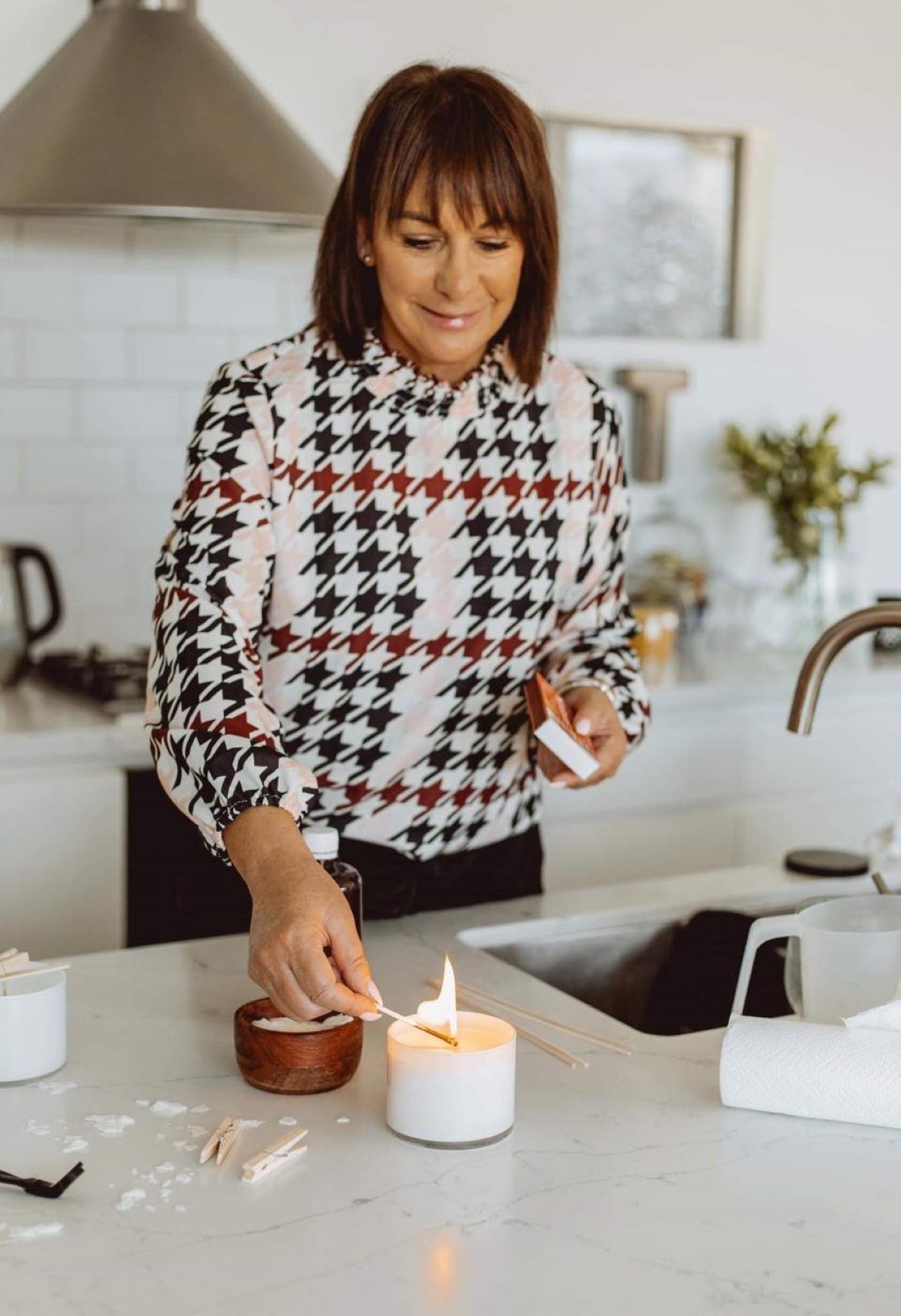 Yin and Yang: How do you balance work and family?
I have four adult children, two of whom have babies of their own. I love that I can schedule my work to fit around my granddaughters, as nothing is more important to me than forming a really close bond with these special wee humans.
I'm also super lucky that my children are happy to be involved with the business. My daughter (a teacher and new mum) runs the website, my son (a chartered accountant) takes care of pricing and finances, another son helps with setting up tech – that is beyond me – and the other son was the brain child behind my top selling candle, "Absolute Gold". He has a fantastic nose for fragrance and has made some great suggestions for blends that have proved very popular.
Their help and consistent support leaves me free to create the product which really is the fun part.
See next page for more…