Experiencing the loneliness and isolation of being a first-time, breastfeeding mum, Anna Sayring realised how little support there was available to her, along with a great deal of misinformation. This inspired her to create a community to support mums through their breastfeeding challenges. At Milk Mate they understand that every mother's breastfeeding journey is different, and offer effective, easy-to-use products that will help you to have the best breastfeeding experience possible.
The passion: What inspired you to set up your business?
I started Milk Mate at home in the small rural town of West Wyalong in New South Wales during the emotional rollercoaster that is becoming a first-time mum. I had my own struggles with breastfeeding and it was during this very isolating and lonely time that I realised there was not a lot of support available, but plenty of misinformation going around. Tobi had a severe lip tie, buccal ties and a tongue tie, which made feeding challenging. We battled through his first 12 weeks together until surgery resolved his issue and breastfeeding was finally enjoyable for me.  
So, after a pretty rough start to my breastfeeding journey and discovering that in Australia only 15.4% of babies were exclusively breastfed to 5 months, I realised I wanted to provide a community that supports mums through their breastfeeding challenges and successes. I wanted to share the latest scientific and fact-based information around breastfeeding and offer safe, non-toxic and eco-friendly products that make our journey easier.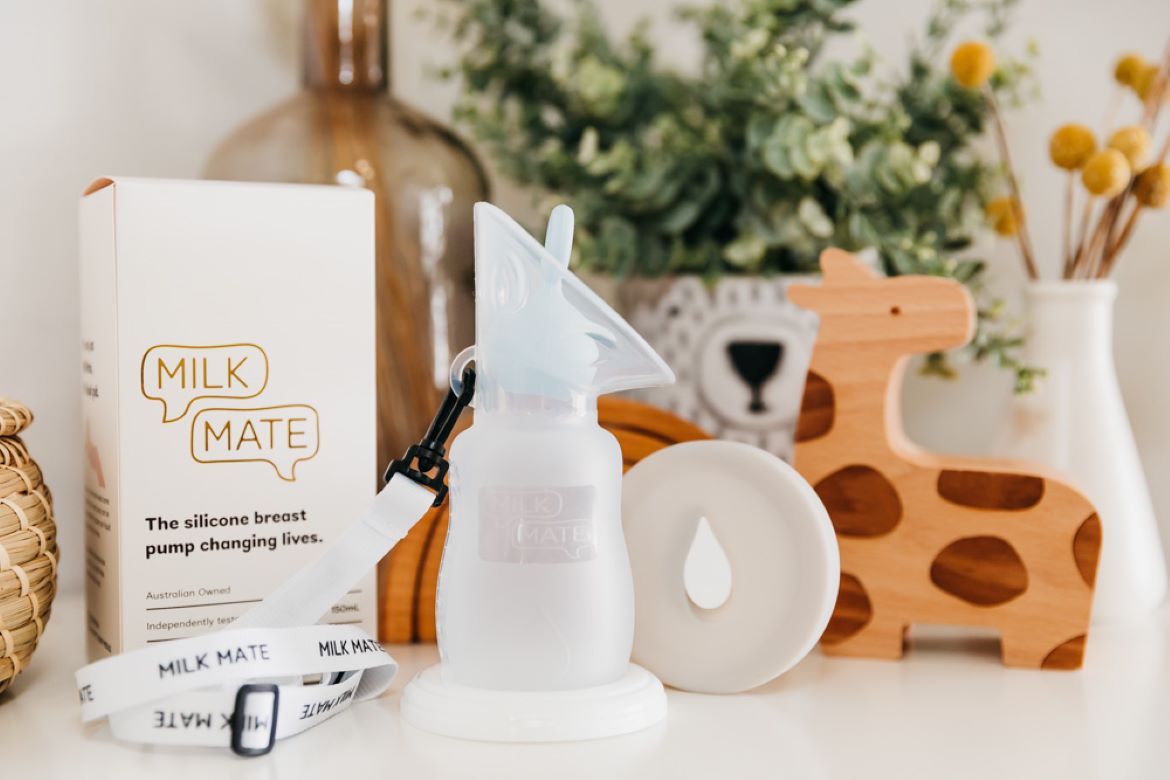 The launch: How did you start out in the beginning?
When Tobi was about four months old, I started spending hours upon hours (usually while breastfeeding) researching silicone manufacturers and ordering every silicone breast pump sold around the world to test and work out the best designs and features. I wanted to make the very best product I could for mums. After finishing my design and coming up with a brand name that represented what inspired me to start (my little 'milk mate' Tobi), I registered my company and secured a domain to start building a website. To my absolute surprise, no one was using the name Milk Mate, so I felt like it was a sure sign things were meant to be.  
I set up a Facebook and Instagram page with such excitement to be able to start building a community of mums to support mums on their breastfeeding journeys and into motherhood. I was determined to start sharing science-backed breastfeeding information and tips to try to help educate, support and empower new mums, because for those of us that have breastfed, we know that while breastfeeding is natural, it doesn't always come naturally.
The innovation: What was the biggest breakthrough for you with your business?
My biggest breakthrough was the realisation that there were so many mums out there needing a community to share their challenges and stories, and they were craving good quality breastfeeding information. So, my passion and drive to build a community to help educate new mums found a purpose and has been really well received. While I'm not yet a lactation specialist, my medical science degree has come to good use, enabling me the ability to research and provide good quality information from reputable sources to share on my social media community.
See next page for more…