Spring is the ideal time to ensure your children's sun and sound safety gear still suits their age 'n' stage! Your kids will have grown over the cooler months and it's important that their Banz Carewear sunglasses and earmuffs are still a good fit.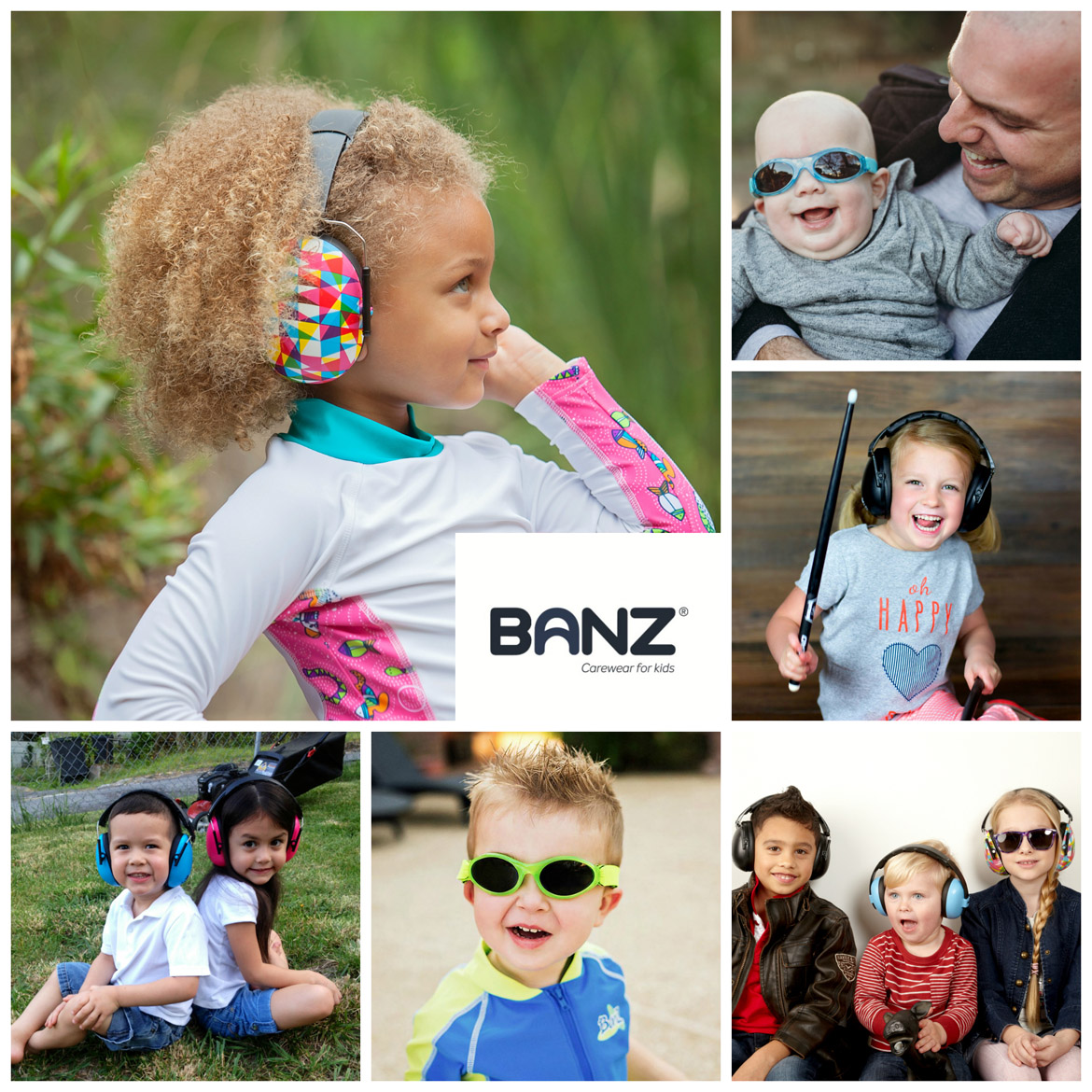 Stay-put sunglasses for babies – and toddlers
Banz Carewear baby and kids' sunglasses – both our Adventure Banz range and the wider-framed Retro Banz range – feature an adjustable soft, neoprene headband, so you can get the perfect fit, every time. A good fit is more comfy for your child and means that sneaky sunlight won't get round the edges of the close-fitting frames! Find the Banz Carewear Eyewear ranges HERE.
Of course, the first indication that your child has grown out of their sunglasses is that the headband is too tight, even on the longest setting. Our Baby size fits babies under 2 years, or a head circumference of 43cm to 52cm; the Kidz size fits from 2-5 years, or a head circumference of 48cm to 55cm.
If you're measuring your child for sunglasses fit, make sure the tape goes around the eye area and head, where the sunglasses will be worn. Please don't go by your latest Plunket head measurement! This is taken over the temples, higher on the head, so isn't suitable to use when planning your child's sunglasses' size.
Don't be fooled by imitations when buying children's sunglasses. Banz sunglasses were the first brand to feature the patented adjustable headband and we're flattered others have copied our idea. However, no-one does it as well as the original! You may see knock-offs being sold more cheaply than Banz; however, the Banz brand has been trusted by Kiwi parents for over 13 years now for a reason – Banz offers 100% UV-proof lenses, high-quality ophthalmic-approved design, sturdy materials and after-sales service you won't get elsewhere.
Banz offers 100% UV-proof lenses, high-quality ophthalmic-approved design, sturdy materials and after-sales service you won't get elsewhere.
Older kids need JBanz sunglasses
Time to move past the adjustable headband? For older children, the JBanz range of four different styles means there's something to suit every primary school-aged child.
All JBanz styles have traditional sunglasses frames, but with a twist – literally! JBanz sunnies are specifically designed for use by youngsters and have bendable arms that won't break! Along with rugged construction and polarised, 100% UV-proof lenses, stylish JBanz are a natural progression from Banz sunglasses for under fives.
Look HERE for JBanz sunglasses for approximately 4-10 years.
Hearing protection for all ages
Banz Mini Muffs for little ones under two years are especially designed to exert only a minimal grip over a soft little head and this, plus the adjustable headband, makes for a comfortable and long-lasting fit. You'll find Banz Mini Muffs HERE. It's easy to slide the headband adjustment to the end of the band as your child's head grows. But once you're there, what's next?
See next page for more…