By Rozalind Joy Neil
Creating space and opportunities for holistic education
I have been passionate about women's wellbeing since I started training as a midwife in 2000 and I was introduced to the amazing benefits of aromatherapy for labour and birth. I've always had a strong desire to help women to tune into themselves and explore what uniquely helps them to find serenity, be empowered and inspired to flourish.
My unique brand Serenity to Flourish, was creatively birthed from my discovery of holistic therapies, mindfulness and my passion for holistic education. I had an inner desire and motivation to create my own brand and be innovative in creating my bespoke services to share my synergy of personal and professional knowledge, and skills that I have developed over 2 decades. My vision was to create face-to-face and virtual spaces for women to experience serenity to flourish with therapies, coaching and education. When you create space for yourself, you can tune into your inner peace, calmness and find serenity. Serenity is within you, but it needs space to find you.
If you are connected to your inner serenity, and feel empowered to make informed choices, this is magic! Believe in yourself, be true to your values and inner truth and learn about how you can optimise your wellbeing and happiness, and increase your self-esteem. Having a positive mindset and inner peace can bring about changes in your wellbeing. I'm been empowered by the knowledge I've gained from my educational achievements and I love to share that with women, to give them confidence and choice.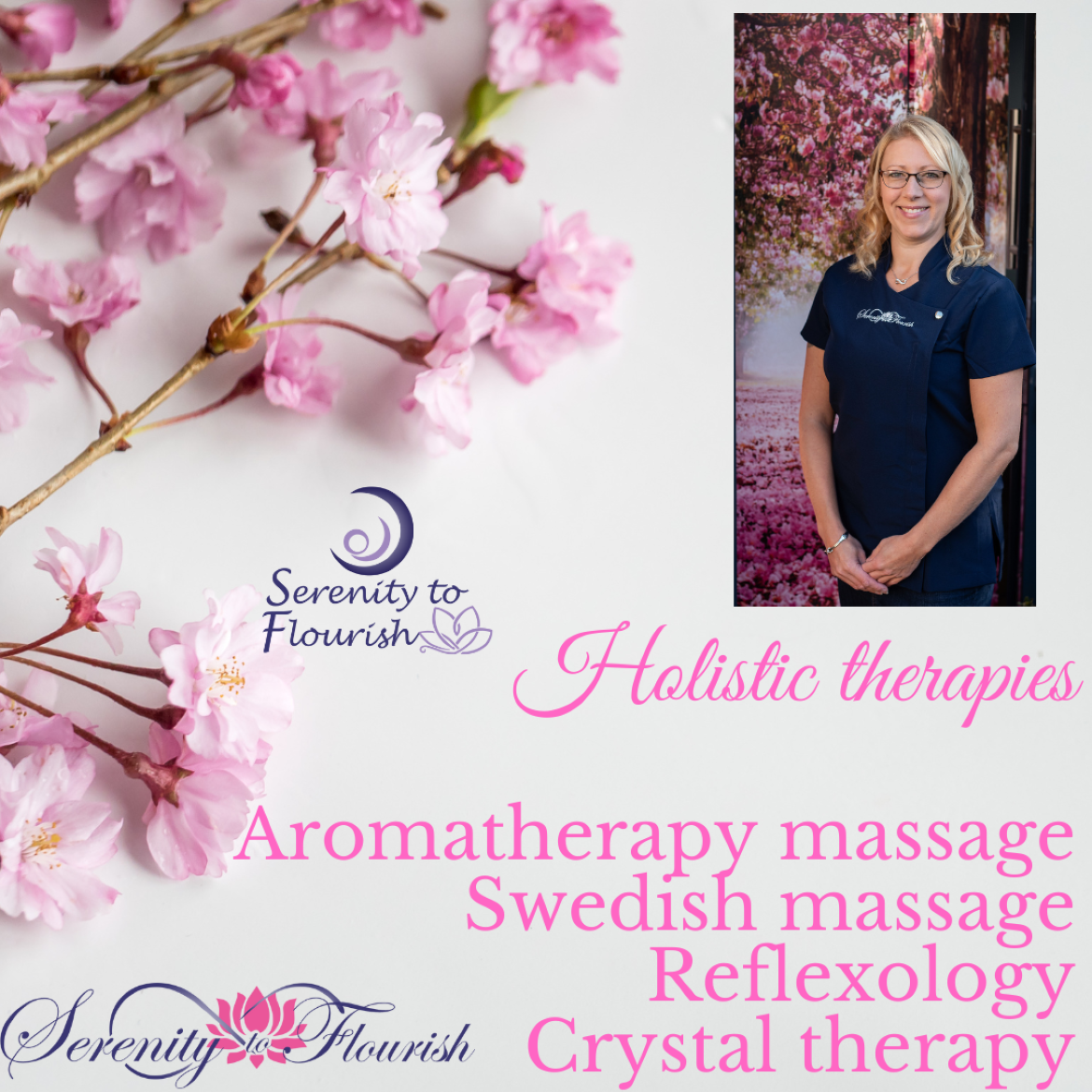 My love for learning and my own journey of empowerment
I've trained in Reiki, NLP, aromatherapy, Swedish massage, reflexology, crystal therapy, positive psychology, hypnotherapy, spiritual life coaching and leadership. I have a BSc (Hons) Midwifery, a Certificate for Teaching in the life-long learning sector and a MSc Education. I have innovation, creativity and motivation for women's wellbeing education for empowerment. I have written, recorded and published 14 online courses to nurture and inspire women. My mini "Discovery Journeys" teach about holistic therapies at home, for self-compassion and holistic self-coaching techniques, for flourishing. I also have bite-sized courses on resilience and optimising mental health. My "Deepening Wonder" courses explore aromatherapy, crystals, mindfulness, meditation and visualisation. These are pre-recorded self-discovery journeys that can be downloaded directly from the education pages of my websites: Education (serenitytoflourish.com) and Education (serenitytoflourishpregnancy.com).
See next page for more…