As mothers with strong roots in graphic design, Saara and Michelle always knew they wanted to use their creative talents for something more. Their dream was that their art would enrich the lives of children around the world and have such an impact that it would carry them into adulthood. They began The Creative Sprout in the 2020 lockdown, while looking for ways to ease their little ones into a new way of life. Their mission is to help families build a strong foundation for their child to become an emotionally resilient, well-rounded adult, free from mental struggles like anxiety and depression. Their bespoke card sets and resources have been created to help guide your little ones through big emotions. Here, Saara and Michelle talk to The Natural Parent Magazine about the inspiration behind The Creative Sprout, their biggest breakthrough, and the challenges they have overcome along the way.
The passion: What inspired you to set up your business?
Our children have been our biggest inspiration and have shaped our path. Becoming parents at a similar time, we started questioning everything we had seen around parenting in the past and assessed everything we were now reading. We began discovering ideals of how we would love to parent our children and quickly realised our parenting styles aligned beautifully.
Being visual thinkers, we searched for tools to aid our journey. We couldn't find resources that embodied our ideals or were aesthetically pleasing. In this problem, we found a solution and created a collection of resources that we believe are the perfect balance of design and practicality.
The launch: How did you start out in the beginning?
The Creative Sprout launched on Etsy in 2020. Initially, we created printable activity-based learning resources to help keep our kids busy during the first lockdown. This led us to Routine Cards as we noticed the lack of structure in our days while at home. There was a real hole in the market as most Routine Cards were bright clip art and over-stimulating with their design.
Seeing their success, we spent the next year developing products and reflecting on our purpose in this space and how we could best use our skills to help children. After a lot of research, brand strategy sessions, and soul searching between us, we decided to look further into the mental health and wellbeing of young children. This opened up a whole new world for us personally and for our little business. Our focus began to shift and push for change in the children's wellness space, with the goal for all children to feel safe, supported, and empowered.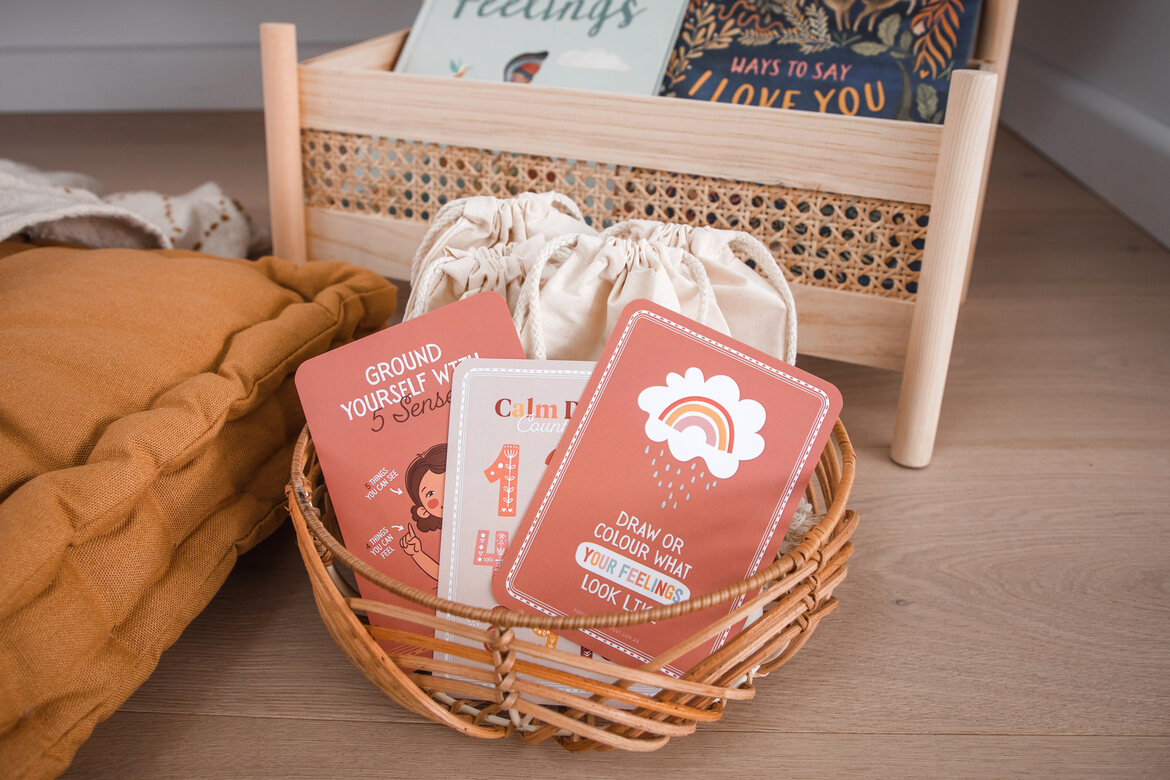 The innovation: What was the biggest breakthrough for you with your business?
Our biggest breakthrough has been the Calm Corner Kit. It has been thoughtfully designed to help children regulate their emotions.
The idea behind the Calm Corner Kit is to move away from the outdated practices such as the 'time out' corner and move towards a more supportive and productive 'time in' corner with a focus on parental presence rather than separation and supporting emotions rather than shunning them.
This bundle consists of Emotions, Calm Down and Affirmation cards. We wanted to create a set of cards that parents could use to help guide their little ones through their big emotions and find healthy ways to express them.
See next page for more…