By Hannah Schenker
Have you ever considered living in a greenhouse? In harmony and close proximity to nature – the fruits and vegetables for your meals growing within the walls of your home? The Scholtens, a Dutch family living in Rotterdam, The Netherlands, are two years into a three-year journey of experimental living. Doesn't it look wonderful? We spoke to Helly Scholten, stylist and mother to two children, about their experience living in this incredible greenhouse.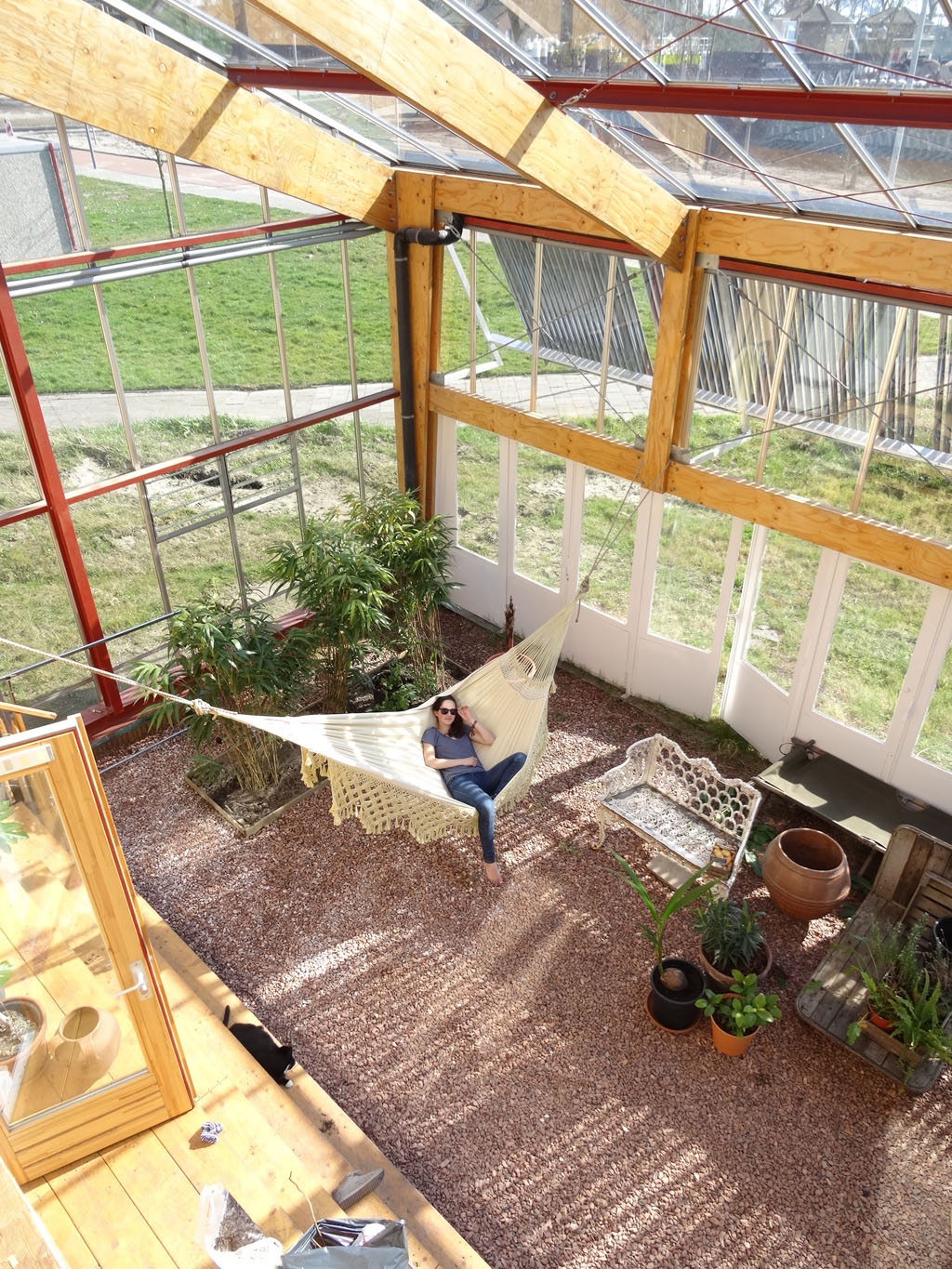 The greenhouse, actually a wood building within a greenhouse shell, was designed and built by the Dutch School for Sustainable Building Technology. The creative structure is made using all natural and recycled materials – even the plastic is biodegradable. The students that designed and built it wanted to discover to what extent a home could double as a place to grow your food and provide inexpensive heating and cooling. The Scholtens, keen to live more off-grid and more sustainably, were essentially a test family, to see how it really worked. They moved in during 2015, and are nearing the end of their stay – they move out in about 10 months and the building will be taken down and the materials used for a new project.
So, how did the Scholtens come to live in this greenhouse?
"I wanted to build my own example house out of natural materials and most of all off-grid systems, so people would have a place to go to to become inspired and learn. And by building one I thought I could learn too. As it proved nearly impossible to get the building permits, I reached out to the school because word had spread that they were building an experimental house.
"When we first met, the professor proudly told me about his first project that he had just finished building with his students. He mentioned that his next step would be finding the perfect test family to live in the greenhouse – that they call CHIBB. I realized that this was what I was looking for and said that that test family was me and my family."
After applying on the spot, Helly realised she had taken a huge risk – having not even seen the house and committing to moving in within 2 months. If it proved not to be livable, the school could not support them in finding somewhere else to live. With two children, a dog and two cats – it is not exactly easy to just crash on a friend's sofa!
"But we decided that there are no guarantees in life and we would take it as it comes. We dived into this adventure, and without any regret. So far it has been one of the greatest adventures of my life."
Helly says the kids love the tropical holiday feeling that the house and the interior give you as soon as you walk in the door, and adds, "that I put up hammocks everywhere helps".