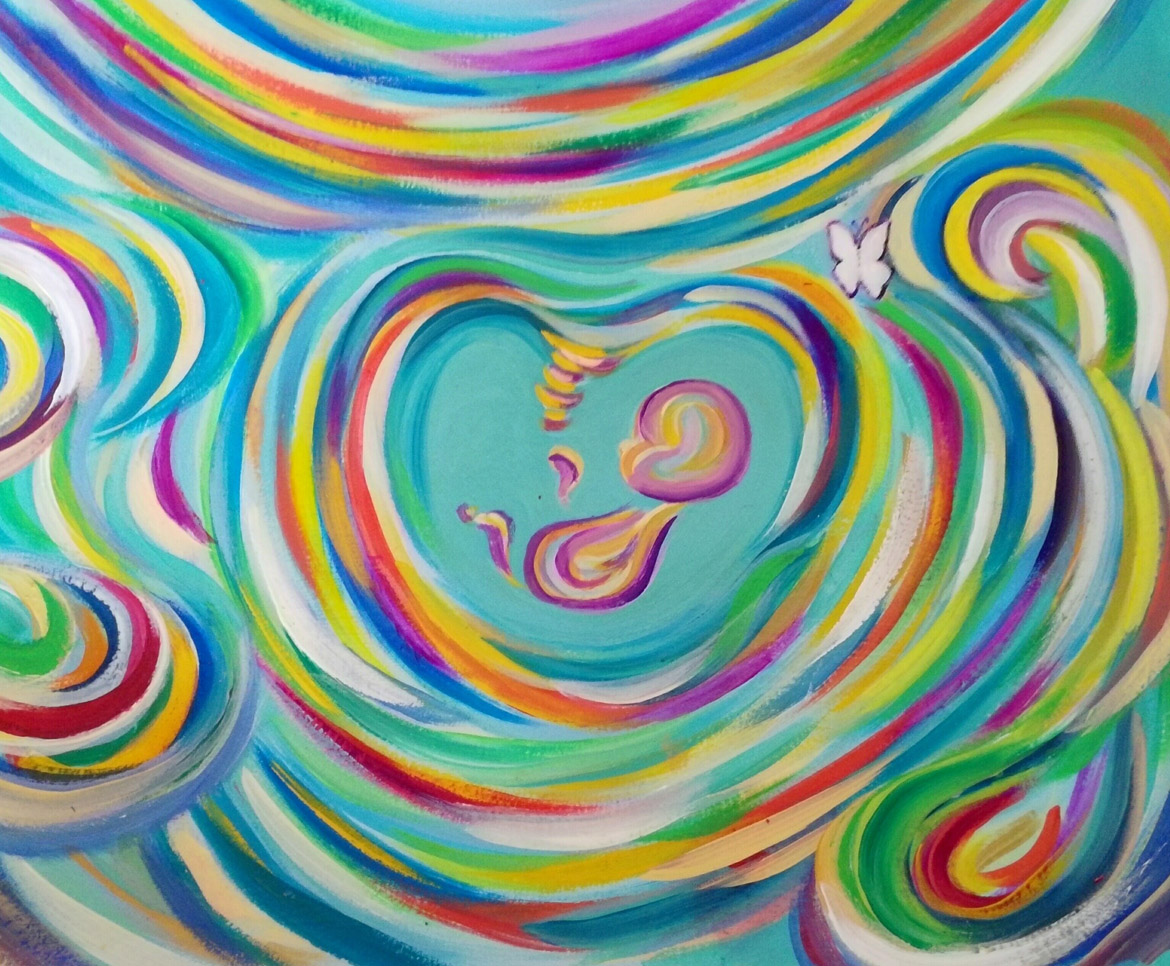 The stories that people have brought to her have been heartfelt and touching.
"One mother was scanned after breathing in fumes from the Brussels Airport Bombing in 2016 (she and baby were fine, thankfully!)  Her baby ultrasound painting represents the joy of travel, undeterred by fear and hatred in the world."
Another mama found out she had uterine cancer when pregnant with her rainbow baby – saving her life as the cancer was found. She began successful treatment after the baby was born.
Some parents who lost their baby before they were born commission a painting in order to remember their little angel.
"It's heartbreaking and so important to them that they can commemorate their baby this way," she says. "Words are hard to find, but clients tell me that their baby's ultrasound painting always sparks a conversation and is a beautiful way to capture their precious angel."
How it works:
Steerman begins with a photo of the real scan (you keep your precious original) – snapped with your phone or scanned and sent to her. Then you will both chat about things like style and colours, so that you can beautifully capture and reflect your baby, your personalities, parenthood and the pregnancy. Your ideas are a big part of the process – whether it's to do with matching the colours of the room it will be displayed in or gaining inspiration from a favourite image or photo.
"Some mums describe their baby full of personality, always kicking and moving about in the womb – those babies are painted with vibrant bold colours with plenty of movement," she says. "Other mums describe their baby as placid and easy going so their painting suits pastels and more gentle paint strokes."
Or you can leave it totally up to her and keep it a surprise. Paintings can be completed, framed and mounted within weeks, then shipped to your home.
---
See Samples and learn more:
Instagram: https://www.instagram.com/quaintbaby_ultrasoundart/
Facebook:  https://www.facebook.com/QuaintBabyArt/