Melissa Holyoake was inspired to launch Pixel Project in early 2020, after she had created a couple of photo-style books for some friends and family. With her background as a Graphic Designer, she loves the curation and design process and the magic of working with beautiful photography that captures such special moments in time. At Pixel Project, she curates your wedding, lifestyle and event photography into a gorgeous magazine that you can reflect on and share in the most stylish way. Here she talks to The Natural Parent Magazine about the passion behind her business, the delicate work-family balance, and her hopes and dreams for the future.
The passion: What inspired you to set up your business?
While on maternity leave and my first year back at my job as a Graphic Designer, I created a couple of photo-style wedding books for friends. I really embraced the curation and design process of these books, so much so that it sat with me for a while before taking the leap into the world of business ownership.
The very first Pixel Project Wedding Journal I created was for my younger sister Alicia and brother-in-law Sam (The Browns x). I spent a lot of time working on it, I just wanted it to be perfect for them. There were hours of reflection, of the day (of course), and making sure every page was spot on before hitting the printers. 
There's something so magical about working with beautiful photography that captures the best moments of a couple's special day. Reading over the vows and speeches always brings a tear to my eye, and I really do love a good wedding, but who doesn't!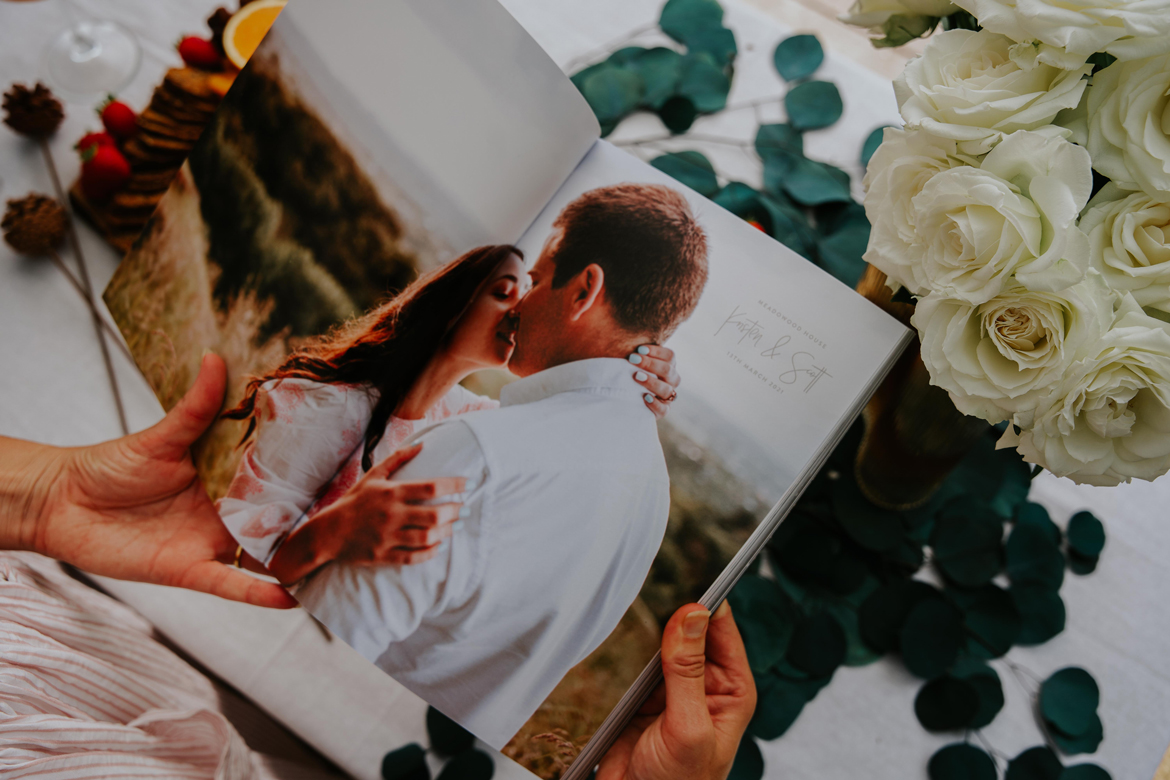 The launch: How did you start out in the beginning?
The first few months saw me set up at our dining room table, with print quotes, paper samples, and an Ecwid e-commerce account (I'd set up a website before for a client so this seemed like a logical place to start). There were many late nights as I worked on the back end and evolved the look and feel of my Instagram and Facebook accounts.
The innovation: What was the biggest breakthrough for you with your business?
Design programs that assist the process have been my life and time saver. This happened within the first 6 months of setting up and I'm so glad it did.
Because I was only working in the evenings and some early mornings, before work, the manual layup process was slow and not very cost-effective. I can now work on many journals at once and have them all done and proof in a reasonable time frame.
Being a visual person, the design programs I use really enhance the way I work, they give me the opportunity to see all the images in situ rather than en masse, in a folder to select from.
Yin and Yang: How do you balance work and family?
On occasion, the lines blur, but one thing I am particularly good at is switching off when I'm done for the day. If I need more time, and my hubby (Nathan) is home, he'll collect London (she's 3.5 years old) so I can finish off my work for the afternoon.
At this stage in the business, I'll often pick up work again in the evenings to stay on top of journals and other design work. I also work part-time as a Graphic Designer/Studio Manager and like to get my exercise in, so there's a bit of juggling going on.
The support of family and embracing it has been really important for us, we are very lucky to have grandparents that are happy to help out, and we are very grateful for that.
See next page for more…