The signature product from Pure Modesty is a scrub that will make your skin sparkle, and everybody is raving about it! Full of 100% organic, natural ingredients like raw organic manuka honey and Fairtrade organic coffee, plus some super nourishing raw cacao and coconut oil, this scrub will leave your skin smooth and glowing. All of Pure Modesty's products are made and manufactured in Christchurch, NZ. We spoke to Pure Modesty's Linda Chen to learn more about how they got started.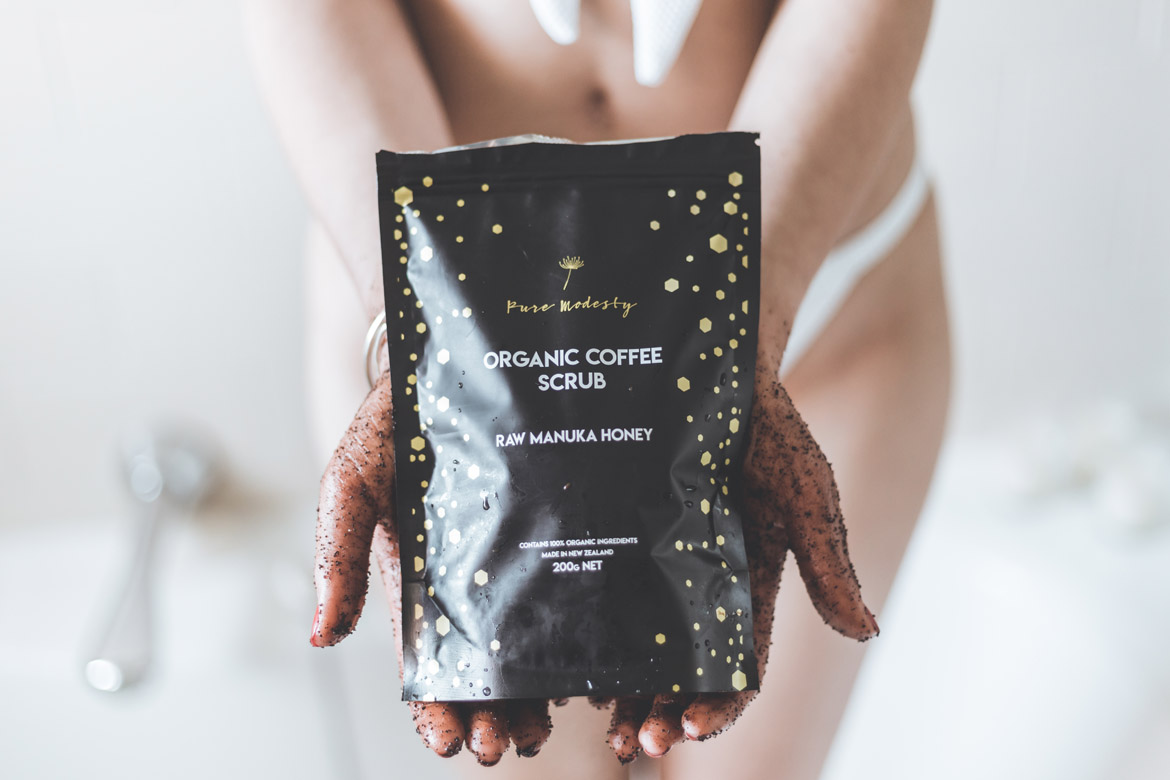 The passion: What inspired you to set up your business?
I have always been a huge lover of skincare products but was shocked when many of the brands I used in the past contained harmful chemicals, tested on animals and were harmful to the environment. I started to gradually change my lifestyle and the way I purchased beauty products. One of the products I stopped using were scrubs containing microbeads or other materials that pollute the ocean and learned about the benefits of using coffee beans as a facial and body scrub. The antioxidants and caffeine in grounded coffee beans help stimulate circulation and helps reduce the appearance of cellulite and stretchmarks. I began experimenting with this at home for myself by adding other natural ingredients. My skin became more radiant and smooth and I ended up making them for family and friends who also experienced amazing results. Eventually, I decided to turn it into a business where we only use natural, organic ingredients, manufacture it in New Zealand and don't test on animals.
The Launch: How did you start out in the beginning?
After receiving lots of positive feedback from family and friends who used my coffee scrub, I started to perfect the ingredients with the hopes of launching it as a business product. I started off really excited but that excitement quickly turned into an uphill battle as I realized starting a business required more blood, sweat and tears. However, I decided to just tackle things one step at a time and before I knew it we were ready to launch our website.
The innovation: What was the biggest breakthrough for you with your business?
I think the biggest breakthrough was the decision to add organic raw manuka honey as one of the ingredients in our coffee scrub. Raw manuka honey contains antibacterial and anti-inflammatory properties which cleans and soothes irritate skin, helps balance pH levels and fights blemishes while keeping the skin moisturized. This made our product stand out from other coffee scrubs in the market and gain interest from customers overseas.
Yin and Yang: How do you balance work and family?
I actually became pregnant with our first child and gave birth to my son a few months after our business launched. The first three months postpartum was a bit of a blur but I remember fulfilling orders up until the very moment I had to go to the hospital but I was so grateful for every order we received. I'm very blessed to have a supportive family so I have managed to allocate time to focus on the business while making sure I spend quality time with them.
See next page for more…