Inspired by their desire to help others through difficult times, Rachel and Jeremy Wise set out to spread a little joy to people's lives. At Head 2 Heart they create beautiful, unique pendants as a physical reminder of times of happiness. They are designed specifically to remind the wearer of a special time or special person in their life, either personalised with a special photo or a unique scene.
The passion: What inspired you to set up your business?
Jeremy: Mostly the idea came from Rach, when she became a new mum to our first born. She went through a bit of a hard time being isolated from friends and family (due to location) and then losing her father when our son Asher was 4 months old. Added to this, we have both experienced a number of hard times during our lives – some happened to us and some were consequential. Because of this, we both realised we really wanted to help others through these difficult times as best we could, even if they were strangers.
My passion started right back when I created our logo. With regards to the design of our logo which you can see on our website, I put a lot of thought into designing this. The heart represents your heart, while the crown represents the head. The cross represents our faith in God and what we believe is true. The crown's design is made to look like a traditional crown, which is kind of a bit of a play on our vintage style. And the whole logo symbolises the head speaking to the heart to remind it of truth. Hence the name of our business "Head 2 Heart".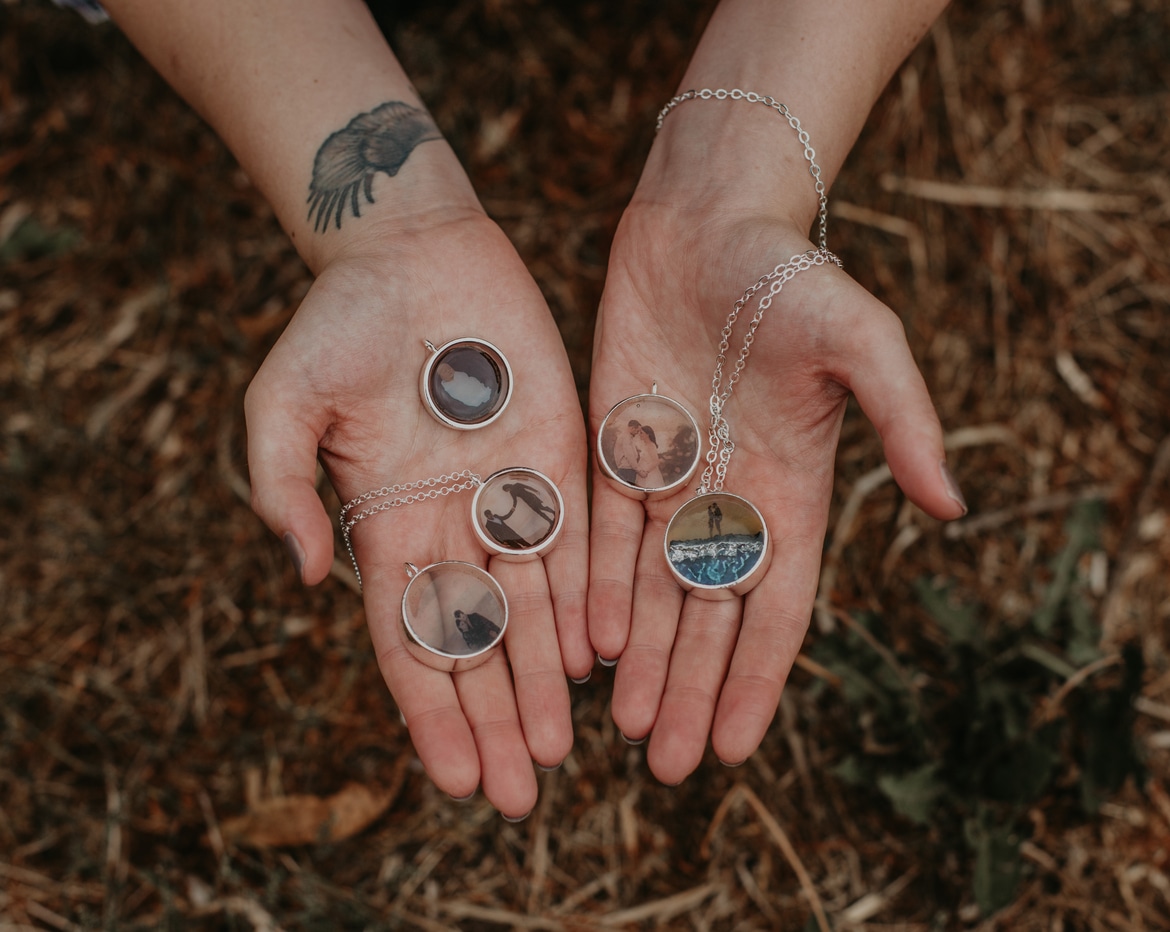 Rachel: There was one occasion years ago which was the turning point in my life. For many reasons, it had been over 10 years that I had struggled to see the light at the end of the tunnel. It got to the point for me where I turned to my faith in God, praying to experience happiness again. I stumbled upon (or you could say I was led to) a book that was called "500 ways to be happy". It had stick figure pictures with the simplest of things to be happy about such as "blowing bubbles" or "watching the sun set". I remember this made such a difference and helped me focus on small things that could bring me joy, rather than being caught up in the hard time I was in.
When looking to bring others joy, I realised that a physical reminder of these things might be enough to remind them of happiness and give them the strength to get them through.
The launch: How did you start out in the beginning?  
Jeremy: We started off by going to a market to test the water. We didn't sell anything, which was really disheartening. But everyone that was at the market said our stuff was really beautiful and we were maybe at the wrong kind of market for what we had created. They suggested we would really do well and appeal to people in bespoke and artisan markets.
This market led us (Rach) to a ladies' night, which was the perfect opportunity to start sharing our story, and it showed us that people actually wanted our jewellery. Which is awesome because we know we loved creating these pendants but had no idea if they could actually bring anyone else happiness.
We then started attending the Raglan markets and could see that our pendants and our story really do appeal to people.
Rachel: As part of our market display (the design of which is constantly changing!), we display photo pendants we have made of various stages in our life: getting engaged, our son Asher, our wedding, maternity photos etc. These seemed to really resonate with people and even if we don't sell anything, we often will get at least one request for a personalised photo pendant. That very first market where we sold nothing, a lovely lady saw these pendants and said, "I'd love to personalise one with a photo of my children, and send it back to my mother as she lives so far away" and so we were able to start with our very first customised photo pendant. That's how we started to realise our biggest sellers were actually where people got to put their own photos in the pendants, which makes total sense because it truly is personalised happiness.
So, what we've done is simplified our website so much that the first thing you see when you come onto it is an option to personalise your own photo pendant. We will also start putting on our website our unique "Scene Happiness" pendants, which are quite arty, made often with natural materials inside like sand, stones, bark etc. These are made to represent joy in the form of a walk along the river for example (pictured), summers at the beach, the beauty of a cherry blossom and what they symbolise, the peace felt when watching two butterflies dancing, or even the cuteness of a puppy.
We LOVE creating and are always looking for what brings joy to people. 
See next page for more…