Pregnancy and birth can be, and is for most women, a wonderful experience. It can be a time of wondrous health with glowing skin, luscious hair and high positive energy, but can be accompanied by such conditions as morning sickness, heartburn, constipation and difficulty sleeping, all of which can make an expectant mother feel decidedly uncomfortable. 
Herbs through history
Most of what is currently known about botanical use during pregnancy is based on a significant body of historical, empirical, and observational evidence, collected throughout the centuries from many different cultures.
Herbs have been used to alleviate discomfort and treat common problems arising in pregnancy and childbirth dating back to ancient Egypt.
Today the use of herbs for the treatment of minor pregnancy symptoms is very common. Studies and surveys estimate that up to 45% of women use an herbal therapy at some point during pregnancy. 
Science and safety 
Little is known scientifically about the safety of most herbs during pregnancy, as most have not been formally evaluated and ethical considerations limit human clinical investigation during pregnancy. However scientific research has confirmed that the following remedies are safe for pregnant women to use under certain conditions. 
Ginger for morning sickness – < 1gram daily, taken in divided doses as needed  
Nettle for iron deficient anaemia  - 7-14g/ day 
Echinacea Root for colds -  0.25 -1g/ day for 5-7 days 
Red Raspberry Leaf as a uterine Tonic – 1-3 cups daily 
Pregnant mothers commonly experience minor symptoms and discomforts for which the use of natural remedies may be both gentler and safer than over-the-counter and prescription pharmaceuticals.
It's important to be aware of the safety issues when using herbs in pregnancy, because not everything that's natural is safe for pregnant mothers.
It's important to be cautious, to use only those herbs with a proven track record and a good safety profile. Some herbal remedies should be avoided altogether. 
Benefits of infusions during pregnancy 
Pregnant women may find that even something as simple as a daily ritual of drinking a nourishing herbal tea can keep them feeling well and become a time of affirmation about the baby to be. A healthy pregnancy can be a time of great joy and energy. Safely using herbs to help overcome minor discomforts can be a gentle way to sustain the health of both mother and child. 
Hydration
Unlike coffee or regular tea, herbal teas are refreshing and hydrating. Pregnant women are advised to specifically ensure that they remain hydrated throughout the day as dehydration can lead to a number of other problems which include constipation, haemorrhoids, nausea, skin problems, headaches, and swelling. While there is no replacement for water, consuming two to four cups of tea per day will keep you hydrated as well as the added health and nutritional benefits.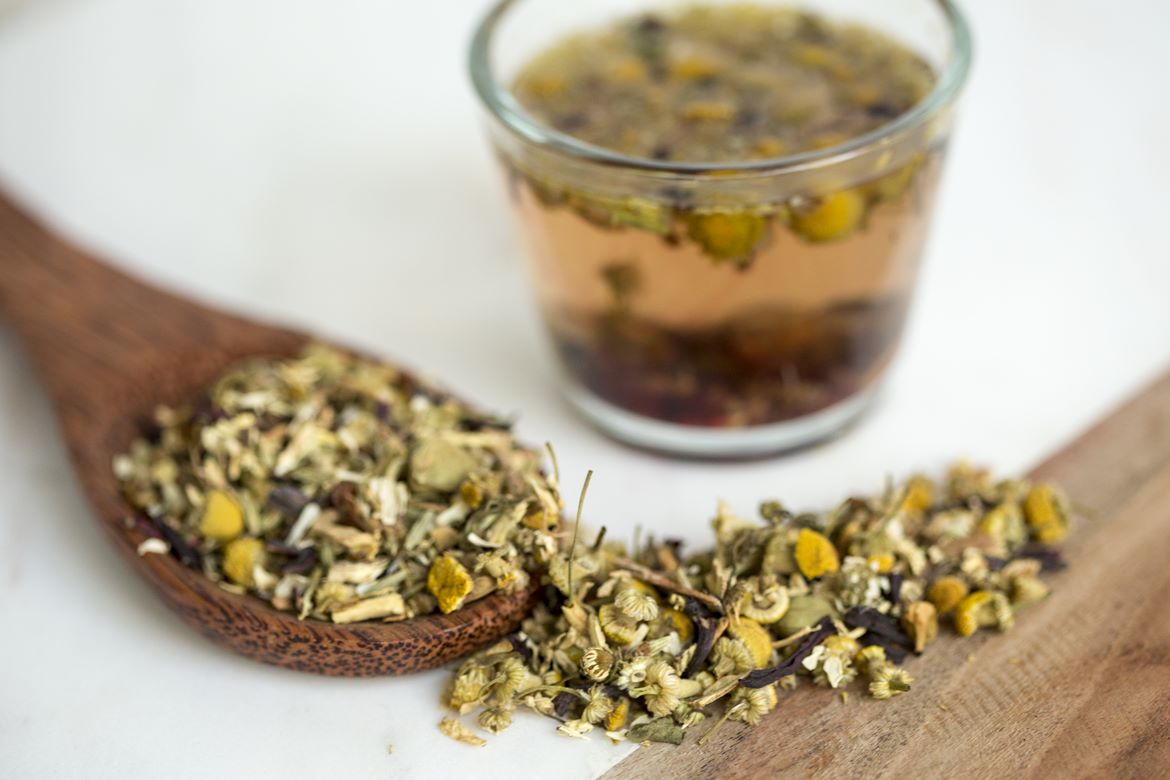 Nutritive
Some herbal teas can provide essential nutrients during pregnancy and are an easy delicious way to strengthen and nourish the body. Many herbal teas provide nutrients such as magnesium, calcium, and iron. Nutritive teas that are known to be safe and can be consumed in moderate amounts regularly in pregnancy include: 
Alfalfa – contains many important vitamins, minerals and proteins, including vitamins K1 and C, calcium, iron, phosphorus, and chlorophyll. It traditionally prevents anaemia and other mineral and vitamin deficiencies. 
Nettle Leaf – also contains many important vitamins and minerals. High in vitamins A, C, K, calcium, potassium, and iron. It is commonly used in many pregnancy teas because it is a great all-round pregnancy tonic. 
Dandelion root – rich in Vitamin A, calcium, and iron; dandelion root and leaf can also help relieve mild edema and nourish the liver. It has been used traditionally to alleviate the nausea of morning sickness, relieve indigestion, and gently promote bowel movements. Such conditions may be relieved by sipping a cup of tea throughout the day.
Rose hips – have a natural presence of vitamin C, flavonoids, carotenoids, antioxidants and other phytochemicals which support the immune system and supports the increasing demand on the vascular system. 
Herbal infusions for the 1st trimester
Nausea and vomiting of pregnancy/morning sickness
The safest approach is to avoid herbs during the first trimester unless medically indicated and safely administered. Nausea and vomiting of pregnancy (NVP), morning sickness, is such a case and is one of the biggest problems faced in pregnancy. Usually morning sickness occurs in the early stages of pregnancy but can run over the term of the pregnancy. A number of herbal infusions have shown to help ease morning sickness and prevent nausea. 
See next page for more…