Having experienced first-hand the complexities of initiating solids, food rejection, purée artistry and picky eating, Emma Arntz is only too aware of the myriad of emotions that can accompany mealtimes. As a specialised paediatric speech therapist, feeding expert and mum to a lively toddler, she launched Joyfull Mealtimes to guide and assist caregivers and clinicians with their mealtimes adventures. Their aspiration is to be a prime source of support during the feeding journey, ensuring parents are equipped to nurture their children towards a lifetime of jubilant eating. They believe that eating should be a joyful experience for you and your little ones and provide you with accessible education, support and innovative products to help make this happen. Here Emma talks to The Natural Parent Magazine about the inspiration behind Joyfull Mealtimes, how she balances work and family life, and the pros and cons of running a business.
The passion: What inspired you to set up your business?
I am a paediatric speech pathologist and feeding therapist, and I was running my practice, Raised with Joy, for several years before I launched Joyfull Mealtimes. Every day during my practice at Raised with Joy, I was working with amazing children and their families, and I saw first-hand the need for feeding products specifically designed to help little ones at mealtimes – especially when starting solids and for fussy eaters. I saw how stressful mealtimes could become for parents, and I wanted to change this, so my idea for Joyfull Mealtimes was simmering under the surface for at least a year before we launched. My own experience of motherhood was also a factor. I'm mum to a fun-loving, gorgeous 22-month-old called Louis. We had a rough start to breastfeeding due to my preeclampsia and Louis being born prematurely. Later on, when we started solids together, it was a really fun and healing experience. I believe that food is about so much more than just nourishment and that family mealtimes should be a fun, relational, and a JOYFULL time for ALL families. I wanted to offer accessible education, support AND innovative products that could make this possible. That's the inspiration behind Joyfull Mealtimes.
The launch: How did you start out in the beginning?
After solidifying the concept for Joyfull Mealtimes, I did a soft launch while running my other business, Raised with Joy. I then started developing the Joyfull Mealtimes feeding products and working with suppliers to get the very best items on the market. Doing the soft launch meant that I could design my brand, build my website and set up my socials while waiting for more stock to arrive.
The innovation: What was the biggest breakthrough for you with your business?
Creating the Joyfull Mealtimes PLAYmat and Guidebook. An innovative blend of science and creativity, our Joyfull PLAYmat is a fun and functional tool that helps children engage with food how and when THEY want to. It is also the perfect addition to our other silicone-feeding products. The Guidebook equips parents and caregivers how to use the PLAYmat optimally with evidence-based information and guidance. It also contains the prompts and questions to use with children so that mealtimes become a fun and nurturing experience. I've also really enjoyed selling the Joyfull Mealtimes PLAYmat and Guidebook at our regional markets.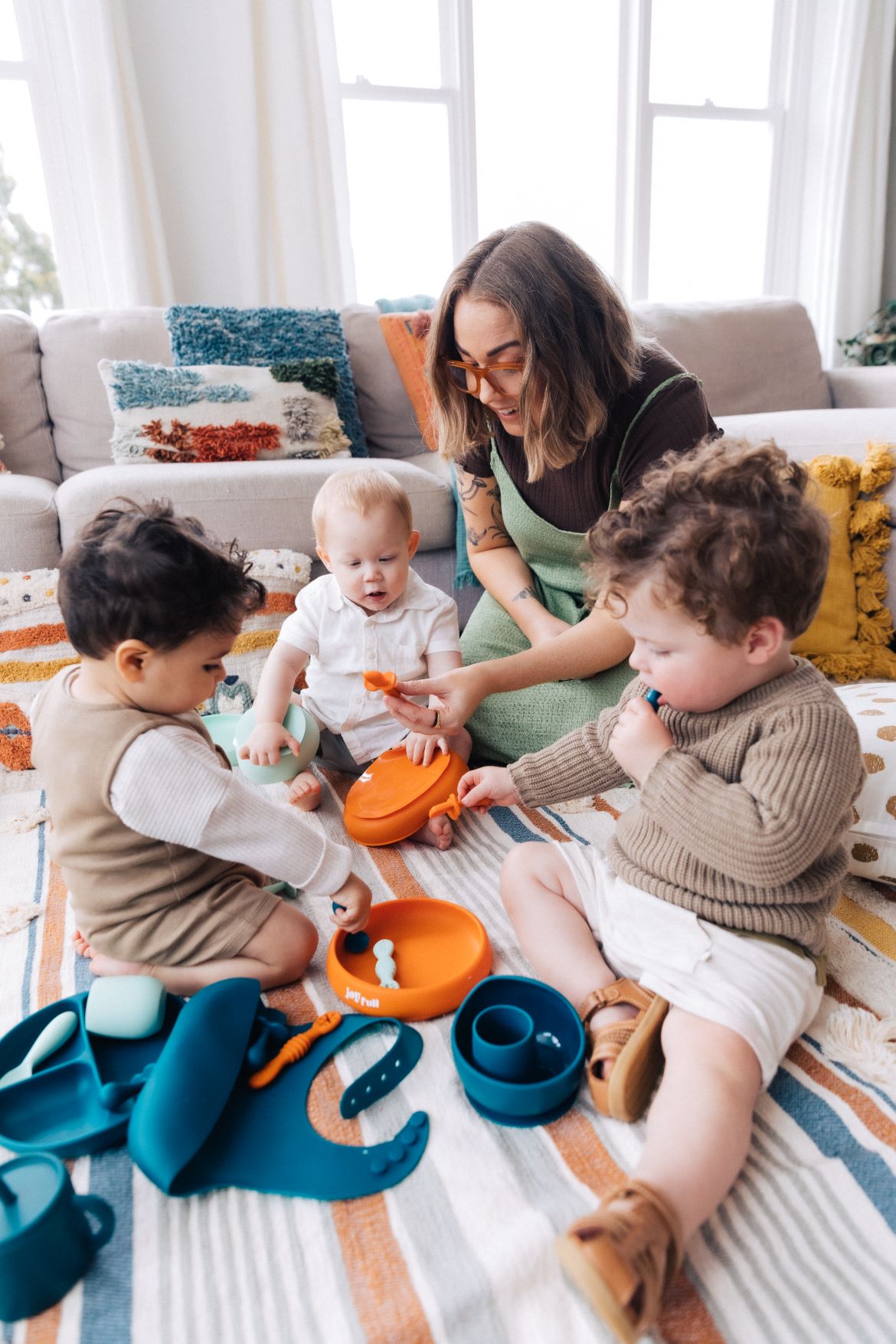 Yin and Yang: How do you balance work and family?
As a business owner, I'm always on the go! The work is never-ending! I also love starting projects and learning new things. I have ADHD, so I have to practise keeping firm boundaries between work and family life to prevent burnout and so I can bring my best to Joyfull. One way I create balance is by enjoying the flexibility of running my own business and taking time out with my family throughout the week. Sometimes this can look like enjoying a slow Tuesday morning brunch together. Sometimes it looks like working in the evening so I can take Louis to the park in the afternoon. I am also really intentional about blocking out quality time with my family. I schedule family time in my diary like I would any other appointment, because otherwise, it just wouldn't happen! When I'm spending time with my tribe, we enjoy listening to music (my partner Josh is an incredible musician), and I love to cook, so we spend a lot of time in the kitchen.
See next page for more…