From the moment you first connected with your baby, whether that was in the first scan or when you held them after birthing, you wanted the best for them.
Perhaps you dreamed of course correcting anything from your own life to try and make similar experiences better for them. We love our children and we want to be the best version of ourselves for them. Your values are what shape those aspirations and they are very personal.
The hopes and dreams that you have for yourself and your little people will be different to those of someone else. When we choose the values we want to live by deliberately and thoughtfully, they can provide an excellent compass for living generally and for raising our little ones into the best people!
Children can pick their own values too… When they are the right age, helping them identify values they care about can be a great gift for them in life. A framework.
Inspired Spark products are underpinned by Acceptance & Commitment Therapy (ACT) and are designed with a psychologist to remind you on the daily of values and goals that you want to live by.  Spark products are thoughtful, practical, affordable, evidence based and accessible, and if you buy them, you'll see… Beautiful. The Inspired Spark unboxing experience is designed to feel **super special** making them excellent gifts also.
Inspired Spark offers global shipping and the product range includes:
1. Triple scented, handmade, soy wax "Values Candles" with inspiring phrases themed around values on the front and back. Inspired Spark fragrances are designed and developed in Sydney, Australia. They are completely vegan/cruelty-free, non-toxic and do not contain palm oil. Each candle arrives with a timber lid to protect the wax from sunlight and dust.
2. "House Values Wall Art" is a collection of phrases chosen by you (or their most loved phrases chosen by others) that beautifully display chosen values for your family, group or workplace. House Values are printed on museum grade, acid-free textured stock using vibrant Epson Ultrachrome inks that stand the test of time and resist fading.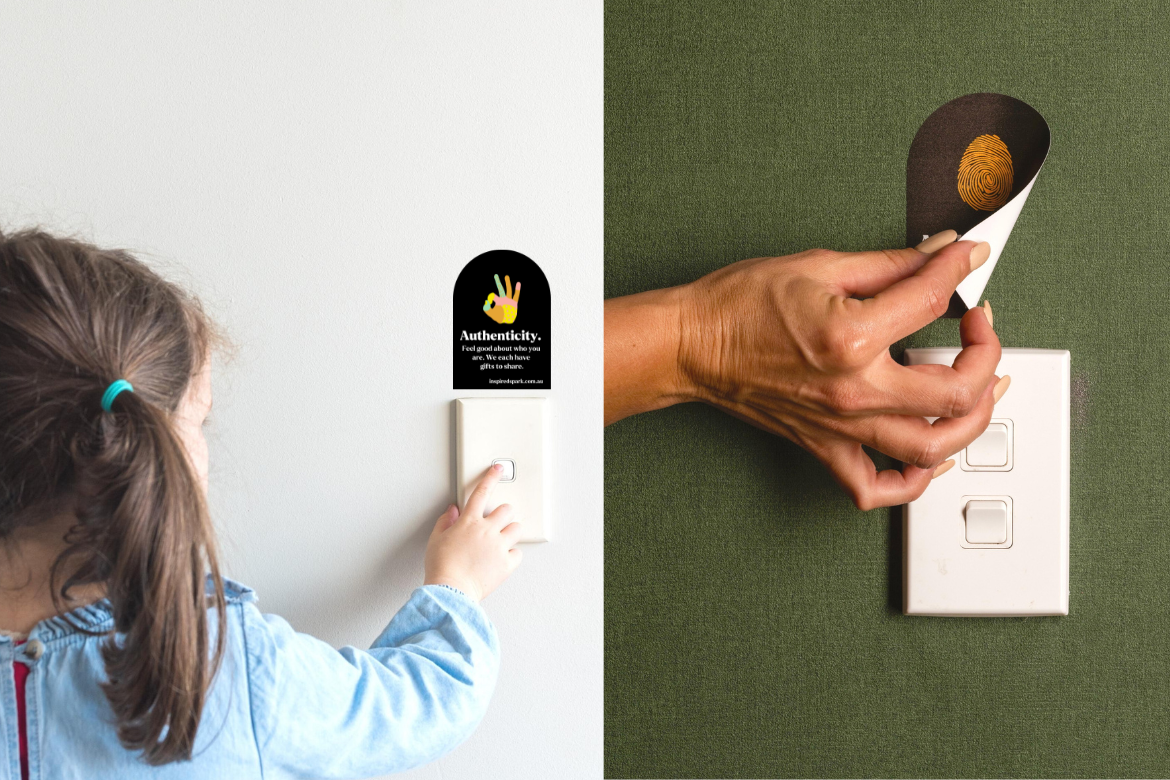 3. "Anywhere Inspo" is inspirational touch point reminders for attaching anywhere. Think light switches, mirrors, whiteboards, fridges, walls near your desk at home or work. They are moveable and paint & wallpaper safe. Personal growth for busy people! As you pass them, practise thinking more flexibly and being aligned with your chosen values. They come in two ranges:
Fundamental range: Simple language for anyone including children and those with special needs.
Cranked range: More cranked up language than the fundamental range and themed around the same values.
4. "Be Brave" slogan T-Shirts are 100% combed cotton with tone on tone embroidery of the words "Be Brave" on the front… Uplifting for anyone you encounter, including yourself in the mirror. You just never know who may appreciate these words in any given moment.
You can "Shop By Values" on the Inspired Spark website, so visit us to learn more.
Go you good thing!
See next page for more…