The Ethnic Spirit story began with a love of discovering new places, cultures, languages, music and traditional fabrics. For founders Jessica and Giovanni, they wanted to combine some of their favourite things: travel, designing unique clothing and shoes, music festivals, being outdoors in nature, communicating in other languages and keeping their freedom by being their own bosses. Enjoying the journey of learning about quality products, fashion, fabrics and the ever changing market, they found their unique style of footwear and clothing for children and adults, selling their products at festivals, fairs and markets since 2006. Here Jessica talks to The Natural Parent Magazine about the inspiration behind Ethnic Spirit, how they balance work and family, and their hopes and dreams for the future.
The passion: What inspired you to set up your business?
My partner and I met and fell in love in India, as travellers of the world. I came with a love of textiles, language and design. He came with a great sense of business and a love of music and festivals. We decided to combine all of those things and continue travelling the globe but with a mission: to design clothing and use the fabulous textiles we found around the world, finding treasures from far corners of the earth and bringing them to sell at music festivals in Australia.
Our shoe project began after a decade of beginning our business. To celebrate finishing my teaching degree, we took a whole year off travelling the Americas. The textiles were extravagantly colourful in Guatemala and made with incredible handywork and I fell in love. I couldn't leave without somehow incorporating them into our lives.
We met a cowboy boot-making family and decided to experiment with getting the embroidered fabrics sewn into the wings. I totally resonated with the idea, the quality and the personalised feeling of my pair and after using them for my whole year of travels, we decided to start a business with the Mayan indigenous shoe-making family. Luckily we speak Spanish but it suddenly got better in all shoe-related vocabulary!
My boots had comfortably roamed the white sand beaches of Tulum, Mexico, trooped around the dizzying altitudes of La Paz, Bolivia and trekked the snowy Patagonian peaks of Argentina, so I was personally completely convinced of their versatility and durability.
Since beginning the business back in 2006, our favourite parts which still make it feel like a "passion project" are:
the connections we create with the tailors and makers
the rich and sometimes frustrating experiences of getting to know on a personal and business level how other cultures roll
the creative design process
the feeling of supporting micro businesses in poorer countries
the buzz of our customers finding pure delight in their purchases
All these things give us lots of joy and make the hard work of the business very much worth the effort!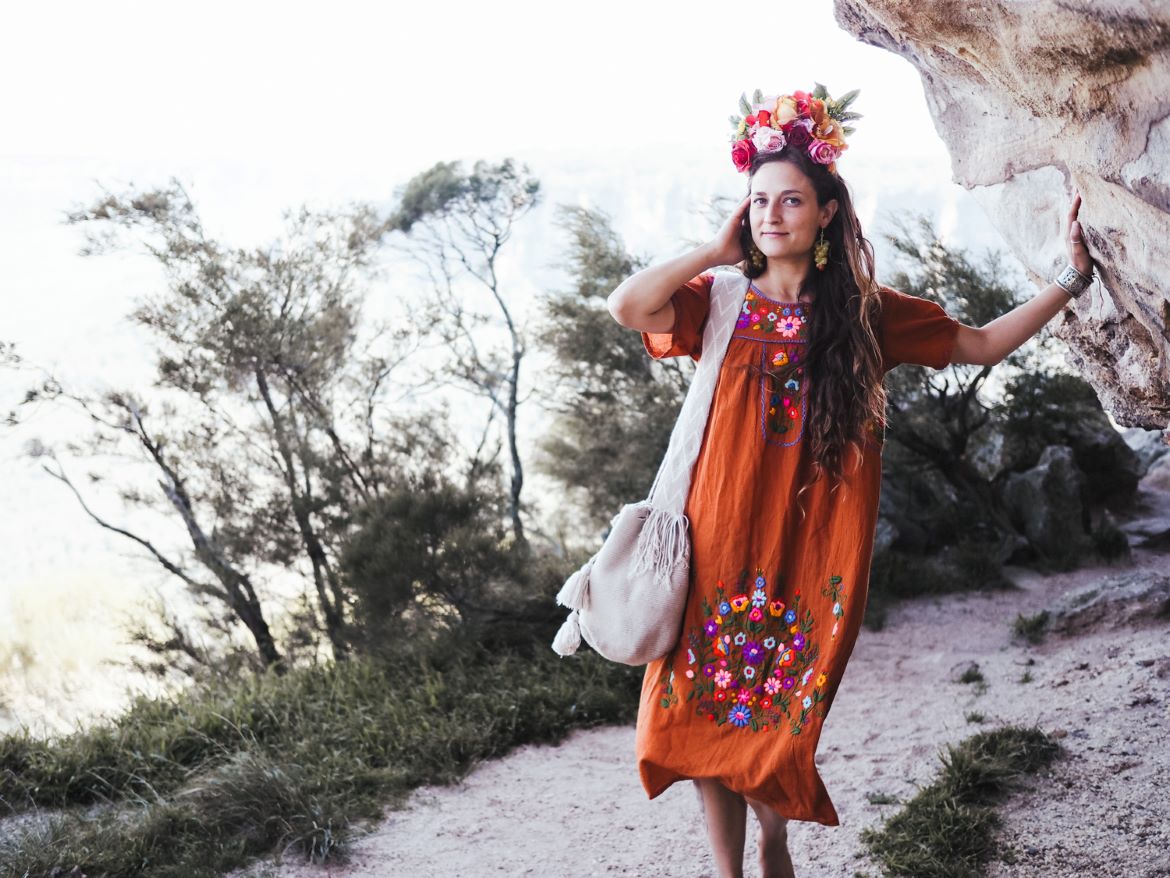 The launch: How did you start out in the beginning?
Eighteen years ago, when we were still youngsters in our 20s, we'd been working and saving for a year, travelling around Australia when we decided to go to live in Thailand the following year. I would start with an ESL job, while my partner learnt Thai m assage, all with the intention of checking out fabrics, textiles and products that we could begin to sell back home.
My partner, who grew up in Italy, had always envied the lifestyle of the stallholders at big music festivals in Europe who seemed to be living an awesome life, and thought we could do the same.
I admit, I wasn't so keen on the idea at first as I didn't feel comfortable with the idea of consumerism or selling more things to people, I was always drawn to the humanities not business. Yet I was convinced by the travel and creative potential perks of the job. I ended up finding my peace with the consumerism thing when I realised that people will continue to buy things forever, yet I felt good providing an ethically made product, designed by us, as a high-quality option for them.
That feeling deepened even more when we began on the shoe project. Now I really feel good, giving people one of the only handmade and ethically produced shoe options that I have ever seen on the market. We even "shoot ourselves in the foot" in the sense of the modern day business model of selling things that will break and need replacing, in that our recycled car tyre soles never wear out, making the shoes last at least a decade per pair!
Luckily people love them so much that after a few years they buy a second pair purely to treat themselves!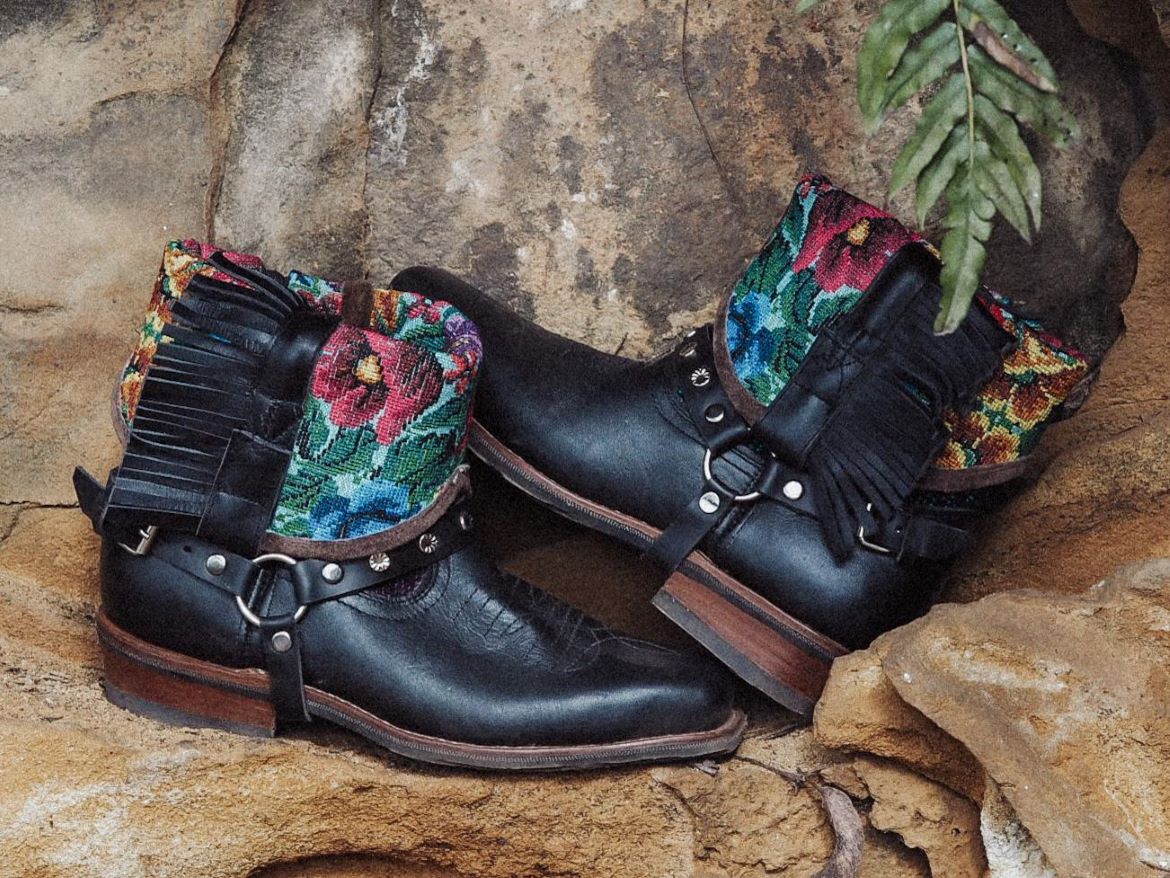 The innovation: What was the biggest breakthrough for you with your business?
It took a long time, about eight years after beginning the shoe line of the business, until we finally reached a highly professional style of shoe that we are really happy with. Our biggest achievement is now that when people find our stall and buy our shoes, whether at an obscure bush doof or a world music festival far from home, they can find us again online. Although it seems like a small thing, it's made a world of difference. We now have a leather branding machine in Guatemala, where we print our logo and shoe size on each shoe.
Our business has grown very organically. Our lives are very full, travelling on the road, keeping on the festival circuit, plus in the meantime becoming parents to two little humans. All the parents out there know that that one job alone is not for the faint-hearted. I'm amazed that we have made progress at all over the last six years, since our first son was born. Yet amongst the chaos and the juggling of so many aspects of life, we have realised how much we love what we do and we have learnt to work smarter not harder. Eliminating small events and markets and focusing on the professional festivals, working on building our website and taking time off the business have all been great breakthroughs for us as a small business.
See next page for more…