Ashlee Wells is a Registered Psychologist, the Founder of Wells Psychology, a Qualified Perinatal and Infant Mental Health Clinician, and a mother of two babies under 2 years. She offers perinatal and infant mental health counselling, parenting support and women's mental health assessment and treatment. Since becoming a mother, she has navigated the monumental transformation into motherhood with many ebbs and flows. She is now driven to guide other women through the psychological, emotional and social transition of becoming a mother.
The passion: What inspired you to set up your business?
I was inspired to set up my business after becoming a mother myself and unexpectantly facing the challenges associated with this transformation. Before becoming a mother, I was working in Private Practice predominantly with children and adolescents, and as a Psychologist, I naively assumed that I knew/had the skills required for raising children. When I was pregnant with my daughter, it became abundantly clear how unprepared I really was. Facing the challenges of antenatal anxiety and then subsequently postpartum anxiety and depression, I was jolted into this new role and journey of self-discovery.
Like many women, my perinatal experience felt confronting, overwhelming and debilitatingly exhausting. Each postpartum appointment was clouded by questions relating to my daughter, and all my concerns regarding stress and anxiety were dismissed as "first-time mother" worries. I was not able to access the appropriate mental health support I needed during this time.
I stumbled across the term 'matrescence' late one night when in the thickness of sleep deprivation, anxiety, confusion and isolation (I had two pandemic babies), and I immediately resonated with this term. 'Matrescence' is a term that was devised by the anthropologist Dana Raphael. It refers to the monumental metamorphosis women go through during the transition to motherhood.
I was deeply confused about why more women were not speaking about this significant, complicated and awkward transition into motherhood. Why was this not discussed at any of my antenatal appointments? Why was this not discussed in any of the hospital classes or on any brochures or handouts? It's truly heartbreaking and soul-destroying to know so many women, including myself as a psychologist working specifically with children and families, are not being educated about what the process of becoming a mother truly means.
So, what has inspired me? All the above. I want to offer safe, supportive and compassionate counselling and information to mothers during their pregnancy and postpartum season of life.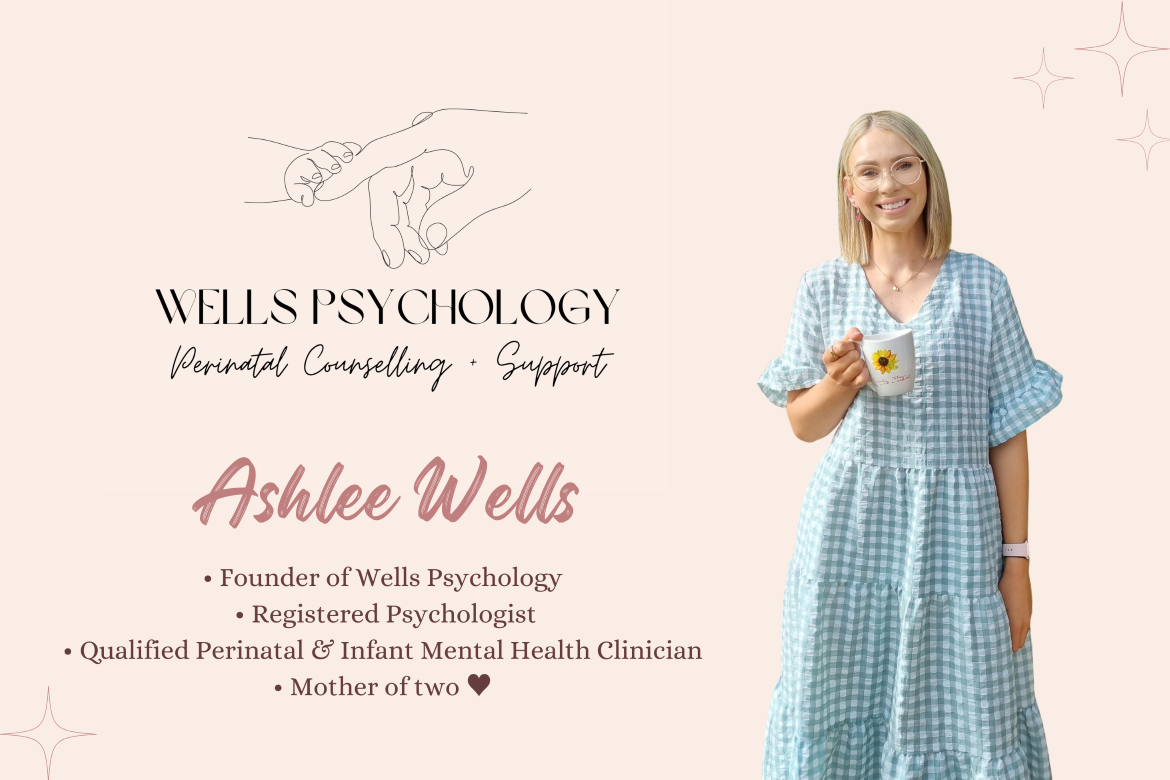 The launch: How did you start out in the beginning? 
As a solo practitioner, my business is small. I started slowly by offering telehealth services Australia wide. During this time, I was also on the lookout for an office space that would align with myself and my business values. I value having compassion, authenticity and respect. I have recently found a beautiful clinic whereby I offer face-to-face sessions in Brisbane, Queensland, in addition to the telehealth services.
Like most businesses, I also have a social media presence and try to share information and awareness about emotional, social and physical health concerns women commonly experience.
In the beginning, when considering my business structure and treatment services, I decided to invest in professional development training that would complement my psychological skills and parenting experience. It is important for women to access services that adhere to the Australian Clinical Practice Guidelines and Evidence Based Interventions.
Yin and Yang: How do you balance work and family?
I am yet to discover the beautiful concept of work, family and life balance. I'm not sure if it truly exists, however I'm striving every day to create stability in all these areas.
Being a solo practitioner, I need to be responsible for all aspects of the business, including all administrative tasks, accounting, phone calls and emails, managing the calendar, enquiries, etc. I try to manage these responsibilities during work hours or on weekdays only.
I also have two small children 2 years and under, so my days are always chaotic. My children are not independent and require all hands on deck! Between breastfeeding, nappy changes, getting snacks and making meals, juggling nap schedules and play dates, my days are filled with all the typical mum life duties.
But at night, once dinner time has destroyed the kitchen and bath time has flooded the bathroom, after the books have been read and they are tucked into bed, I spend most nights of the week back in the office working away at my business.
Weekends are always allocated for my family. I might not have a lot of balance during the week, but my weekends are solely spent focusing on my babies and husband. We love being outdoors and in nature, so this helps fill my cup after a long week.
I'd be lying if I said it wasn't hard, but I can honestly say it is all worth it.
See next page for more…