Founded in 2011 by Kelly Elkin and Betony Dircks, ALAS is a Sydney-based, organic sleep and loungewear label with a focus on enigmatic prints and relaxed silhouettes. ALAS is an acronym for 'All Light, All Shadow' which represents the nature of change; day to night, sleeping to waking. The phases of the moon and the movement of the tides remind us that everything is connected. The acronym also alludes to the idea of transparency in the supply chain, as we wish to shine light on our manufacturing practices and organically grown cotton. See next page for a special deal from ALAS for readers of The Natural Parent Magazine. 
ALAS visited ceramicist Lucy Leong's little home studio at the bottom of her garden in the Inner West of Sydney, where she produces Salad Days, her range of ceramic homewares that includes wheel-thrown earthenware vessels, and cute hand-built pots, planters, plates and pitchers. An impressive feat given that she is a new mother of twin girls!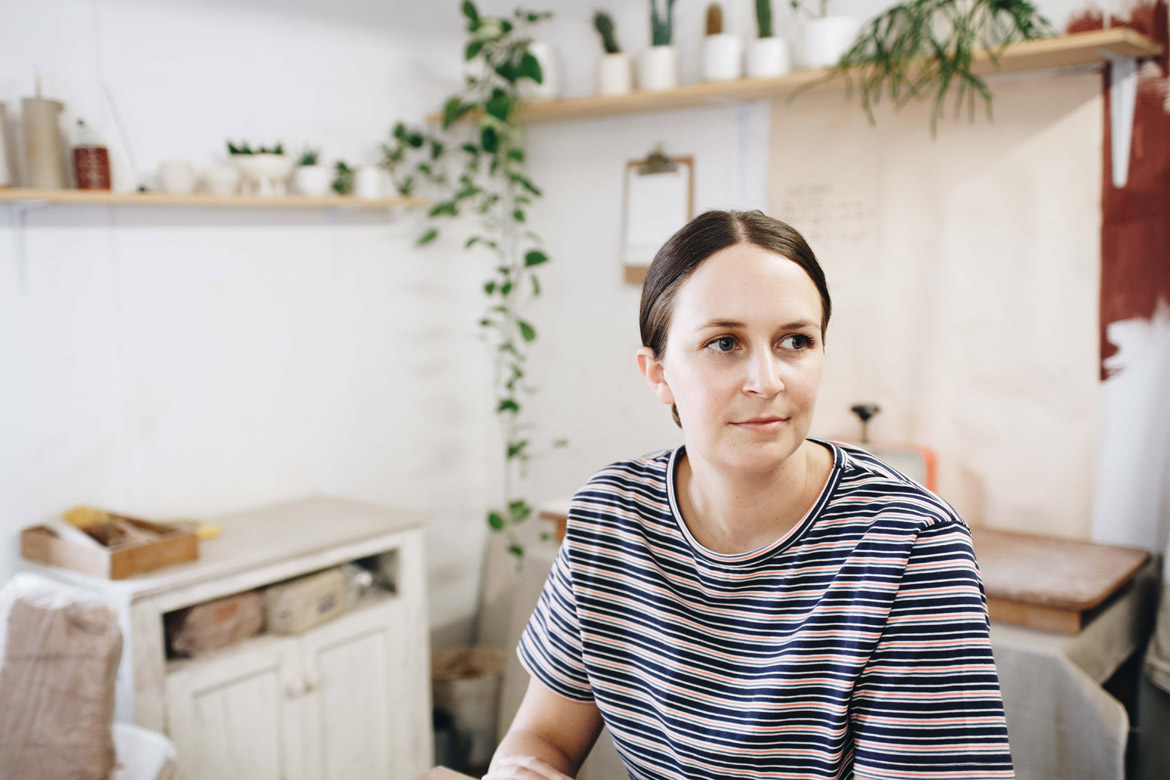 ALAS: What prompted you to make Salad Days a business?
L L: I started making ceramics as a hobby and slowly started to sell to friends, then the obsession took over and I wasn't able to fit it into my weekends and evenings. I made the decision to spend more time on the business towards the end of 2016. It was when I was faced with the decision of taking my career at the time further (and giving up ceramics to do so) or leave that job to free up time to focus more on ceramics. although I loved my other job the decision was easy when I decided to choose the one I was more passionate about. I had never had this feeling before of really knowing and loving what I was doing so it felt great to follow it.
ALAS:Your ceramics are made to play a part in your customers' daily rituals – what daily rituals do you engage in, and what benefits do you yield from them?
L L: Ha, well at the moment it is very hard to indulge in any sort of pleasant and slow rituals as I have baby twins! However, to get through my day I do need to be very structured and organised. So I guess it is a series of rituals that form the basis of the day, and then it is just crazy in between. There are a few things I do which help me feel set up for the day which you could call a ritual, even though some days I don't leave the house until the afternoon (or at all). I make sure I eat breakfast and drink a cup of tea (bonus points if I get to drink it while it's hot), wash my face, brush my teeth, get dressed and put my jewellery on. This helps me to feel calm and ready for the day. If I don't do it then and things go off the rails with the girls I feel like a crazy woman. It helps me to feel like I have control over something if I have managed to have eaten, gotten clean and dressed.
See next page for more…