Having battled sleep deprivation herself when her daughters were babies, Carlene Rotblat understands all too well the effect it can have on your day-to-day life. She struggled to find the gentle, personalised support she needed, leading her to become a sleep consultant, providing support to other parents in search of answers to their sleep questions. Taking a holistic approach to sleep, she looks at your child's current routine, sleep environment, nutritional intake and play styles, helping you to create healthy routines that work for your whole family. Here she talks to The Natural Parent Magazine about the inspiration behind Sweet Dreamers Sleep Consulting, how she balances work and family life, and her dreams for the future.
The passion: What inspired you to set up your business?
When I became a mum myself and was sleep deprived, the need for answers that actually meant something to me and my daughter was something I was desperate to find. I had a lot of trouble finding answers that weren't generic and people that could support me with a more gentle and holistic approach. I researched courses to become a sleep consultant at that point thinking of the possibility of getting better answers and being able to help others, but I went back to work as a nurse when by daughter was only 6 months old, so I didn't have the time. When I started maternity leave with my second child, I started looking into sleep support again, and was unable to find the gentle, personalised support I wanted. I relocated the course I was interested in from a couple of years before and got started with my training. I wanted the answers, and I wanted to provide support to other parents looking for those same personalised, holistic answers to sleep.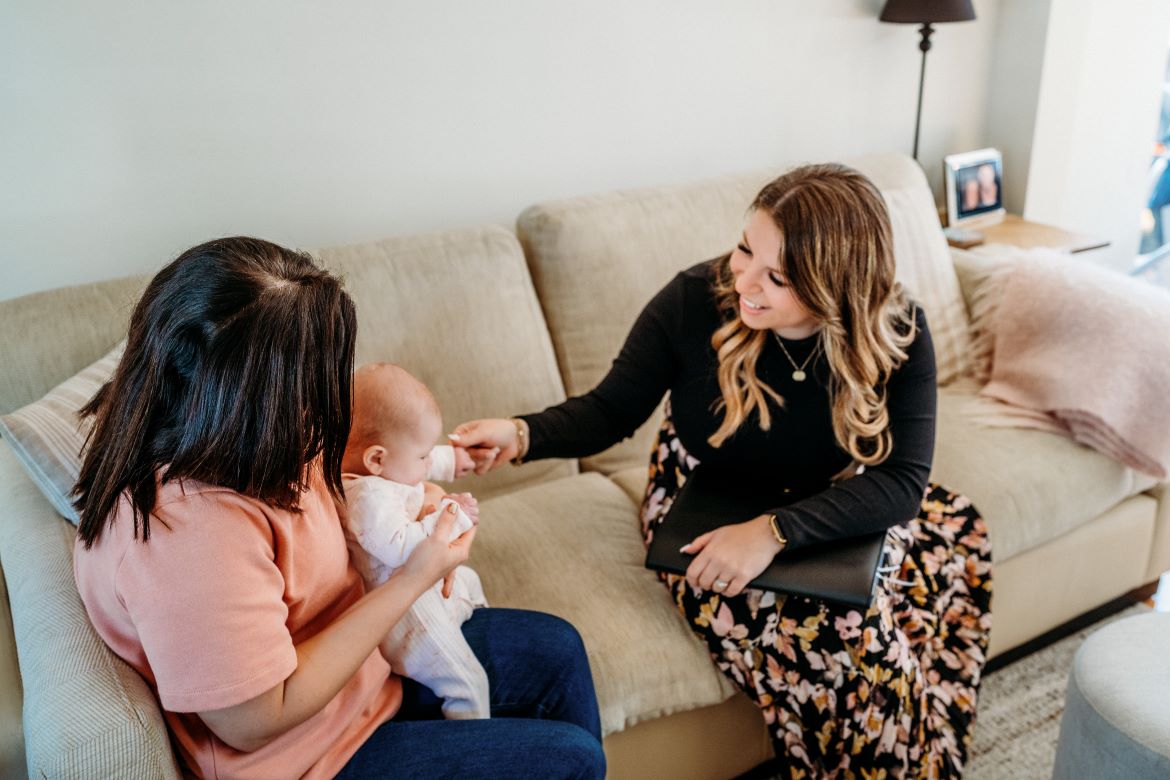 The launch: How did you start out in the beginning?
It was 2020 and we were in lockdown, so when I launched, I offered online support services. I had already experienced providing online consultations with my nursing, so had a good idea how to run the sessions and be able to provide enough information and support through follow up to make the online consultations work to suit families' needs. I had worked on my website and social media accounts before I was certified so that when that came through, I was ready to get stuck into it straight away. I offered an amazing introductory rate for consults on Facebook, and once I started with a couple of clients, word of mouth took off and I grew quite quickly. When I started, there weren't many sleep consultants that offered 100% gentle sleep training options, so the fact I was offering this service was a big deal to parents, I think. I was still on maternity leave when I launched so was only offering 2-3 consults a week, but once I started booking out a week in advance, I really started to re-evaluate how busy I might be and decided to stop nursing and see where sleep consulting led me doing it full time.
The innovation: What was the biggest breakthrough for you with your business?
The main thing for me was that when I was searching for answers for my daughters' sleep, I couldn't find support from someone that could offer gentle techniques, give me personalised answers and have a holistic approach. It was always one or the other. So when I set out to become a sleep consultant myself, it was super important to me to create a business model where I could offer everything I felt was important to someone in search of answers. I used my own experience, and built a business around that, and it has worked beautifully.
Yin and Yang: How do you balance work and family?
I have to be one of the luckiest women ever. I have an amazing work-life balance, and a big part of that is due to an incredibly supportive husband who takes a huge hands-on role with kids and the household when I am unable to, and very supportive grandparents that help with children when needed. I work 4 days during the week and take a Wednesday off to spend with my youngest daughter now that my oldest is in school. I start work early and this is where my husband picks up my slack and drops the children off, so that I can then finish my day early and pick them up. We have a great arrangement there. And weekends are spent as a 50/50 balance between follow up with clients over the phone/text message and activities with my family. So although I'm not consulting, I am available to current clients.
See next page for more…