Born into a family of food lovers, Kalpana Sachdeva set about rediscovering the authentic and rich flavours that she grew up with, to recreate memories and flavours that reminded her of her grandmothers and mother. She is passionate about making time for the people and things in her life that matter the most, so loves having the best and most convenient meal options available in her pantry for mealtimes. Mixed Roots is all about sharing her love for food, people and culture. Their jars of spice rubs, spice infused honeys and cold pressed olive oils are packed full of authentic and rich flavours to make your meals shine. Here Kalpana talks to The Natural Parent Magazine about the inspiration behind her business, how she balances work and family time, and her hopes and dreams for the future.
The passion: What inspired you to set up your business?
Growing up in a family whose love language can best be described as "food", Mixed Roots is an homage to my grandmothers, my mum and all the wonderful women who have been a part of my childhood. It's been a way of staying connected to my heritage while carving out a legacy for our children.
Mixed Roots is about sharing a love for food, people and culture while making time for the things and people that matter the most by ensuring that we have the best options for our meals in the shortest time possible.
Our small-batch crafted range of deliciously versatile seasonings and blends contain no nasties and are GF, DF, keto friendly, MSG free and refined sugar free – just like Nani's home-blended spices back in the day!
The launch: How did you start out in the beginning?
Mixed Roots is a "lockdown baby"! Our favourite café in town used to have an annual "Queens" market, supporting and encouraging local women producers and artisans. We launched our first ever range of goodies during a break between lockdowns and were blown away by the feedback and support of the local community.
Three years later, we have tweaked our product offering and now offer cooking classes and events along with a range of seasonings and blends, spiced honeys and our award-winning Hot Stuff Curry Oil.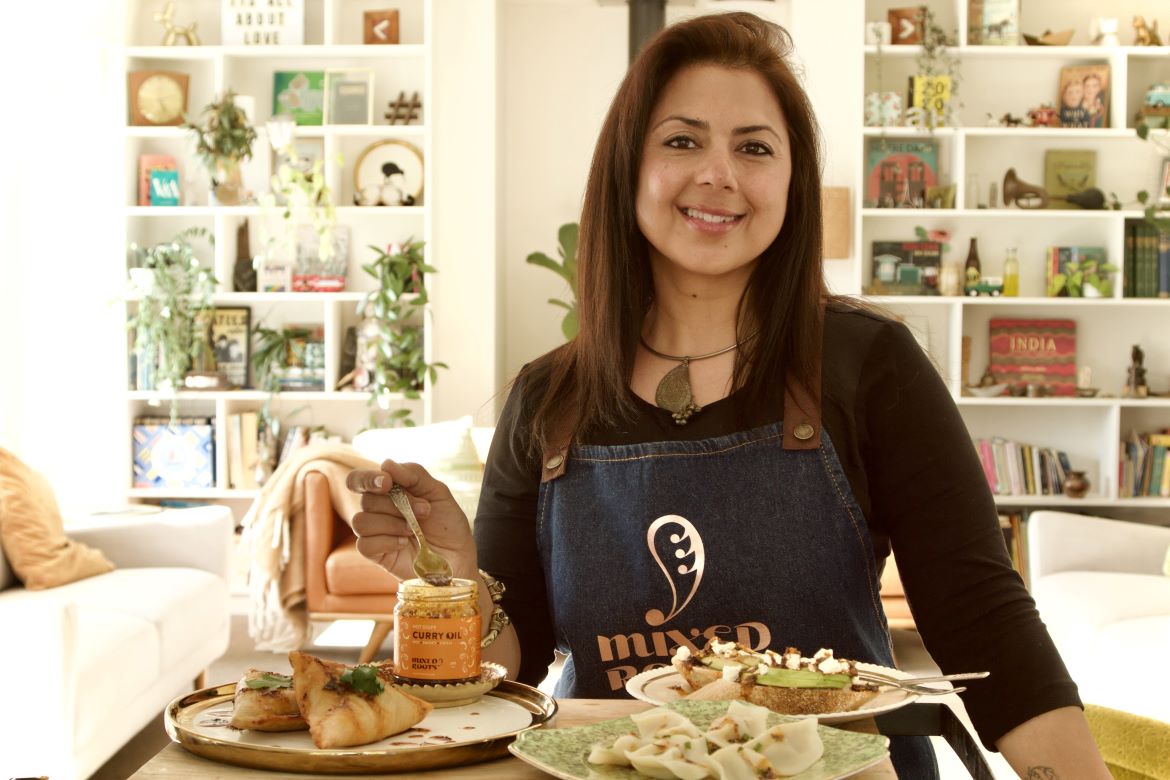 The innovation: What was the biggest breakthrough for you with your business?
Winning the Cuisine Magazine Artisan Award at the NZ Food Awards in October 2023 for our "Hot Stuff" Curry Oil has to be a major highlight for us! (As it was only a couple of weeks ago as I write this, we are still fizzing!). Our "Hot Stuff" Curry Oil is a lovechild of tangy Indian pickles and crispy chilli oil. It is spicy, smoky, has lots of crunch and texture and lifts just about anything you eat to a whole new level of oomph! We are humbled and blown away that the traditional Indian technique of seasoning "tarka" in a jar is now gracing the pages of the next two issues of the Cuisine Magazine!
Yin and Yang: How do you balance work and family?
A constant juggle this one!!! I go through days of incredible productivity, followed by days of chaos! But really, it is lists, lists and some more lists that help keep me on the straight and narrow.
Weekly menus (including lunches and snacks, with days planned for takeaways and leftovers) are my one saving grace. (Weeks when I don't have this on my command station white board are the weeks we eat dodgy meals that cost the earth!).
As my husband and I both work for ourselves, we have the privilege of taking days off when most others are at work. We make the most of this time and it has been what has saved our marriage, helped us get closer and work on our family values and goals.
See next page for more…