At MummaBear Western, they are on a mission to encourage the movement of connecting women, showing compassion for each individual's journey, and empowering the collective of women globally. Australia's first Western & Maternity online clothing store is not simply a brand; they are a label with deeper meaning. Featuring practical, workable and basic clothing pieces that will get you from the paddock to the playground comfortably, their exclusive designs and specifically sourced pieces can be worn time and time again, allowing for women's ever-changing bodies to be comfortable. Using clothing as a common thread, they aim to promote connection and encourage women to join their community to share their knowledge and experiences. MummaBear Western founder Jes Panov talks to The Natural Parent Magazine about the inspiration behind her business, navigating the work-family balance, and her hopes and dreams for the future.
The passion: What inspired you to set up your business?
If anyone had suggested just over a year ago that I would be building and designing a clothing line from the ground up, as the saying goes, I would have thought they were mad! But here I am. My passion behind moving forward with the original concept was to create a new future for myself and my family. I had an idea, and I could sit and let someone else create it and stay where I was at, or put myself out there and change my trajectory. I knew there was a niche market for western maternity because I could never find any, until MummaBear Western.
There was a need for someone to fill the gap in the market with practical and durable western maternity everyday and work wear. During my four pregnancies and breastfeeding journeys, I had to size up to wear the clothing styles I preferred or wear the stock standard big chain maternity clothing. I wanted a clothing piece that I could wear when I was pregnant, breastfeeding and the occasion I wasn't pregnant: investment pieces I could keep in my wardrobe and pull out time and again.
With years of personal experience wearing the western style 'work shirts' as my only guide, I thought, why can't that be me? Why can't I create the clothing line I always wanted from my experiences.
One night, I started googling 'how to design a clothing line' and 'how to start a clothing brand'. And so, it started: MummaBear Western was born. I started to deep dive into the world of fashion and design. I've learnt a lot of lessons the hard way this past year, but with the first two designs set for release in the next few weeks, I'm so proud of where I'm at and seeing the concept out of my head and in the physical world. What I have shared about the work shirts on social media have generated a lot of interest.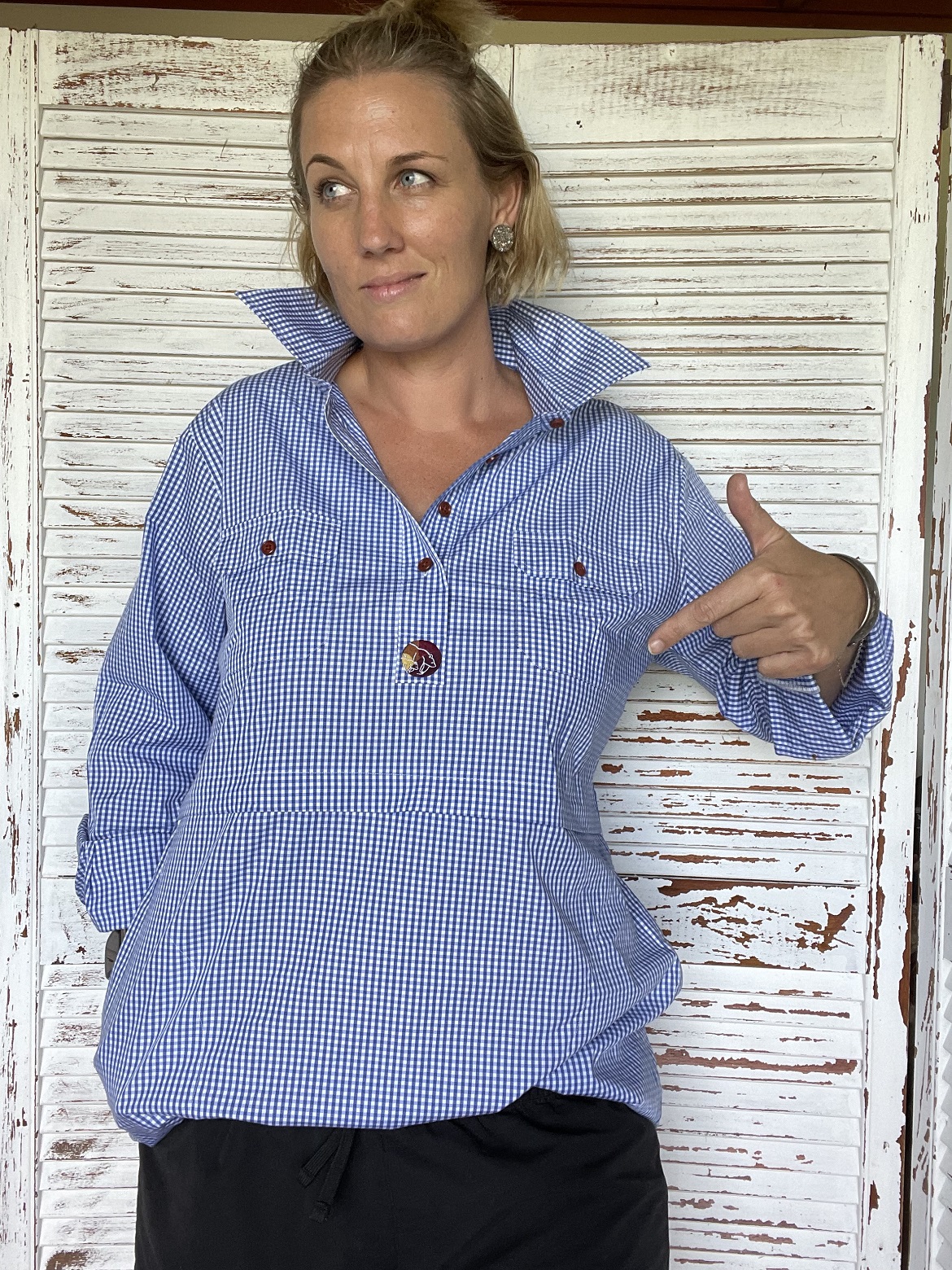 The launch: How did you start out in the beginning?
It was a very 'soft' launch for MummaBear Western – just an Instagram post here and there. I started with some basic branded items like tees, caps and smaller items – the idea being to generate an interest and following until my designs were manufactured. I can't wait for the day soon when we can have an official launch with a collection of MBW designs. But, for the moment, it's heading to markets and having a high presence on the social media platforms to build that connection with the collective to MummaBear. We currently stock online MBW designed work shirts, tees and caps, but I have also sourced other brands to stock that must meet a criteria. They need to be one or all of the following: BUMP friendly, BF friendly and or BODY Fluctuating friendly.
The innovation: What was the biggest breakthrough for you with your business?
I wanted to create more than just another clothing brand; I wanted there to be some real substance behind it too. That's where our statement of 'Connecting with Compassion to Empower the Collective' comes in. MummaBear Western's intention is to be more than just another clothing brand, we aim to create a movement of women, promoting connection together as a whole, whilst sharing our stories and knowledge. Doing this with complete compassion, zero judgment and nothing but support for wherever we may be on our journeys. Doing this empowers us as a collective and we are stronger individually. Our hope is that when you wear MummaBear, you feel that support inside of you and also provide it to others. Despite our differences, we are, at our core, the same and are going through or have been through very similar situations. It just takes making that connection to realise that women are unstoppable when we work together. It really does take a village – and we see you as a part of ours. We'd love for you to join the movement.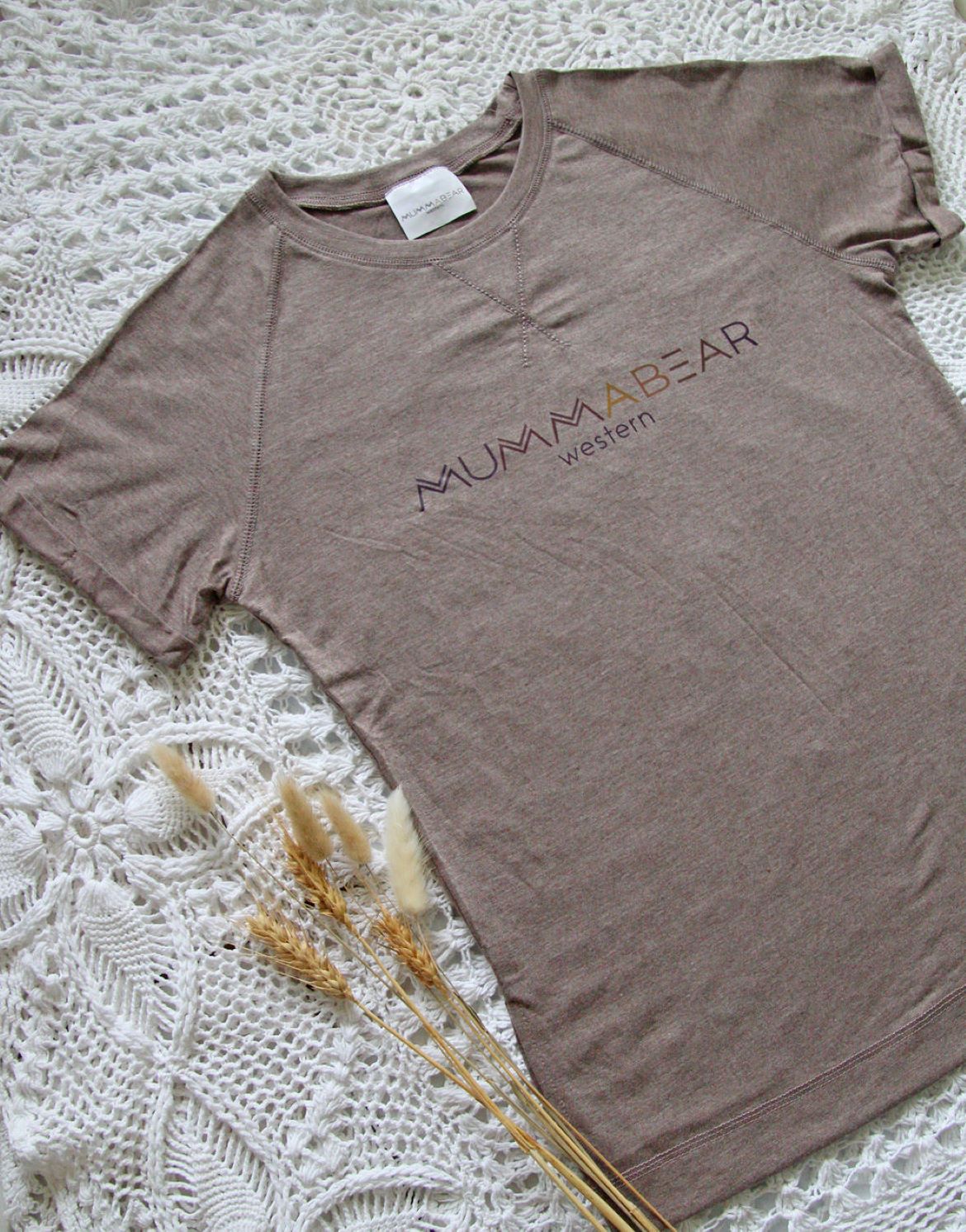 Yin and Yang: How do you balance work and family?
I'm not sure I do! I'm MummaBear to four all individually amazing kids from 1-8 years old. Between family daycare, studying a Certificate IV in Business, two different school drop offs, swimming lessons and folding the mountain of washing, MummaBear Western doesn't get much attention during the day. And for the moment, I'm OK with that whilst the business is still small. I love being a mum and spending time with my kids. It's important to me to still stay as present as possible and spend that quality time with them during the day. I say my office hours are when they (the kids) close their eyes at night, till I can't keep mine open any longer.
See next page for more…